Team New South Wales redeem themselves in final round of PBR Origin III in Cairns
By: Georgie Desailly Monday, July 24, 2023 @ 3:33 PM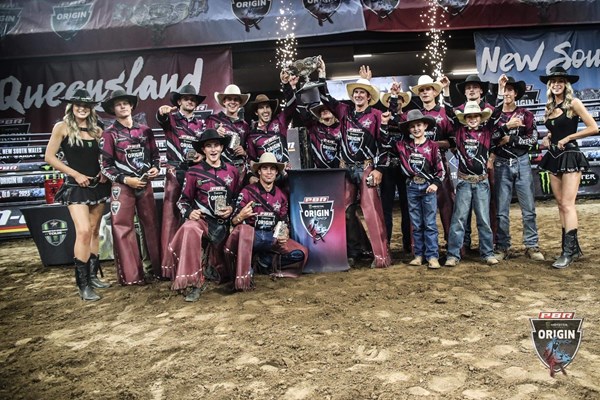 In a thrilling final showdown at the Cairns Convention Centre last night, Team New South Wales rose to the occasion and turned the tables on Team Queensland, claiming victory in the final leg of the PBR Origin Series in front of a sold out crowd.
Throughout the night, both teams were neck and neck, but it all came down to the final ride of the night by New South Wales rider Sam Woodall, who delivered an extraordinary performance that propelled them into the lead.
This Cairns Origin III event marks Team New South Wales' first event win of the 2023 series. 
Although they didn't win the 2023 Origin Championship, Team New South Wales captain Cody Heffernan said they were thrilled to have redeemed themselves and closed the series with an event win.
"It feels great to come here to Cairns and get that last event win," said Heffernan. "We felt like our backs were up against the wall and we really needed to prove ourselves and win this event. 
"Sam Woodall riding that last bull to win for us, it was pretty insane and great to be a part of. It feels really great, and I'm really proud of the boys.
"We're looking to beat Queensland next year."
Team Queensland Captain Aaron Kleier got two bulls ridden and was named Cowboy of Origin, which saw him secure a $25,000 bonus. 
"Feels really good even though we didn't get the win tonight. I feel like all the boys rode pretty good, and it was a close event," said Kleier.
"Lots of good bull riding happened. It was good to get those other two wins before this event and going into it knowing that we've already won the series. It was just another fun night."
Team New South Wales' Bruno Roberto and Sam Woodall tied for the highest rides of the night. 
Roberto secured an 89 point ride on Cattle King Booger's Beach (Dittmann Bucking Bulls)
Woodall also secured an 89 point ride on Ambush (CF7 Bucking Bulls), which not only saw him take out the individual event win, but also propelled him to No.2 in the Australian National Standings ahead of Aaron Kleier and trailing current No.1 Macaulie Leather.
Other event highlights include Calliope's Macaulie Leather who placed 2nd at the event, and Gresford's Lachlan Richardson who came in 3rd.
PBR Australia General Manager Glen Young said it was a thrilling climax to the series that had everyone on the edge of their seats. 
"New South Wales hasn't had the greatest run since we started the Origin series, but the highlight for me was seeing Cody and those guys get the win, which will give them the confidence going into the 2024 Origin round," said Mr Young.
"It really was neck and neck the entire night and came down to the final ride from Sam Woodall.
"It was great having the final Origin event leg in Cairns, where the atmosphere and support is always electric."
With only a few events left until the final showdown, riders will now be looking to gain crucial points ahead of the Grand Finals in Townsville on November 3 & 4, which is the richest bull riding event in the entire southern hemisphere.
"It could be anyone's race come the end of the year, and that $75,000 could be going to someone we don't expect," said Mr Young of the upcoming Grand Finals.
"The race is just starting. It's been an awesome start to the season, and it's been great to have so many bull riders back, but not only that, it's great to see them getting their bulls ridden."