Cody Heffernan Crowned the 2022 PBR Australia National Champion
By: Creative Concepts Sunday, November 27, 2022 @ 1:26 PM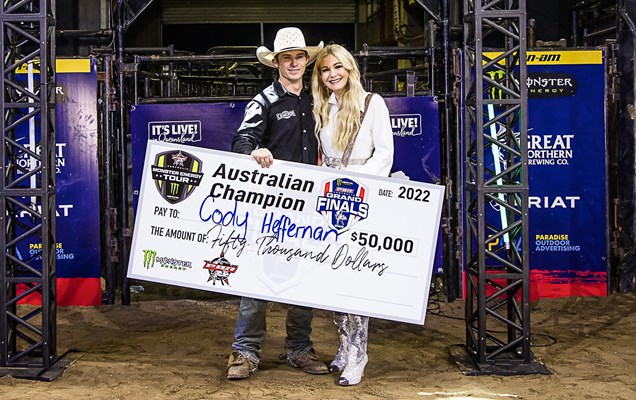 The season finale of the Professional Bull Riders (PBR) Australia came down to the wire in the Championship Round. Singleton's Cody Heffernan claimed not only the PBR Monster Energy Tour Grand Finals event title, but also the 2022 PBR Australia National title.
Starting the event 72.5 points behind reigning champion, Aaron Kleier (Clermont, QLD), Heffernan dominated night two covering all three of his bulls in front of a sold-out crowd at the Townsville Entertainment and Convention Centre.
Unable to cover Bang and Grind (Kleier Bucking Bulls) and Mystery (MJ/Keliher Bucking Bulls) on night one, the 33-year-old put on a bull riding masterclass that kept the entire arena on their feet and asserted his dominance on the sport's biggest night.
In round three, Heffernan posted his first score of the grand finals with an 86.5 on Blondies Bomber (MJ/Keliher Bucking Bulls).
The 2016 National Champion then bettered his score in round four, riding End Game (Dunne Bulls) for 87.5 points, and moved within 42.5 points of Kleier in the national standings.
The Townsville crowd were on the edge of their seats after Kleier posted a 90-point ride on Mystery, the bull Heffernan bucked off in round two the night before. However, the Tamworth Iron Cowboy event winner dug deep with his third 8-second ride of the night  atop Cattle King Boogers Beach (Dittmann Bucking Bulls).
The 2021 YETI Bull of the Year was tamed by Heffernan, garnering him 92 points, the highest score of the event. This launched him into first place on the event leaderboard, overtaking fellow New South Welshman Lachlan Richardson (Gresford, NSW).
The Townsville Entertainment and Convention Centre then held its collective breath to find out whether Kleier, the 24-year-old from Clermont, would claim a fifth consecutive national title or if Heffernan would earn his second golden buckle.
Ultimately just 2.5 points separated the two riders, with Heffernan reigning supreme and taking home the title and the $68,500 pay-day.
"I can't really remember it, I was just hanging on," Heffernan said of his ride on Cattle King Boogers Beach.
"I knew I had to ride him and do anything after Aaron rode that bull (Mystery). I just knew I had to ride him if I wanted to have a shot at winning it."
In the bull pen, Dittmann Bucking Bulls capped off a dominant year, taking home the YETI Grand Finals Bulls Team, Contractor of the Year and Roid Rage taking out the YETI Finals High Point Bull of the Event as well as Bucking Bull of the Year.
"He's been an outstanding bull. I don't reckon he's hit his pins yet. He's had an outstanding night tonight," team owner, Jason Dittmann said of Roid Rage.
"He's become pretty special to us. I can't ask any more of that bull, we love him.
"The whole team's been good all year. I can't ask any more of the bulls and even my team here, my family, everyone who helps out, I can't ask for more. Everyone gives 100 percent, I'm so happy."
Lightning (CF7 Bucking Bulls) was crowned the YETI Rookie Bull of the Year and Koumala's Qynn Andersen was crowned Rookie Rider of the Year, finishing fourth on the national standings on 645 points.
Stay tuned in to PBRAustralia.com.au and follow the tour on Facebook (PBR Australia), Twitter (@PBRAustralia), and Instagram (@PBRAustralia) for the latest results, news, stats and more.
PBR Australia Monster Energy Tour
PBR Monster Energy Tour Grand Finals
Townsville Entertainment and Convention Centre – Townsville, Queensland
Event Leaders (Round 1-Round 2-Round 3-Round 4-Round 5-Event Aggregate-Event Points)
1. Cody Heffernan, 0-0-86.5-87.5-92-266.00-160 Points.
2. Lachlan Richardson, 84-84.25-85.75-0-0-254.00-116 Points.
3. Aaron Kleier, 82-0-0-0-90-172.00-85 Points.
4. Jake Curr, 80.75-86-0-0-0-166.75-67 Points.
5. Brock Radford, 0-87.5-0-0-0-87.50-60 Points.
6. Qynn Andersen, 0-87-0-0-0-87.00-45 Points.
7. Lachlan Slade, 0-86-0-0-86.00-29 Points.
8. Kurt Shephard, 0-0-0-85-0-85.00-22.5 Points.
8. Nick Tetz, 85-0-0-0-0-85.00-27.5 Points.
10. Michael Smith, 0-0-83.5-0-83.50-12 Points.
11. Clint Glass, 0-0-0-83-83.00-10 Points.
12. Braith Nock, 0-0-82.75-0-0-82.75-8 Points.
13. Kelsey Pavlou, 0-0-82-0-0-82.00-6 Points.
Thomas Hudson, 0-0-0-0-0-00.00
Trefor Sproule, 0-0-0-0-0-00.00
Jay Borghero, 0-0-0-0-0-00.00
Ben Moran, 0-0-0-0-0-00.00
Jackson Gray, 0-0-0-0-0-00.00
Sam Woodall, 0-0-0-0-0-00.00
Beau Willis, 0-0-0-0-0-00.00
Taran Chirgwin, 0-0-0-0-0-00.00
Jono Couling, 0-0-0-0-0-00.00
Jack Keats, 0-0-0-0-0-00.00
Wyatt Milgrate, 0-0-0-0-0-00.00
Lane Mellers, 0-0-0-0-0-00.00
Cameron Southern, 0-0-0-0-0-00.00