Four-Time PBR Australia Champion Aaron Kleier Remains Red Hot Winning Monster Energy Tour's Caboolture Invitational
By: Kacie Albert Sunday, July 24, 2022 @ 11:59 AM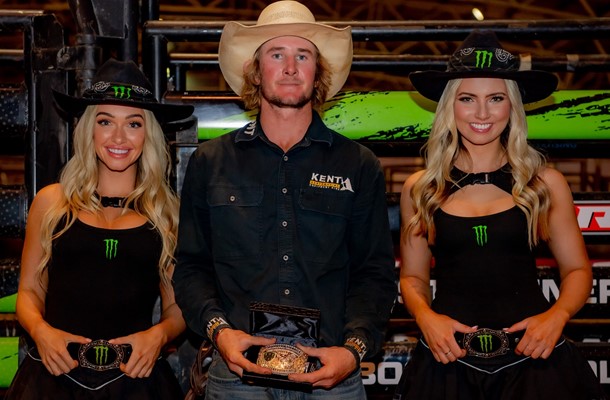 CABOOLTURE, Qld. – Saturday evening in Caboolture, Queensland, four-time and reigning PBR (Professional Bull Riders) Australia Champion Aaron Kleier (Clermont, Queensland) inched closer to further etching his name in the organization's record books. Delivering a dominant 2-for-2 performance, Kleier won his second consecutive event, victorious at the Monster Energy Tour's Caboolture Invitational, to further his stronghold on the No. 1 rank in the race to be crowned the 2022 PBR Australia Champion.
After tying David Kennedy (Kyogle, New South Wales) for most Australian national titles won by one rider in history in 2021, each now with four, should Kleier win his unprecedented fifth consecutive national title at season's end, he would become the winningest bull rider in PBR Australia competition.
Kleier's march to victory began with a Round 1-victory, earned compliments of his 86-point effort aboard Running Gold Little Muddy Jacket (Running Gold Bucking Bulls).
The reserved Queensland native then readied to take on Big Buck Hunter (ST Bucking Bulls) in the championship round as the last man to leave the chutes inside QSEC Arena.
Poised, Kleier matched the animal athlete jump-for-jump en route to an 86-point score, clinching the victory.
The golden finish garnered Kleier 77 national points, allowing him to expand his lead in the national standings. Remaining No.1 in the PBR Australia standings, Kleier now leads No. 2 Qynn Andersen (Koumala, Queensland) by an increased 132 points.
Second was Trefor Sproule (Singleton, New South Wales), collecting 55 national points.
As the only other rider to go a perfect 2-for-2, Sproule first rode Prototype (Ruhland Ranch Bucking Bulls) for 78 points in Round 1, before conquering Gin n Juice (Ruhland Ranch Bucking Bulls) for 84 points in the championship round.
Sproule rose to No. 16 in the national standings compliment of the silver showing.
Caiden Sandilands (Rockhampton, Queensland) rounded out the podium in third.
After a heart-breaking, 7.41-second buckoff dealt to him by Double Dealings (ST Bucking Bulls) in Round 1, Sandilands rebounded in the championship round, riding Ranga (MJ/Keliher Bucking Bulls) for an event-best 87 points.
Sandilands earned 45 national points and is now No. 13 in the Australian standings.
Seven-time PBR World Finals qualifier Lachlan Richardson (Gresford, New South Wales) was fourth compliments of his 82.5-point ride atop Freaky Spider (BK Bucking Bulls) in Round 1.
Richardson, who is seeking his first PBR Australia Championship in 2022, left Caboolture having earned 32 national points. He rose from No. 5 to No. 4 in the standings, now within 199.5 points of No. 1 Kleier.
Rounding out the Top 5 in fifth was Jack Keats (Cloncurry, Queensland), netting 19 national points.
Keats' finish included an 81-point score on Titanium (Ruhland Ranch Bucking Bulls) in Round 1.
In the bull pen, Sugar Boom Boom (BK Bucking Bulls) was crowned the Bull of the Event. The powerful animal athlete delivered the top, 44-point score of the PBR Caboolture Invitational in the championship round when he bucked off Toby Leake (Dungog, New South Wales) in a swift 2.27 seconds.
The 2022 PBR Australia season will continue on Saturday, August 27 for the Touring Pro Division's PBR Bull Pit in Bull Pitt, Queensland. Action at the Dittmann Bull Pit will get underway at 7:00 p.m. AEDT.
Stay tuned in to PBRAustralia.com.au and follow the tour on Facebook (PBR Australia), Twitter (@PBRAustralia), and Instagram (@PBRAustralia) for the latest results, news, stats and more.
PBR Australia Monster Energy Tour
PBR Caboolture Invitational
QSEC Arena – Caboolture, Queensland
Event Leaders (Round 1-Round 2- Event Aggregate-Event Points)
1. Aaron Kleier, 86-86-172.00-77 Points.
2. Trefor Sproule, 78-84-162.00-55 Points.
3. Caiden Sandilands, 0-87-87.00-45 Points.
4. Lachlan Richardson, 82.5-0-82.50-32 Points.
5. Jack Keats, 81-0-81.00-19 Points.
Cody Heffernan, 0-0-0.00
Braith Nock, 0-0-0.00
Brumby Brandenburg, 0-0-0.00
Ben Moran, 0-0-0.00
Will Purcell, 0-0-0.00
Kurt Shephard, 0-0-0.00
Lachlan Slade, 0-0-0.00
Thomas Hudson, 0-0-0.00
Jono Couling, 0-0-0.00
Bradley Wheeler, 0-0-0.00
Beau Willis, 0-0-0.00
Dan Ruhland, 0-0-0.00
Cody Fraser, 0-0-0.00
Zane Hall, 0-0-0.00
Italo Aguilar, 0-0-0.00
Joey Buckingham, 0-0-0.00
Toby Leake, 0-0-0.00
Clay Hall, 0-0-0.00
Bryn Francis, 0-0-0.00