Aaron Kleier Ties for PBR Cairns Invitational Event Win to Overtake No. 1 Rank in the Race for the 2022 PBR Australia Championship
By: Kacie Albert Saturday, July 16, 2022 @ 9:27 AM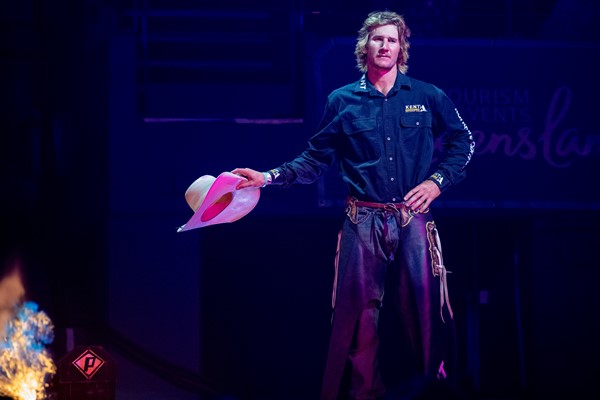 CAIRNS, Qld. – As the 2022 PBR (Professional Bull Riders) Australia season continued Saturday evening in Cairns, Queensland, the nation's best riders showed up and showed out as the race to be crowned the 2022 PBR Australia Champion reached a new level of intensity. Tying for the Monster Energy Tour Cairns Invitational win alongside Jake Curr (Mount Isa, Queensland), Aaron Kleier (Clermont, Queensland) inched closer to further etching his name in the history books, overtaking the No. 1 rank in the national standings.
After tying David Kennedy (Kyogle, New South Wales) for most Australian national titles won by one rider in history in 2021, each now with four, should Kleier win his unprecedented fifth consecutive national title at season's end, he would become the winningest bull rider in PBR Australia competition.
Going 2-for-3, Kleier was dominant in the opening rounds of competition.
The Queensland man was quick to strike in Round ,1, surging to the top of the leaderboard when he road Bombshell (MJ/Keliher Bucking Bulls) for 85.5 points.
Awaiting Kleier in the second round was Comeback Kid (Dittmann Bucking Bulls). In perfect time with the animal athlete, Kleier again reached the requisite 8, retaining his position atop the event courtesy of his 86.5-point score.
While Kleier was bested in the championship round, upended in a close 7.08 seconds by Alcatraz (Peter Wallace), his opening round scores were enough to clinch the win.
Kleier garnered 170 national points for the golden finish, rising from No. 4 to No. 1 in the PBR Australia standings. He now leads No. 2 Qynn Andersen (Koumala, Queensland) by 55 national points.
Fresh of his event win at the most recent Touring Pro Division event in Mount Isa, Curr tied for the victory alongside Kleier.
Curr first converted in the opening round when he covered Rip Slinger (MJ/Keliher Bucking Bulls) or 84.5 points.
The surging 22-year-old, however, was unable to continue his momentum in Round 2, bucked off by POA Crack The Latch (Dittmann Bucking Bulls) in 4.89 seconds.
Returning determined in the championship round, Curr drafted Cattle King Boogers Beach (Dittmann Bucking Bulls). In a decision which proved dividends, Curr was scored a round-best 87.5 points, catapulting him to the top of the standings.
For his efforts, Curr earned 164 national points. Cracking the Top 10 in Australia, Curr is now No. 7, 257.17 points removed from No. 1 Kleier.
Andersen remained No. 2 in Australia compliments of a third-place finish which awarded him 110 points.
Going 2-or-3, Andersen earned his scores aboard Meet Ya Maker (MJ/Keliher Bucking Bulls) for 83.5 points and Vertical Limits (Dittmann Bucking Bulls) for 85 points.
Texas Rattlers rider Brady Fielder (Clermont, Queensland) was fourth.
Fielder was flawless as the event got underway, riding Random Assault (Dunne Bulls) in Round 1 for 82 points, and Holy Poly (Peter Wallace) in Round 2 for 86 points.
The reserved contender, however, did not compete in the championship round after sustaining a shoulder injury in the second round.
Readying to return to the United States for the start of the PBR Team Series, Fielder earned 89 points. He is now No. 4 in the national standings, 146.5 points behind No. 1 Kleier.
Rounding out the Top 5 in fifth was Cody Heffernan (Singleton, New South Wales).
Heffernan's outing was headlined by an 86-point score aboard Lightning (Colin Fry) in the second round.
The New South Wales sensation netted 61 national points. Heffernan remained No. 3 in Australia, now 105.5 points back of the top position.
In the bull pen, Pretty Boy (Peter Wallace) was unrivaled. Earning his PBR Australia-best fifth Bull of the Event honor, Pretty Boy was scored 46 points in the championship round for his 3.59-second trip with Lachlan Slade (Tamworth, New South Wales).
The 2022 PBR Australia season will continue July 23 in Caboolture, Queensland, for the Monster Energy Tour's PBR Caboolture Invitational. Action at QSEC Arena will get underway at 7:00 p.m. AEDT.
Stay tuned in to PBRAustralia.com.au and follow the tour on Facebook (PBR Australia), Twitter (@PBRAustralia), and Instagram (@PBRAustralia) for the latest results, news, stats and more.
PBR Australia Monster Energy Tour
PBR Cairns Invitational
Cairns Convention Centre – Cairns, Queensland
Event Leaders (Round 1-Round 2-Round 3-Event Aggregate-Event Points)
1. Aaron Kleier, 85.5-86.5-0-172.00-170 Points.
(tie). Jake Curr, 84.5-0-87.5-172.00-164 Points.
3. Qynn Andersen, 83.5-85-0-168.50-110 Points.
4. Brady Fielder, 82-86-0-168.00-89 Points.
5. Cody Heffernan, 0-86-0-86.00-61 Points.
6. Kelsey Pavlou, 83-0-0-83.00-32 Points.
7. Michael Smith, 81.5-0-0-81.50-16 Points.
8. Taran Chirgwin, 81-0-0-81.00-10 Points.
9. Lachlan Slade, 0-80-0-80.00-12 Points.
Lachlan Richardson, 0-0-0-0.00
Braith Nock, 0-0-0-0.00
Brumby Brandenburg, 0-0-0-0.00
Ben Moran, 0-0-0-0.00
Will Purcell, 0-0-0-0.00
Kurt Shephard, 0-0-0-0.00
Trefor Sproule, 0-0-0-0.00
Jono Couling, 0-0-0-0.00
Bradley Wheeler, 0-0-0-0.00
Beau Willis, 0-0-0-0.00
Brody Woodard, 0-0-0-0.00
Wyatt Milgate, 0-0-0-0.00
Jack Keats, 0-0-0-0.00