Brady Fielder Wins PBR Scone Invitational to Overtake No. 1 Rank in the Race for the 2022 PBR Australia Championship
By: Kacie Albert Saturday, February 5, 2022 @ 9:28 PM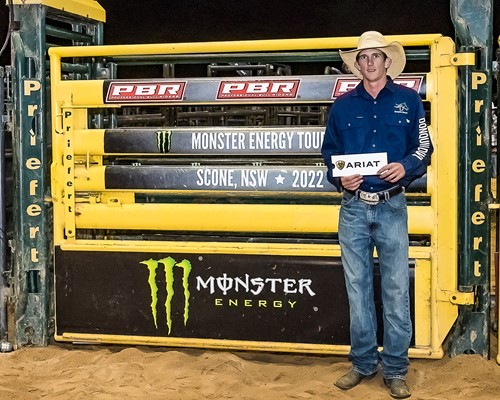 SCONE, NSW – As PBR (Professional Bull Riders) Australia's elite Monster Energy Tour returned to Scone, New South Wales, for the first time in nearly a decade Saturday evening, there was no rider more dominant than Brady Fielder (Clermont, Queensland). Delivering a perfect 2-for-2 performance, Fielder won the PBR Scone Invitational, surging to the No. 1 rank in the early race for the 2022 PBR Australia Championship.
The 2020 PBR Australia Grand Finals event winner got off to a hot start in Round 1 inside White Park Equine Arena, delivering the third-best score when he made the requisite 8 aboard Shogun Willy (Yates Bucking Bulls) for 85 points.
Fielder then surged to the top of the event leaderboard in Round 2. He went the distance atop Chaos (MJ/Shultz Bucking Bulls) for 86.5 points to tie for the round win and clinch the event victory.
For his golden finish, Fielder earned a critical 72.5 national points.
After entering the event No. 2 in the nation, Fielder surpassed an injured Kurt Shephard (Mareeba, Queensland) for the top position, now 50.5 points out front.
As the only other rider to be flawless in Scone, Cody Heffernan (Singleton, New South Wales) was second, collecting 64 national points.
The 2016 PBR Australia Champion was unrivaled in the opening round, rising to an early lead in the event when he rode Cliffhanger (Throsby and Russell/Richardson) for an tour stop-best 88.5 points.
While Heffernan again made the 8 in the final round, riding Silverback (J&J Riverview Cattle Company) for 80 points, the score was not enough to remain atop the leaderboard, finish three points shy of the win in the aggregate.
Heffernan may have begun the first PBR event in New South Wales since 2019 unranked, but he catapulted to the No. 3 position in the standing compliments of the silver finish. He is now just 63.5 points back of No. 1 Fielder.
Chris Wilson (Parkville, Victoria) rebounded form a quick Round 1 buckoff to finish third.
Despite being upset by Kung Foo 2 (Throsby & Russell Bucking Bulls) in Round 1, Wilson was quick to rally, tying for the Round 2 win when he rode Silverado (Throsby & Russell Bucking Bulls) for 86.5 points.
Wilson left White Park Equine Arena having earned 43.5 national points. He is now No. 4 in the national standings, 84 points removed from the top position.
Fourth was Jake Curr (Mount Isa, Queensland) netting 32 national points.
The 22-year-old was electric in Round 1, marked 86 points on Almost Evil (Throsby & Russell/Baille), however has his hopes of victory were dashed in Round 2 when he was bucked off in a swift 2.37 seconds by Cowboy Cartel Smooth Criminal (Shultz Bucking Bulls).
Curr is now the No. 6-ranked contender in the PBR Australia national standings, 95.5 points behind No. 1 Fielder.
Rounding out the Top 5, and tying for fifth, were Trefor Sproule (Singleton, New South Wales) and Braith Nock (Bendemeer, New South Wales), each collecting 12.5 national points.
The duo was both awarded an 82-point score in Round 1 with Sproule making the 8 aboard Rotten Apple (Throsby & Russell Bucking Bulls), and Nock covering Silverback (J&J Riverview Cattle Company).
In the bull pen, G Shock (Throsby & Russel Bucking Bulls) and Natural Hillbilly (Throsby & Russell Bucking Bulls) tied for the high-marked bull of the event honor.
Both scored 43.5 points, G Shock was out in Round 1, bucking off Cody Groves (Toowoomba, Queensland) in 1.49 seconds, while Natural Hillbilly bucked in Round 2, upending Steven Carter (Wards River, New South Wales) in 1.84 seconds.
The PBR Australia Monster Energy Tour next travels to Rockhampton, Queensland, on Saturday, February 12. Action at the Great Western Hotel will begin at 7:00 p.m. AEDT.
PBR Australia Monster Energy Tour
PBR Scone Invitational
White Park Equine Arena – Scone, New South Wales
Event Leaders (Round 1-Round 2-Event Aggregate-National Points)
1. Brady Fielder, 85-86.5-171.50-72.5 Points.
2. Cody Heffernan, 88.5-80-168.50-64 Points.
3. Chris Wilson, 0-86.5-86.50-43.5 Points.
4. Jake Curr, 86-0-86.00-32 Points.
5. Trefor Sproule, 82-0-82.00-12.5 Points.
(tie). Braith Nock, 82-0-82.00-12.5 Points.
7. Will Purcell, 81-0-81.00-7 Points.
Lachlan Richardson, 0-0-0.00
Kelsey Pavlou, 0-0-0.00
Lachlan Slade, 0-0-0.00
Nathan Burtenshaw, 0-0-0.00
Taran Chirgwin, 0-0-0.00
Jack Keats, 0-0-0.00
Wyatt Milgate, 0-0-0.00
Thomas Hudson, 0-0-0.00
Jono Couling, 0-0-0.00
Josh Grant, 0-0-0.00
Sean Lynch, 0-0-0.00
Oscar Leake, 0-0-0.00
Toby Leake, 0-0-0.00
Brumby Brandenburg, 0-0-0.00
Bryn Francis, 0-0-0.00
Chris Borghero, 0-0-0.00
Steven Carter, 0-0-0.00
Bradley Wheeler, 0-0-0.00
Cody Groves, 0-0-0.00