Beau Willis Surges to No. 7 in Race for 2021 PBR Australia Championship with First PBR Event Victory in Five Years in Caboolture, Queensland
By: Kacie Albert Saturday, November 6, 2021 @ 10:05 AM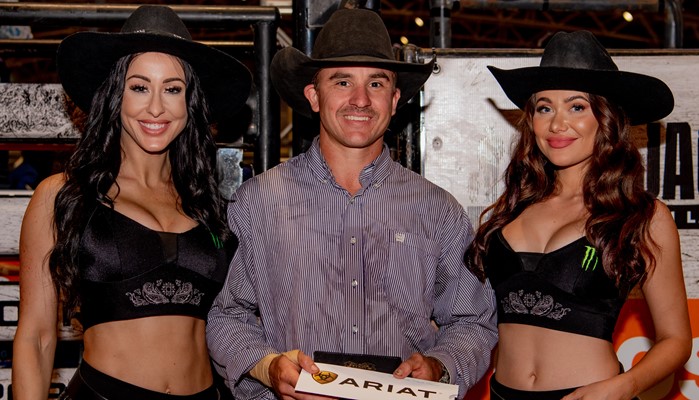 CABOOLTURE, Qld. – At the penultimate regular-season PBR (Professional Bull Riders) Australian event prior to the Grand Finals in late November, Beau Willis (Bowen, Queensland) was electric, going a near perfect 2-for-3 to win the PBR Caboolture Invitational in Caboolture, Queensland, catapulting him inside the Top 10 in the race for the 2021 PBR Australia Championship.
The 2021 season will come to a climatic end Nov. 26-27 in Townsville, Queensland when the Townsville Entertainment & Convention Centre hosts the 2021 PBR Australia Grand Finals.
Willis began his campaign for his first event victory in five years when he topped the field in Round 1, covering Shotgun (ST Bucking Bulls) for 85 points.
The home state contender remained perfect in Round 2 when he outlasted Amigo (MJ/Keliher Bucking Bulls) for 79 points.
While Willis was unable to conclude the event with a score, bested by Big Buck Hunter (ST Bucking Bulls) in 3.13 seconds, his initial two scores proved enough to clinch the win.
For his efforts, Willis earned a critical 148 national points. After beginning the event ranked No. 25, Willis surged 18 positions in the national standings, now the No. 7 rider in Australia. The 31-year-old is now within 330.33 points of No. 1 Aaron Kleier (Clermont, Queensland).
Chasing history in 2021, Kleier remained No. 1 in the title race after tying for fourth at the Monster Energy Tour event in Caboolture to collect 60 national points.
Should Kleier win the national title an unprecedented fourth consecutive time, the 23-year-old sensation would tie David Kennedy (Kyogle, New South Wales) for most Australian national titles won by one rider in league history. Kennedy topped the national standings in 2009-2010, 2012 and 2014.
In the opening rounds of action, Kleier was quick to rebound from a 5.96-second buckoff dealt to him by Mr. Meaner (Rick Ruhland) in Round 1, making the 8 aboard Rip Slinger (MJ/Keliher Bucking Bulls) for 82 points in Round 2.
Kleier's successes, however, did not continue in the championship round, dispatched by Pretty Boy (Peter Wallace) in a hard-fought 4.53 seconds.
In the standings, after beginning the event 81.33 points ahead of the No. 2-ranked rider, Kleier is now 106.83 points out front.
Compliments of a third-place effort, Macaulie Leather (Calliope, Queensland) overtook Kurt Shephard (Mareeba, Queensland) for the No. 2 position in the battle for the 2021 PBR Australia Championship.
On the spurs of his event win the weekend prior in Emerald, Queensland, Leather was red-hot in Round 1 inside QSEC Arena, delivering the second-best score when he rode Titanium (Rick Ruhland) for 84 points.
Leather, however, was denied scores by his subsequent two animal athlete opponents, bucked off by Flyin Hippie (Peter Wallace) in 2.87 seconds and Ambush (MJ/Keliher Bucking Bulls) in 2.47 seconds.
The 1-for-3 effort earned Leather 84 national points, elevating him from No. 3 to No. 2 in the standings. He is now within 106.83 points of the No. 1 position and capturing his career-first PBR Australia Championship.
For the first time in 2021, Shephard was shutout.
The World Finals qualifier was bested by Night Fury (ST Bucking Bulls) in 5.68 seconds, and Big Bang Theory (BK Bucking Bulls) in 6.48 seconds.
Shephard is now No. 3 in the national standings, 141.33 points behind the top spot.
Lawson Nobbs (Moura, Queensland) was second, earning 96 national points.
His silver finish included two 8-second efforts, marked 80.5 points on Catfish Billy (JD Bucking Bulls) in Round 1, and 76.5 points aboard Hi Thrills (BK Bucking Bulls) in Round 2.
Nobbs rose from No. 6 to No. 4 in the race for the 2021 PBR Australia Championship, elevating him within 187 points of No. 1 Kleier.
Rounding out the Top 5, and tying for fourth with Kleier, was Qynn Andersen (Koumala, Queensland).
Andersen registered his 82-point effort in Round 1 when he outlasted Ranga (MJ/Keliher Bucking Bulls).
He left Caboolture having earned 48 national points.
Andersen climbed six positions in the standings, now No. 13 after entering the tour stop No. 19.
In the bull pen, Pretty Boy was the high-marked Bull of the Event. He posted an impressive 45-point score when he bucked of Kleier in the championship round.
The 2021 PBR Australia season will continue Saturday, November 13 in Rockhampton, Queensland at Great Western Hotel. Action for the Monster Energy Tour's Rockhampton Invitational will get underway at 7:00 p.m. AEST.
Fans can watch LIVE all the remaining action in the race for the 2021 PBR Australia Championship on Facebook. For $4.49 AUD fans will be able to watch the LIVE stream of all the events, and the on-demand video of the tour stop which will publish in the days that follow. To purchase the Facebook LIVE stream of the events via Facebook Pay, fans should visit the official event page here, and select get access.
For more information, stay tuned to PBRAustralia.com.au and follow the tour on Facebook (PBR Australia), Twitter (@PBRAustralia), and Instagram (@PBRAustralia) for the latest results.
PBR Australia Monster Energy Tour – PBR Caboolture Invitational
QSEC Arena – Caboolture, Queensland
Event Leaders (Round 1- Round 2-Round 3-Event Aggregate-Australian Points)
1. Beau Willis, 85-79-0-164.00-148 Points.
2. Lawson Nobbs, 80.5-76.5-0-157.00-96 Points.
3. Macaulie Leather, 84-0-0-84.00-84 Points.
4. Aaron Kleier, 0-82-0-82.00-60 Points.
(tie). Qynn Andersen, 82-0-0-82.00-48 Points.
6. Sam Woodall, 81.5-0-0-81.50-22 Points.
7. Lachlan Richardson, 81-0-0-81.00-14 Points.
(tie). Joshua Jones, 81-0-0-81.00-14 Points.
9. Kelsey Pavlou, 0-80-0-80.00-28 Points.
Kurt Shephard, 0-0-0-0.00
Brady Fielder, 0-0-0-0.00
Troy Wilkinson, 0-0-0-0.00
Lane Mellers, 0-0-0-0.00
Caiden Sandilands, 0-0-0-0.00
Dan Ruhland, 0-0-0-0.00
Taran Chirgwin, 0-0-0-0.00
Wyatt Milgate, 0-0-0-0.00
Lane Howlett, 0-0-0-0.00
2021 PBR Australia National Standings
(Place, Rider, Events, Wins, Top 5's, Points, Total Winnings)
1. Aaron Kleier, 12, 3, 8, 484.33, $21,034.64
2. Macaulie Leather, 13, 2, 5, 377.50, $12,783.32
3. Kurt Shephard, 10, 2, 6, 343.00, $15,587.72
4. Lawson Nobbs, 12, 2, 3, 297.33, $12,838.00
5. Brady Fielder, 12, 0, 6, 249.82, $7,681.59
6. Lachlan Richardson, 13, 1, 5, 227.50, $8,594.28
7. Beau Willis, 8, 0, 0, 154.00, $6,758.80
8. Bailey Woodard, 7, 1, 3, 149.00, $6,507.68
9. Lachlan Slade, 6, 1, 3, 116.50, $8,682.28
10. Troy Wilkinson, 8, 0, 2, 112.50, $3,891.20
11. Kelsey Pavlou, 11, 0, 2, 106.50, $2,795.92
12. Sam Woodall, 9, 0, 2, 86.00, $3,054.48
13. Qynn Andersen, 5, 0, 2, 83.16, $2,480.96
14. Lane Mellers, 9, 0, 3, 77.50, $4,208.40
15. Caiden Sandilands, 13, 0, 4, 72.99, $1,476.79
16. Joshua Jones, 7, 0, 1, 65.00, $2,225.24
17. Dan Ruhland, 12, 0, 2, 58.50, $1,358.88
18. Mitchel Paton, 8, 0, 1, 58.00, $1,692.00
19. Cody Heffernan, 6, 0, 1, 52.50, $2,175.60
20. Taran Chirgwin, 11, 0, 1, 37.00, $626.48
21. Daniel Rogan, 3, 0, 1, 24.83, $295.27
22. Joseph Down, 8, 0, 0, 19.50, $754.80
23. Cody Fraser, 3, 0, 1, 10.50, $295.68
24. Trefor Sproule, 5, 0, 0, 10.00, $0.00
25. Wyatt Milgate, 9, 0, 0, 8.00, $0.00
26. Lane Howlett, 5, 0, 0, 6.00, $0.00
27. Josh Cavanagh, 2, 0, 0, 3.50, $0.00
28. Jake Curr, 5, 0, 0, 0.00, $0.00
28. Jackson Gray, 1, 0, 0, 0.00, $0.00
28. Ty Thomson, 5, 0, 0, 0.00, $0.00
28. Zane Hall, 4, 0, 0, 0.00, $0.00
28. Michael Smith, 4, 0, 0, 0.00, $0.00
28. Eli Bee, 3, 0, 0, 0.00, $0.00
28. Jack Keats, 4, 0, 0, 0.00, $0.00
28. Thomas Hudson, 4, 0, 0, 0.00, $0.00
28. Bryn Francis, 4, 0, 0, 0.00, $0.00
28. Sam Spencer, 3, 0, 0, 0.00, $0.00
28. Isaac Leclair, 3, 0, 0, 0.00, $0.00
28. Clay Hall, 3, 0, 0, 0.00, $0.00
28. Luke Parkinson, 2, 0, 0, 0.00, $0.00
28. Ben Graving, 2, 0, 0, 0.00, $0.00
28. Jack Cameron, 2, 0, 0, 0.00, $0.00
28. Oscar Leake, 1, 0, 0, 0.00, $0.00
28. Brumby Brandenburg, 1, 0, 0, 0.00, $0.00
28. Sam Payne, 3, 0, 0, 0.00, $0.00
28. Chris Wilson, 3, 0, 0, 0.00, $0.00
28. Jono Couling, 2, 0, 0, 0.00, $0.00
28. Derryn Bonisch, 1, 0, 0, 0.00, $0.00
28. JN Bennett, 1, 0, 0, 0.00, $0.00