Team Queensland Dominates in Cairns to be Crowned 2021 PBR Origin Champions
By: Kacie Albert Saturday, July 17, 2021 @ 12:27 PM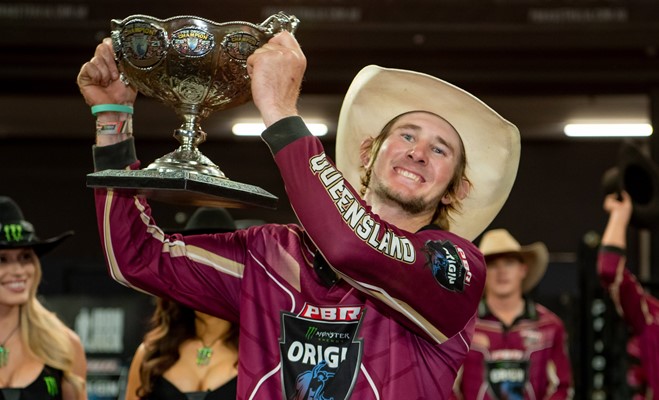 CAIRNS, QLD. – Competing in front of a home state crowd, Team Queensland was dominant Saturday evening at the Cairns Convention Centre in Cairns, Queensland, defeating Team New South Wales by a commanding five rides and a massive 415 points to win their second event in the 2021 iteration of the state vs. state bull riding tournament, and be crowned the 2021 PBR Origin Champions.
"It feels bloody awesome," Team Queensland Captain Aaron Kleier (Clermont, Queensland) said moments after the Maroons' victory. "Happy with all the boys, they all had a day and got in."
From the moment the first rider representing Team Queensland erupted from the chutes, the Maroons were atop the leaderboard, never once relinquishing the top spot to Team New South Wales.
PBR Origin II – Cairns got underway with a showdown between captains – 2017 PBR Australia Champion Troy Wilkinson (Upper Horton, New South Wales) for the Blues, and three-time, and reigning, Australian Champion Kleier for the Maroons.
After Wilkinson covered Random Assault (Dunne Bulls) for 82.5 points, Kleier brought the raucous crowd to its feet when he climbed aboard unridden Tribal (Dunne Bulls), who had never once been covered in his 12 prior outs on record.
Kleier, however, cracked Tribal's code, going the distance aboard the fierce bovine athlete for 84.5 points to give Queensland a 2-point lead.
Following back-to-back buckoffs registered by both teams, Bailey Woodard (Dingo, Queensland) righted Team Queensland's momentum, covering Rockslide (Dunne Bulls) for 84 points, and extending his state's lead to 86 points.
Despite 23-year-old Sam Woodall (Luddenham, New South Wales) briefly inching Team New South Wales within 0.5 points of Queensland, riding Ariat's Flaunt It (Dunne Bulls) for 85.5 points, Lawson Nobbs (Moura, Queensland) padded the reining Origin Champions lead when he quickly responded with an 84.5-point score aboard Code Blue (Fred Kleier).
Holding an 85-point lead midway through Round 1, Team Queensland then went on a tear, outscoring Team New South Wales three rides to one to enter Round 2 with an impressive 254-point lead.
Those points for the Maroons were contributed by World Finals qualifier Kurt Shephard (Mareeba, Queensland) who rode Screaming Demon (Dittmann Bucking Bulls) for a round-best 86 points, Dan Ruhland (Mount Walker, Queensland) who covered Onion Head (Fred Kleier) for 82 points, and 2020 PBR Australia Grand Finals event winner Brady Fielder (Clermont, Queensland) who made the 8 aboard Red Flash (Fred Kleier) for 84.5 points.
Cody Heffernan (Singleton, New South Wales) was the lone rider to make the whistle for the Blues, riding Humdinger (Dunne Bulls) for 83.5 points.
In Round 2, Team Queensland's momentum continued to roll in seemingly unstoppable fashion.
Young gun Kelsey Pavlou (Toora, Queensland) was the first to convert for the Maroons in the second round, rising to the occasion when he rode Slick 60 (Peter Wallace) for 80.5 points to extend his state's lead to a then event-best 334.5 points.
After Joseph Down (Musswellbrook, New South Wales) and Woodall contributed two unanswered rides for the Blues, riding Get Ya Freak On (Diamond J Rodeo Co.) for 83.5 points and Chemical Weapon (MJ/Keliher Bucking Bulls) for 80.5 points, respectively, to climb within 170.5 points of Team Queensland, the Maroons mounted a rally for the record books.  
Queensland's lead first grew to 253.5 points when Woodard registered his second qualified ride in Cairns, making the 8 aboard Amigo (MJ/Keliher Bucking Bulls) for 83 points.
Also remaining perfect inside the Cairns Convention Centre, Shepard delivered his second score of the evening, expanding the Maroons' lead to 335.5 points when he rode Milky Way Man (Diamond J Rodeo Co.) for 82 points.
The trio of scores for Team Queensland was then punctuated by Nobbs' 84-point score on Notorious (Brandenburg Bucking Bulls), allowing the home state contenders to surge to a 419.5-point lead.
With just two riders from each contingent left to ride ahead of the bonus round, Nobbs' score all but guaranteed Queensland their second victory at the state vs. state tournament.
While each state registered a score in their final duo of Round 2 outs, New South Wales contender Lachlan Slade's (Tamworth, New South Wales) 85-point ride aboard High Class Hooker (Brandenburg/MJ Bucking Bulls) was not enough to keep his team's hopes of a bonus round comeback alive.
As the last man to leave the chutes in Round 2, Queensland's Lane Mellers (Mundubbera, Queensland) covered Get A Haircut (Diamond J Rodeo Co.) for 82 points, giving Queensland a 416.5-point lead ahead of the bonus round and clinching the Maroons the 2021 PBR Origin Championship.
Despite the 2021 PBR Origin Champion determined, both teams continued to deliver ferocious efforts in the bonus round.
Kleier set the tone early, riding Black Tuxedo (Peter Wallace) for 88.5 points.
Slade, however, ensured Team New South Wales concluded the tournament on a high note, riding Cattle King Boogers Beach (Dittmann Bucking Bulls) for a monstrous, and career-best, 90 points. The 90-point effort was just the second of the season on Australian soil.
When the dust settled inside Cairns Convention Centre, Team Queensland out rode Team New South Wales by five rides, with the final score 1,005.5-590.5, propelling the Maroons to their second PBR Origin Championship. Team Queensland previously won PBR Origin I – Brisbane, defeating Team New South Wales by a mere 88 points to jump to an early lead in the three-part tournament.
With crucial national points also on the line, Team Queensland riders filled the podium.
Each going a perfect 2-for-2 in the opening rounds, Nobbs finished first to earn 68.33 national points, Shephard was second to collect 58.5 national points, and Woodard concluded the event third to take home 39 national points.
"Its amazing," Nobbs said of his individual victory. "Good to get two bulls rode. Would have been good to get the third one, but still good."
In the race for the 2021 PBR Australia Championship, Nobbs rose three positions, climbing from No. 10 to No. 7, surging within 89.5 points of No. 1 Kleier.
Also gaining ground, Shephard is now No. 3 and 87.83 points back of No. 1 Kleier after beginning the event No. 6, and Woodard rose from No. 12 to No. 8, now within 147.33 points of the top spot.
New South Wales competitors Woodall and Slade finished fourth and fifth, respectively.
As the final flawless rider in the opening rounds, Woodall netted 33.5 national points and is now No. 13 in the standings, while Slade collected 25 national points for his 1-for-2 effort and is now ranked No. 6 in the nation.
In the bull pen, Cattle King Boogers Beach continued his dominant season.
The captivating bull earned his sixth consecutive Bull of the Event title in Cairns, splitting the honor with Razor Sharp (Peter Wallace) after both bulls posted 45-point scores.
Both bucking in the bonus round, Cattle King Boogers Beach earned the marks when he teamed with Slade for his awe-inspiring 90-point ride, while Razor Sharp turned heads when he buked off Shephard in 3.22 seconds.
"We're real proud of these animals and between us, I think we have the two best bulls in the country at the moment," Peter Wallace said. "It was great."
The 2021 PBR Origin II – Cairns event was also a Bull Team Challenge tour stop. With the quartet of Cattle King Boogers Beach, Roid Rage, Reloaded and Ranga, Dittmann Bucking Bulls won the competition amongst the event's animal athletes with a 43.875-point average score.
The 2021 PBR Australia season will continue Saturday, July 31 in Rockhampton, Queensland, at the Great Western Hotel. Action for the Monster Energy Tour's Rockhampton Invitational, part of the Back to the Heartland Series, will get underway at 7:00 p.m. AEST. Tickets are still available and can be purchased at pbraustralia.com.au.  
2021 PBR Australia Origin – PBR Origin II – Cairns
Cairns Centre – Cairns, Queensland
(Rides – Outs – Event Aggregate)
1. Team Queensland, 12-24-1,005.5
2. Team New South Wales, 7-24-590.5
2021 PBR Australia Origin – PBR Origin II – Cairns
Cairns Centre – Cairns, Queensland
Event Leaders (Round 1- Round 2-Event Aggregate-Australian Points)
1. Lawson Nobbs, 84.5-84-168.5-68.33
2. Kurt Shephard, 86-82-168-58.5
3. Bailey Woodard, 84-83-167-39
4. Sam Woodall, 85.5-80.5-166-33.5
5. Lachlan Slade, 0-85-85-25
6. Brady Fielder, 84.5-0-84.5-10.83
(tie). Aaron Kleier, 84.5-0-84.5-10.83
8. Cody Heffernan, 83.5-0-83.5-4.5
(tie). Joseph Down, 0-83.5-83.5-11.5
10. Troy Wilkinson, 82.5-0-82.5-2
11. Dan Ruhland, 82-0-82-0
(tie). Lane Mellers, 0-82-82-3.5
13. Kelsey Pavlou, 0-80.5-80.5-1.5
Lachlan Richardson, 0-0-0.00-0
Macaulie Leather, 0-0-0.00-0
Caiden Sandilands, 0-0-0.00-0
Trefor Sproule, 0-0-0.00-0
Ty Thomson, 0-0-0.00-0
Thomas Hudson, 0-0-0.00-0
Isaac Leclair, 0-0-0.00-0