Two-Time PBR Australia Champion Aaron Kleier Wins Monster Tour's Rockhampton Invitational to Hone in on Nation's No. 1 Ranking
By: Kacie Albert Sunday, October 18, 2020 @ 11:43 AM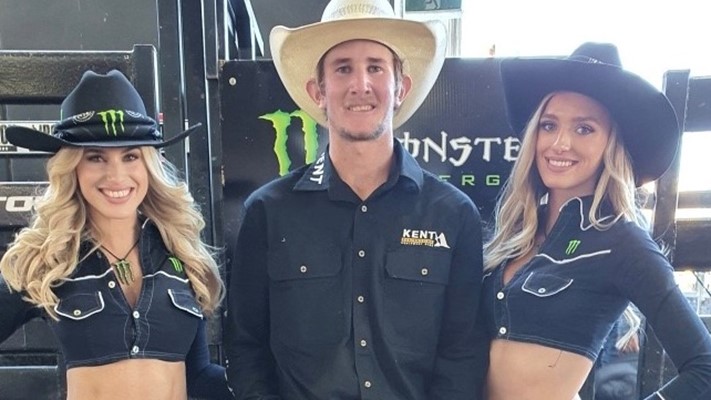 ROCKHAMPTON, Queensland – In a fiercely contested opening event for the PBR (Professional Bull Riders) Australia Monster Energy Tour's Rockhampton Invitational doubleheader, two-time and reigning Australia Champion Aaron Kleier (Clermont, Queensland) narrowly edged the nation's current No. 1 ranked rider Lachlan Richardson (Gresford, New South Wales), to capture his second event victory of 2020 on home soil and gain critical ground in the national standings.
Kleier began the event with momentum, tying for the second-best score in Round 1 when he reached the 8-second whistle aboard Drag Iron (Dunne Bulls) for 84.5 points.
Facing Annihilation (Brandenburg Bucking Bulls) as the penultimate man to erupt from the chutes in the championship round, Kleier remained perfect, matching the bull jump-for-jump en route to an 85-point score.
Finishing a mere one point ahead of event runner-up Richardson in the event aggregate, Kleier's victory earned him a check for $2,006.40, in addition to a crucial 72.5 points.
The Queensland cowboy retained his No. 2 rank in the national standings, however cut into No. 1 Richardson's lead. Kleier is now within 44.5 points of the seven-time PBR World Finals qualifier, after beginning the event 58 points back.  
Should Kleier once again win the PBR Australia Championship in 2020 he would become the first rider in league history to win the nation's championship in three consecutive seasons. Additionally, Kleier would be on the precipice of tying David Kennedy (Kyogle, New South Wales) for winningest rider in Australian history. Kennedy is a four-time PBR Australia Champion, winning the title in 2009-2010, 2012 and 2014.
Following the Rockhampton double-header, six events remain prior to the 2020 PBR Australia Grand Finals on Nov. 20-21 in Townsville, Queensland at the Townsville Entertainment Centre where the 2020 PBR Australia will be crowed.
Kleier is also on the verge of earning his first-ever PBR World Finals qualification, presently ranked inside the well-known Top 35 threshold.
As the No. 27-ranked rider in the world, 66.33 points ahead of No. 36 Ryan Dirteater (Hulbert, Oklahoma), Kleier is positioned to earn a berth directly to the 2020 PBR World Finals: Unleash The Beast when the event debuts inside the home of the NFL's Dallas Cowboys on November 12-15 in Arlington, Texas at AT&T Stadium.
Retaining his No. 1 ranking, Richardson finished second, netting $1,607.40 and 59 national points.
First riding Oooh Yah (Brandenburg Bucking Bulls) for 82.5 points in Round 1, Richardson capped his perfect performance with a championship round-winning, 86-point trip aboard POA Lock n Load (Dittmann Bucking Bulls).
Despite seeing his lead shrink, Richardson remained atop the national standings as he seeks his career-first PBR Australia Championship when the 2020 season culminates in November in Townsville, Queensland for the PBR Australia Grand Finals.
Round 1 winner Jay Borghero (Beaudesert, Queensland) was third.
Compliments of his 86-point effort aboard Hot Spot (Dittmann Bucking Bulls) in the opening round, Borghero earned $1,219.80 and 45 national points.
Riding in the form necessary to capture his first-ever PBR event victory, Borghero's golden dreams were dashed in the championship round when he was bucked off by Black Tuxedo (Peter Wallace) in a heartbreaking 7.9 seconds.
The 25-year-old, who is attempting to qualify for his third consecutive PBR Australia Grand Finals, rose from unranked to No. 21 in the national standings compliments of his top finish of the season.
Borghero is now within 348 points of No. 1 Richardson.
Jake Curr (Mount Isa, Queensland) rode to his fourth Top 5 finish of the 2020 season, concluding the event fourth.
His 1-for-2 performance was headlined by an 84.5-point trip on Digger (Dittmann Bucking Bulls).
Curr was unable to remain flawless at the first portion of the PBR Rockhampton Invitational when he was bested by Incredibull (Brandenburg Bucking Bulls) in 4.07 seconds in the championship round.
For his efforts, Curr earned $627 and 30.5 national points. He maintained his No. 3 rank in the national standings, now 214 points behind No. 1 Richardson.
Rounding out the Top 5 in fifth was Rockhampton's own Caiden Sandilands (Rockhampton, Queensland).
The 21-year-old young gun rode Going Under (Dunne Bulls) for 83 points in Round 1 to be propelled to a $239.40 payday, while also collecting 16 national points.
Sandilands is now ranked No. 19 in the PBR Australia national standings, rising one positon after entering the event No. 20. He now trails the No. 1 ranking by 342.5 points.
In the bull pen, Razor Sharp (Peter Wallace) turned heads, posting a 44-point bull score compliments of his 2.18-second buckoff of Ben Gard (Albury, New South Wales) in the championship round to earn to the high-marked bull of the event honor.
Two additional bovine athletes also posted impressive scores, with Mixed Culture (Brandenburg Bucking Bulls) and Notorious (Brandenburg Bucking Bulls) delivering matching 43-point trips.
Mixed Culture bested Sam Woodall (Heywood, Victoria) in 2.84 seconds in Round 1, while Notorious dealt a swift 4.27-second buckoff to Eli Bee (Darwin, Northern Territory) in the championship round.
Fans can relive all the action for the 2020 PBR Australia Monster Energy Tour's Rockhampton Invitational on RidePass starting at 8:00 a.m. AEST on Sunday, October 18 at RidePass.com or via the RidePass app available on iOS, Android and Roku.
The PBR Australia Monster Energy Tour is anticipated to next travel to Beaudesert, Queensland, and the Beaudesert Showgrounds with the 2020 PBR Beaudesert Invitational on Saturday, October 31. The tour stop will once again feature a double-header competition, with action getting underway at both 1:00 p.m. AEST and 6:00 p.m. AEST. Stay tuned to PBRAustralia.com.au for the latest event information.
PBR Australia Monster Energy Tour – PBR Rockhampton Invitational 1
Great Western Hotel – Rockhampton, Queensland
Event Leaders (Round 1- Round 2-Event Aggregate-Payout-Australian Points)
1. Aaron Kleier, 84.5-85-169.5-$2,006.40-72.5
2. Lachlan Richardson, 82.5-86-168.5-$1,607.40-59
3. Jay Borghero, 86-0-86-$1,219.80-45
4. Jake Curr, 84.5-0-84.5-$627-30.5
5. Caiden Sandilands, 83-0-83-$239.40-16
6 (tie). Lachlan Slade, 82-0-82-$0-7
Eli Bee, 82-0-82-$0-7
8. Ben Gard, 78.5-0-78.5-$0-4
9. Braydon Wellby, 76.5-0-76.5-$0-2
Jackson Gray, 0-0-0.00-$0-0
Sam Woodall, 0-0-0.00-$0-0
Kelsey Pavlou, 0-0-0.00-$0-0
Jack McArthur, 0-0-0.00-$0-0
Matt Hollis, 0-0-0.00-$0-0
Mitchel Paton, 0-0-0.00-$0-0
Kurt Shephard, 0-0-0.00-$0-0
Lawson Nobbs, 0-0-0.00-$0-0
Zane Hall, 0-0-0.00-$0-0
Sam Champ, 0-0-0.00-$0-0
Brady Fielder, 0-0-0.00-$0-0
Ty Thomson, 0-0-0.00-$0-0
Lane Mellers, 0-0-0.00-$0-0
Brendan Buckholz, 0-0-0.00-$0-0
Michael Smith, 0-0-0.00-$0-0
Bailey Woodard, 0-0-0.00-$0-0
Jack Keats, 0-0-0.00-$0-0
Tyler Morgan, 0-0-0.00-$0-0
Cameron McLennan, 0-0-0.00-$0-0
Brody Woodard, 0-0-0.00-$0-0
Joey Buckingham, 0-0-0.00-$0-0