By The Numbers: Meatstock Toowoomba
By: Sean Walsh Wednesday, April 12, 2023 @ 3:07 PM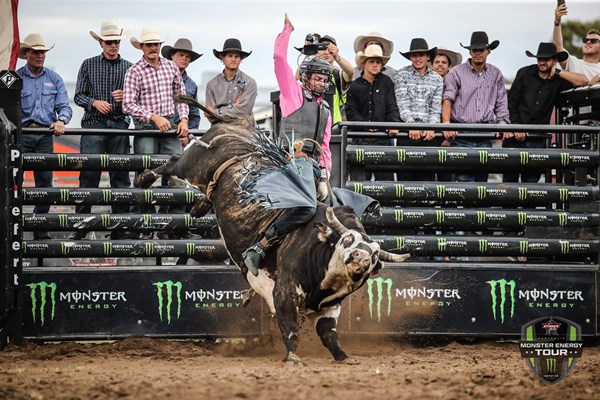 PBR Australia's Monster Energy Tour will embark on Toowoomba this weekend for the second PBR Meatstock event of the season after a successful event in Melbourne last month. With two fantastic days and three shows on the agenda, it's shaping up to be a be a hotly contested battle at the Toowoomba Showgrounds. Here are some numbers and things to watch for as we head into Friday's Round 1 battles.

83- Round 1 action on Friday features some fantastic rematches between Bovine and Cowboy, with one to watch is Mareeba, QLD veteran Kurt Shephard, who's 210 Career PBR qualifed rides includes an 83-point out on his Round 1 dance partner Tezza's Pride (JD Bucking Bulls), whom Shepherd took to the whistle during the 2021 PBR Bull Mania on the Gold Coast. The Bovine has been covered on his last two PBR trips by Jake Curr and Aaron Kleier in 2022 and will be looking to turn that around and start off its 2023 Monster Energy Tour season with a bang.


169.5- 2022 PBR Monster Energy Tour at Meatstock Toowoomba champion Aaron Kleier is back to defend his event title after covering 2/4 bulls at the Showgrounds a year ago. Kleier was able to grab a qualified ride in Round 2 with an 86-point effort on Mickey Mouse (Peter Wallace) and then was able to back it up later that day during Round 3 when he was able to go the distance with Pirate Patch (Running Gold Bucking Bulls), giving the Kent Hire Cowboy a 169.5 event aggregate and the event win. Kleier will face Apache (Peter Wallace) during Friday's Round 1 action and will be looking to add the first black mark on the Bovine's record, who is unmatched during its two outs in the PBR to date.
62- The Toowoomba locals will get the privilege of being able to see two legends of the PBR Brazil Tour, with Romario Leite and Bruno Roberto competing in a PBR Australia event for the first time ever during the weekend's action. Leite, who hails from Brotas, SP comes to Australian shores having already achieved a fantastic amount in his PBR career thus far, with the cowboy riding at 54% and gaining 62 qualified rides on the PBR Brazil tour to date.


47.6- After covering two of his bulls in Winton a fortnight ago, Macaulie Leather continues his assurgency up the PBR Australia standings and is now only 70 points shy of Sam Woodall's yard marker for the No. 1 spot. Leather's round one matchup will see the Central Queensland native go to battle with Pirate Patch (Ruhland Bucking Bulls), the bovine's only trip this PBR season being a rank 43-point out/1.54 second buckoff with Jono Couling the victim in Cooyar. 


43.43- MJ / Keliher Bucking Bulls Bovine Superstar Razor Sharp is a bull to watch this weekend, with only two of the 31 trips its taken in the PBR lasting all eight seconds and will go into Toowoomba with the highest career average bull score of 43.43 points per out. Warrnambool, Vic native Joe Down will be the Cowboy to try and tame the beast, with the young cowboy looking to break a 10 buckoff streak and chalk up his first qualifed ride in the PBR since Rockhampton in July 2021. 

Follow @PBRAustralia on Facebook and Instagram to keep up to date with all the action from Toowoomba and all things Professional Bull Riders in Australia and Abroad.