PBR Winton Way Out West Festival Post Event Game Notes
By: Sean Walsh Monday, April 3, 2023 @ 10:53 AM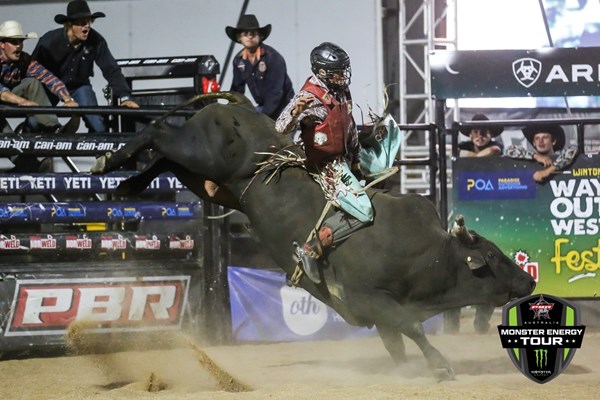 Friday March 31st- Round 1(Long Go)

Section 1:
Round 1, Section 1 belonged to the Bovines with all 10 riders falling short of the whistle and unable to obtain a qualified ride. Gangster's Retreat (Colin Fly) was able to dislodge Beau Willis from his bull rope in 2.48 seconds on the way to a 43.5-point out, which is a 2023 PBR Australia season best score to date for the bull.
Section 2:
Mt Isa, QLD Cowboy Donovan Rutherfurd was able to go the distance on Chewcudda (Peter Wallace) for an 85 point out, which was enough to get Rutherfurd the round win and in the process grab his first qualified ride on the PBR Australia tour since Mt Isa in 2019. Seven Eleven (Peter Wallace) was also able to make a statement early on Friday night at Winton, with the Bovine bucking off Rylee Ward in 2.35 seconds for an impressive 44.5-point out (PBR Australia Career High).
Section 3:
Lachlan Richardson was able to make the most of his re-ride opportunity during Round 1, after a foul during his first trip on West Point (Dunne Bulls), Richardson was then tasked with taking on Vanilla Ice (Peter Wallace) and was able to make the eight for a tidy 81 points. Aaron Kleier and Macaulie Leather then ensured the Winton crowd was to go home with some excitement after finishing off Round 1 with qualified rides and pushing them into contention for Sunday's Championship round, with Kleier earning 82.5 points on board Lightning (Colin Fry) and Leather grabbing 82 points for his eight second dance with Hair Trigger (Dittman Bucking Bulls).
Saturday April 1st- Round 2 (Long Go)
Section 1:
Saturday night's action was dominated by the Bulls early doors again, with former Australian Champion Fraser Babbington flung into the dirt in 4.73 seconds, in which West Point (Dunne Bulls) was able to continue it's good form and collect a 43-point bull score. Trefor Sproule's 79-point re-ride on Vanilla Ice was a good one for the Cowboy, making it the third straight event that he has gained a qualified ride (Marrabel, Coonamble and Winton)
Section 2:
New Zealand Native Rylee Ward chalked up his first ever qualified ride in the PBR, when the Central Hawks Bay cowboy took Blood In the Water all the way for an 86-point trip and on the way picking up the round as well as booking a spot in the Championship Round later that evening.
Section 3:
Kurt Shephard also picked up his first Qualified Ride of the 2023 PBR Australia season during his first out this year with an 82.5-point trip on Goose (Dittman Bucking Bulls).
Macaulie Leather was the first cowboy to cover multiple bulls in Winton when he danced for the duration with Gobstopper (Dittman) for a 77-point out and gaining him the top stop going into the Championship Round
Round 3 (Short Go Championship Round)
Donovan Rutherfurd's Saturday night was about to get a lot better when he was able to take Cattle King Screaming Deamon to the Whistle for 87 points finishing with an event aggregate of 172 points, which handed him his first ever career event win in the PBR and gaining 136 national points. Macaulie Leather's was the only other rider to cover multiple bulls and his 159-point aggregate pushes him to 2nd on the PBR Australia standings and is now only 70 points behind current leader Sam Woodall (238pts).