PBR Rockhampton May Invitational Post Event Notes
By: Sean Walsh Thursday, May 25, 2023 @ 9:38 AM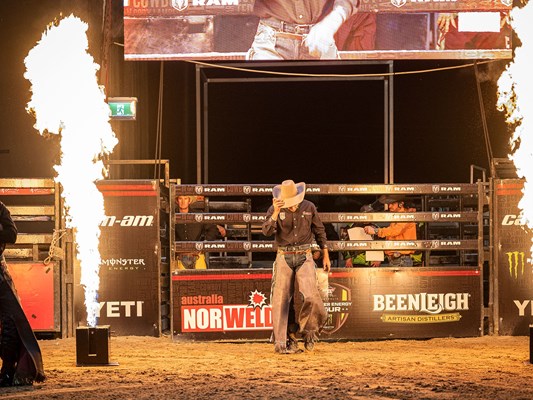 Round 1: Long GO

Friday's action started with Kurt Shephard getting to the whistle on the first out of the event on Rockability Rebel (Fred Kleier) for 78.50 points, with Shephard taking the reride that was on offer for low performance. 

Jackson Field was also able to take advantage of a lower bull score, with a 74-point ride on Damage Control (Fred Kleier) and declined to take the reride option, making it the first score of the night. 
Competing in his last event on Australian soil before heading over the US for the PBR Teams series, local Central Queenslander Brady Fielder continued to find the eight at the Great Western Hotel, when he took Brindle Thing (Fred Kleier), all the way and collected 84 points. 

Kelsey Pavlou was the pick of all the riders during Friday's action, covering Ranch Kitty's (MJ / Keliher Bucking Bulls) deceptive trip into his hand for an 85-point mark from the judges, which was good enough for Pavlou to get the round win.

Seven Eleven (Peter Wallace) continued to prove he has the ability to dispose of any rider on the tour, gaining a 43-point bull score with Macaulie Leather the victim in 6.35 seconds and was enough to collect the high bull score of the round.  
Jackson Gray was able to even the ledger with Red Tin (Fred Kleier) handing the bovine its first black mark after being previously unridden in 6 trips, grabbing 84 points and setting himself up for a big Saturday night. 

Aaron Kleier knows a thing of two about successfully knocking down bulls at the Great Western Hotel and Round 1 wasn't any different, with the four-time Australian Champion getting a score to open his hometown event with an 82-point trip on Close Combat (Dunne Bulls). 

The option to take the re-ride earlier in the evening paid dividends for Mareeba Cowboy Kurt Shephard, when Chewcudda (Peter Wallace) provided the PBR veteran with a textbook away from the riders' hand trip to give Shephard an 84-point tally from the judges. 


Extended Highlights: Rockhampton May

Round 2: Long GO

Jake Curr was able to put the previous night's buckoff out of his mind and find the whistle on Trooper (Dunne Bulls) for 83 points and set himself into the championship short go round later that evening. 

Macaulie Leather came into his hometown PBR event riding absolutely lights out during the past two months and after a slight hiccup on Friday evening, he turned it on during Round 2 with an 85.5-point trip courtesy of Mimi (Dunne Bulls), which was the high mark of Round 2 for the cowboys. 

The bovines dominated the middle sections of Round 2 with eleven consecutive buckoffs, which was broken by Brody Woodard who grabbed 84.5 points tied to Hawkeye (Fred Kleier). 

Kurt Shephard was the first rider to cover two bulls on the night, taking Dunno Yet (Fred Kleier) all the way for an 84.5-point trip and placing himself into a strong position heading into the champ round. 

New Zealand Cowboy Darryl McPherson grabbed his first ever PBR Australia qualified ride after Brindle Thing (Fred Kleier) was covered for the second night in a row for 78.5 points. 

Bruno Roberto was the last rider during Round 2 to taste success, with the Brazilian gaining a score of 83 on Code Blue (Fred Kleier) and earning himself his first championship round qualification this season. 


Round 3: Short Go Championship Round 

Lost Soul (Dunne Bulls) gave Darryl McPherson a taste of an elite level bucking bull, when it ejected McPherson in only 2.82 seconds for a 44-point bull score, which was tied for first on the event. 

Bruno Roberto was able to knock down his first ride in a PBR Australia Short Go Round, taking Black Tuxedo (Peter Wallace) into his hand for the full clock to grab 85.5 points. 

Brady Fielder's draft selection of Mr T was one of the best matchups of the Short Go Round and neither disappointed with Fielder falling just short of the marker, with the bovine getting the chocolates in 6.53 seconds and grabbing an equal event high 44 points. 
Jake Curr was only the second rider after Kurt Shephard to cover multiple bulls on the weekend, when he rode Ranch Kitty (MJ / Keliher Bucking Bulls) to the whistle for an 86.5-point trip, which was an event high at that stage and pushed Curr to #1. 

Macaulie Leather was not to be outdone though, with the Calliope Cowboy doing the undoable and covering superstar bovine Feldt Jacket (MJ/Keliher/Feldt Partnership), who was previously unridden in 12 trips, giving the Australian #1 87 points and pushing him into the event lead. 

Aaron Kleier also covered his second bull of the event, with a successful 86-point trip on After Dark (Troy Keliher), giving Kleier a Top 5 finish on the event.