PBR Origin II Brisbane Post Event Game Notes
By: Sean Walsh Wednesday, June 21, 2023 @ 10:41 AM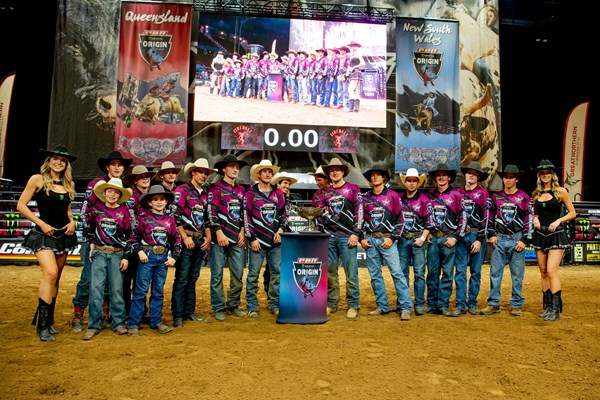 Round 1- 

The PBR Origin Captains were able to get things underway with a bang at a loud and enthusiastic Brisbane Entertainment Centre, with both Aaron Kleier, who rode for eight to collect 82-points on Turbo (ST Bucking Bulls) and Cody Heffernan, who's 82.5-points on Slink E Manlinki (JD Bucking Bulls) gave NSW the early advantage. 

Returning to the PBR Origin Arena for the first time in 2023 after injury forced the Nebo cowboy out of Origin I in Newcastle, Mitch Paton was able to cover Bad Deal (ST Bucking Bulls) gaining 83-points for Team QLD and his first Origin qualified ride since the inaugural event in 2019.

Romario Leite was quick to show his team-mates and PBR fans alike his class, with the Brazilian impressing with 83.5-points for his journey to the whistle on Tezzas Pride (JD Bucking Bulls) on his very first out in blue chaps. 

The back and forth between the two teams continued into Round 1 with Jake Curr dragging 81-points out of his successful out on Bad Romance (BK Bucking Bulls) and was then followed the very next out by James Stockdale, who made the eight for 83.5-points with Drag Iron (Dunne Bulls) providing to be a great dance partner for Stockdale and Team NSW. 

Two of Team NSW's New Zealand imports provided the goods to keep ticking their tally over, with JC Davis getting all the way on Gin N Juice (Ruhland Ranch Bucking Bulls) for an 83.5-point tally as well as fellow country-man Fraser Babbington, who's 84-point mark on Mr Meaner (Ruhland Ranch Bucking Bulls) was equal high in the Round with Jackson Gray, who followed suit with the same score on WKW Earthmoving Pirate Patch (Ruhland Ranch Bucking Bulls). 

Origin debution Clint Glass was able to withstand the pressure of riding on the big stage and gained a qualified ride on WKW Earthmoving Muddy Jacket (Ruhland Ranch Bucking Bulls) adding 82.5-points to the growing aggregate of New South Wales and after Bruno Roberto covered Iron Man (Wallace Bucking Bulls) for 82.5, the visitors were sitting two full bulls ahead at end of the round. 


Extended Highlights: Origin II


Round 2- 
Aaron Kleier took it into his own hands to try and start the resurgence of his team early on in Round 2, with an event high 90.5-points on Roid Rage (Dittmann Bucking Bulls) which was good for only the 4th 90-point ride in PBR Origin history and the first by the four time Australian Champion in Maroon Chaps. 

Mitch Paton followed Kleier to cover his second bull of the event, taking Suga Boom Boom (BK Bucking Bulls) to the whistle for an 85.5-point dance to draw Queensland within striking distance, but Will Purcell was able to extend NSW's advantage on the very next out, getting the better of Filthy Rich's (Wallace Bucking Bulls) for an 84.5 mark. 

James Stockdale continued his trend of knocking down multiple bulls in PBR Origin, collecting a score for the second time of the evening with 85.5-points on I'm A Thug (MJ / Keliher Bucking Bulls), which would turn out to the be the last time Team NSW gained a qualified ride on the night. 

Bryn Francis closed the gap for the Queenslander's heading into the Short-Go Round 3 with a handy 85-point tally, covering Gave Some All (Dunne Bulls) and putting QLD only 160-points shy of NSW. 



Round 3- 

Kelsey Pavlou was able to break a 5 out Origin buck-off streak at the perfect time for the home team, gaining 83-points on Ariat West Point (Dittmann Bucking Bulls) leaving a 77 point gap between the two teams. 

Aaron Kleier was tasked to cover Black Tuxedo (Wallace Bucking Bulls) as his Round 3 assignment and was up to the task, getting to the promised land and with a 84.5-point mark from the judges, it was enough for Team QLD to take on the aggregate win and clench the 2023 PBR Origin Series. 

The Queenslanders finished the event with 9 qualified rides and an aggregate of 759 points as a collective, which was only 7.5 points clear of their NSW counterparts, who were able to also knock down 9 bulls for a 751.5 point event aggregate.