PBR Origin I Newcastle Post Event Game Notes
By: Sean Walsh Thursday, April 27, 2023 @ 9:21 AM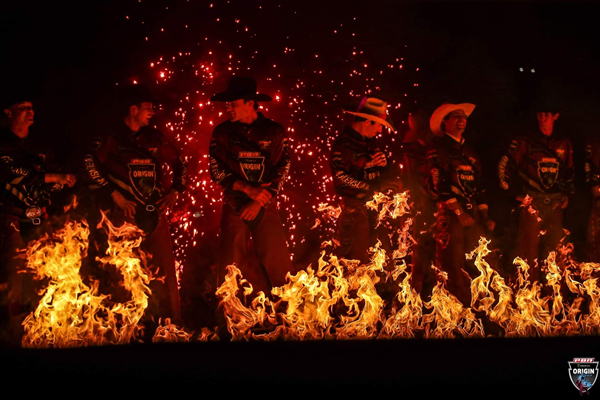 Round 1: Long Go

Origin I got off to an electric start thanks to the respective leaders of the two teams, with QLD Captain Aaron Kleier opening proceeding by taking Rip Slinger (MJ/Keliher Bucking Bulls) all the way for a tidy 81.5 points, only to be outdone by his NSW counterpart Cody Heffernan, who's 85 point effort on board Bex (Maynes Bucking Bulls) gave NSW an early advantage.

Jake Curr was the next Cowboy to make the whistle when he pushed Cliffhanger (Throsby and Russell/Richardson) for a qualified trip and earning himself and his QLD team 82 points. James Stockdale refused his re-ride getting his first successful out in his Origin Career with a 69.5 point out on Village Idiot (Diamond S Bucking Bulls - Brian Scott). 
Kick Start My Heart and Midnight Special (Diamond S Bucking Bulls - Brian Scott) shared honours for the high bull of the Round, with the bovines both picking up 42 points for their ejections of Kelsey Pavlou and Thomas Hudson respectfully. 

Rylee Ward accepted the offered re-ride after a performance re-ride was offered to the Cowboy and he took full advantage of it, when he chalked up his first Qualified Ride in his Origin Career by the way of a 82 point dance with Northern Lights (Throsby & Russell Bucking Bulls) . 

The current #1 and #2 on the Australian Standings showed why they are in that very spot to finish out round one with Macualie Leather made the eight on Paintbox (Troy Keliher) for a tidy 83.5 point effort and then was followed by Sam Woodall who knocked down his first Origin out since 2021, with Rodeo Ringer (Throsby & Russell Bucking Bulls) handing him 82 points. 



Round 2: Long Go
Round two was dominated early by the bovines with the first four trips ending in misery for the Cowboys, but the rut was broken by Jake Curr, who's 86 point trip on Canadian Club (Maynes Bucking Bulls) is an Origin career high for the QLD Rider and when his team mate Kurt Shephard was also able to get a score of 86.5 points on Ambush (MJ/Keliher Bucking Bulls), the Queenslanders pushed three full bulls ahead. 

Darcy McBean was able to get some momentum heading back towards the NSW camp when he knocked down his first score in a NSW jersey, when he took Rolling Thunder (Throsby & Russell/Baille) all the way for 81.5 points as well as Trefor Sproule, who's re-ride effort of 81 points, broke a 10 out buckoff streak in the Origin arena to gain 81 points with Colewell King (MJ/Keliher Bucking Bulls) as a dance partner. 

Jackson Gray doubled his Origin Ride tally picking up 82 points on Blondies Bomber (MJ/Keliher Bucking Bulls) as well as Macaulie Leather, who further pushed QLD's lead out with 87 points on After Dark (Troy Keliher) to #1 on the Australian Standings. 
Round 3: Short Go Extra Round 
James Stockdale continued to make the most of his good opportunities in the NSW jersey, picking up his second successful trip of the event when he rode Enter Sandman (Throsby & Russell & Hall Cattle Co) to the whistle for 79.5 points to make him the only Cowboy on debut to cover two bulls on the evening. 

Throsby & Russell Bucking Bulls star bovine Wetzel showed again who he's one of the most rank and feared bulls on the PBR Australia tour, bucking off James McBean in 2.74 seconds and collecting the High Bull mark of the night with 43.5 points. 


Zane Hall and Aaron Kleier put the result beyond doubt for the Queensland team when they took care of business inside the short go extra round with Hall staying tied to Posting Bail (Throsby & Russell Bucking Bulls) for a full journey and then Kleier followed suit with an 85.5 out on Razor Sharp (MJ/Keliher Bucking Bulls), giving the Queenslanders 11 qualified rides on the night for a 921.5 point aggregate and the event win in enemy territory. 

Cody Heffernan ensured the NSW fans in attendance had something to cheer about as they left the arena with the current Australian champion posting an Origin career high of 88 points in a mammoth effort on Forever Young (MJ/Shultz Bucking Bulls). His NSW squad ended the event on a 650.5 point aggregate with 8 Qualified Rides on the evening.