PBR Caboolture 2023 Post Event Game Notes
By: Sean Walsh Tuesday, September 5, 2023 @ 10:16 AM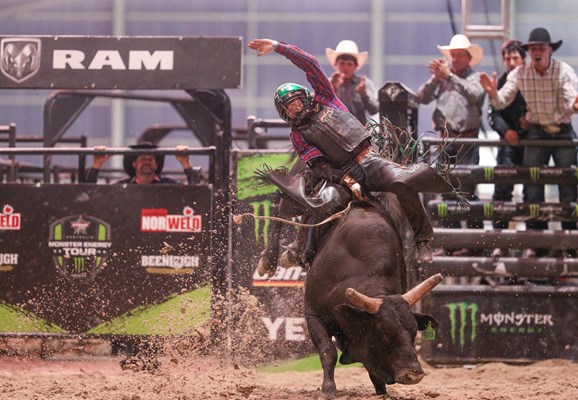 Round 1: 

The PBR was back in Northern Moreton Bay for the 2023 instalment of the PBR Australia Monster Energy Tour Caboolture Invitational, with two former Australian Champions getting things underway with a bang on Saturday Night at the QSEC.

Cody Heffernan was the first rider to make the eight-second marker with the reigning champion taking Chaos (BK Bucking Bulls) to the whistle on a multi direction trip which the Singleton, NSW Cowboy covered with ease and collected himself 84 points. He was then followed up by 2012 PBR Australia gold buckle recipient Lachlan Richardson, who was able to amend his earlier battle with Rata Tat Tat (BK Bucking Bulls), getting every last point out of the ride to earn 81.5 points. 

The qualified rides continued to pour in with 2023 PBR Origin riders Jackson Gray (81.5-points on Smarty, BK Bucking Bulls) and Romario Leite, who declined a re-ride opportunity due to poor bull performance with Tick Tock (BK Bucking Bulls) giving Leite a 75-point out for his qualified ride. 

Kyle Hall was back on the leaderboard after bucking-off three times during his last PBR Event in Brisbane, taking Double Dealings (ST Bucking Bulls) to the promised land for an 81-point effort, with the bovine turning away from his hand at the seven-second marker after being around to the right for the majority of the trip.

Willow Tree, NSW superstar Clint Glass was also able to add to his growing tally of qualified rides in the 2023 PBR Australia tour season, with White Weapon (Ruhland Bucking Bulls) ducking right out of the chutes into the hand of the Cowboy to be awarded 81.5 points by the judges and book his place in the Championship Round. 
Current PBR Australia #1 Macaulie Leather was able to comfortably cover Mr Meaner (BK Bucking Bulls) for eight and gained 82 points to book himself into another Short Go appearance this season on his 23rd successful trip of the year to date. 
Kelsey Pavlou followed suit from Romario Leite earlier in the round and decided against a reride opportunity after a 70-point outing with Ultimate Destination (Wallace Bucking Bulls), which wasn't enough for the Victorian to get a Short-Go ticket for later that evening and finished 11th on the night. 
2021 PBR Caboolture event winner Beau Willis was able to snap a four out buck-off streak by riding Black Tuxedo (Wallace Bucking Bulls) the allotted time, on a trip into his hand where the bovine made Willis work every millisecond to the whistle for the for 85.5 points.

MJ / Keliher Bucking Bulls' young star bovine After Party was far and away the best animal athlete performance of the round, with Dan Ruhland the unfortunate Cowboy on the receiving end with After Party coming out right with two massive jumps and dislodged Ruhland inside at the 1.63 second mark to gain a 43.5-point Bull Score.
Kurt Shephard was able to let two previous rerides not phase the him and on his third bull of a round grabbed 80 points with Ranch Kitty (MJ / Keliher Bucking Bulls) able to give Shephard enough to work with to gain him a trip to the Championship Round later that night.   
Arguably the form rider of the PBR Australia tour since returning from an elbow injury, Sam Woodall booked himself the #1 spot in the Championship Round with On Bail (MJ / Keliher Bucking Bulls) turning sharply into the righty's hand in a textbook low spinner trip, which Woodall covered with total dominance gaining a 45.5-point rider score and 88.5-points for the trip. 



Extended Highlights: Caboolture


Round 2: 
Romario Leite was able to straight away put the pressure on the other 9 Cowboys that followed him, by successfully knocking down his trip with Ranga (MJ / Keliher Bucking Bulls) for 83.5 points and made the Brazilian the first rider to cover two bulls on the night. 
The next five Cowboys that nodded their head were all ejected before the whistle, with Macaulie Leather earning 79.5 points on Little Thunder (ST Bucking Bulls) for a third placed finish and 17 more PBRA points to add to his tally. 

Cody Heffernan once again showed the class that he has in pressure situations, with the reigning champ matching The Pet (ST Bucking Bulls) jump for jump away from his hand to collect 87 points and a 2nd place event finish with 29 more PBRA points to take home. 


Sam Woodall was the last rider out of the evening and it was a case of saving the best for last with Woodall grabbing 88.5 points getting all the way, with Mr T (Wallace Bucking Bulls) showing plenty of kicking and rearing around to the right and was topped by a Cowboy who's covering absolutely everything at present. Woodall finished 2/2 on the evening with a 177 point event aggregate (Best ever at PBR Caboolture) and 39 PBRA points to close the gap on Macualie Leather, who is now only 114 points clear at the top.