By The Numbers: Monster Energy Tour Maitland Invitational
By: Sean Walsh Thursday, September 14, 2023 @ 10:13 AM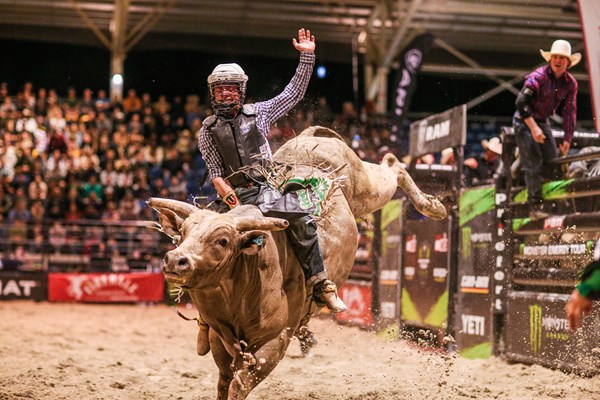 The PBR Australia Monster Energy tour will embark on its inaugural trip to the Hunter Valley region this Saturday night, with Maitland seeing its first ever Professional Bull Riders event. With some firepower in the bull pen's and crucial PBR Australia season points up for grabs, it's set up to be a fantastic night at the Maitland Showgrounds. 

PBR Australia's Sean Walsh breaks down some of the key match up's and stats you need to know ahead of Saturday n ight's action. 


Matchup's To Watch

Zane Hall vs Fast & Furious (ST Bucking Bulls) 
Coming off a three-way tie for the event win last weekend at Quirindi's Tour Pro Division event, Hall is slated with Fast & Furious (ST Bucking Bulls) for the second time this month after getting the bull at Caboolture a few weeks ago. 

The bovine was able to get the better of the Athol, QLD cowboy in 5.69 seconds, coming out looking straight and then eventually turning into the lefty's hand with too much firepower. 

With the animal athlete having only been covered once in 16 PBR outs Hall will have his work cut out, but the consistency of Fast and Furious' straight jump and then around to the left trip will play into Hall's favour to continue his recent good form.
Jackson Field vs Little Thunder (ST Bucking Bulls) 
This is another fantastic matchup between two young guns of the PBR Australia scene looking to find their way back into the winner's circle, with Little Thunder having been covered on his past two trips as well as Jackson Field, who will be wanting to amend a 10 out buckoff steak of his own. 

After having never been covered for the allotted 8 seconds in his first 27 PBR Australia trips, Little Thunder has been taken to the whistle by two left handed riders in Kurt Shephard at Toowoomba for 85.5 points as well as Macaulie Leather's 79.5-point trip in Caboolture a fortnight ago. 

The Bovine has been coming out of the chutes left and then turning back clockwise around the 5-6 second mark, which sets it up perfectly for the southpaw Field to get to work early and then show his dominance during the latter part of the trip away from his hand. 


Aaron Kleier vs Kit Carson (Throsby & Russell Bucking Bulls) 
These two PBR Australia star athletes have a thing for the Hunter region, with the previous matchup between these two being last year during PBR Origin I in Newcastle. 

Kit Carson was able to do something very few bovine's on the PBR Australia circuit are able to do in dropping the four-time Australian champion inside the first few jumps in 1.94 seconds.

The only black mark on the bull's PBR career was in 2020, when current Arizona Ridge Riders star Eduardo Aparecido covered the bovine in Tamworth for 83 points and with Kit Carson predominately around to the right, it sets up Aaron Kleier with a big opportunity to take a great bull away from his hand and collect a big mark during Round 1. 



Numbers To Know
42.43- Almost Evil (Throsby & Russell/Baille) will feature in Saturday night's Championship round and boasts the highest PBR career Bull Score average (42.43) of all scheduled bovines who have had at least ten trips during their career to date and will be one to watch come the money round bull draft selections. 

Left handed riders traditionally had had more success against the Thronsby & Russell/Baille bull with both Caiden Sandilands and Jake Curr nabbing qualified rides off the bull with trips into their hand for 86-point outs in Scone 2022 and Sydney 2023 respectfully. 

Saying that Almost Evil is uncovered in seven Championship Round trips to date and will be one that's high on the pecking order for the riders looking to gain big points in their Short Go trip. 
8- Local hometown hero Lachlan Richardson, who grew up in the Gresford/Maitland Area will have plenty of supporters cheering on the 2012 PBR Australia Champion this Saturday Night at the Maitland Showgrounds. 

Richardson has flown under the radar this season to date, but boasting an 8 event streak of at least one qualified ride (Casino, Coonamble, Cooyar, Winton, Mt Isa, Cairns, Caboolture and Quirindi) and currently sitting No. 5 on the PBR Australia standings. 

The veteran will be the first rider to nod his head during Round 1 and has Great White Hunter (Throsby & Russell), with the bovine unmatched during it's first seven PBR outs it will be a fantastic match up to get the evening underway.
114.67- As we head towards the pointy end of the 2023 PBR Australia season, the top of the Australian Standings get tighter and tighter with only 114.67-points separating first place Macaulie Leather from the red-hot Sam Woodall in second. 

With Woodall looking to make up more ground in Maitland, his Round 1 match up is Nemesis (Dunne Bulls) will only have it's second trip in it's PBR career and looks to be a nice match up for Woodall to take control of the inexperienced bovine. 

Nemesis was around to the left on his only trip to date which would take him away from Woodall's hand, so look for the Victorian to drag every last point out of his Round 1 effort and try to book his place in another Championship Round.


Follow @PBRAustralia on Facebook and Instagram to keep up to date with all the action from Maitland and tune into the exclusive livestream of the event HERE.