The Morning Line – 2022 PBR Australia Grand Finals – Night 1
By: Josh Hanson Friday, November 25, 2022 @ 1:45 PM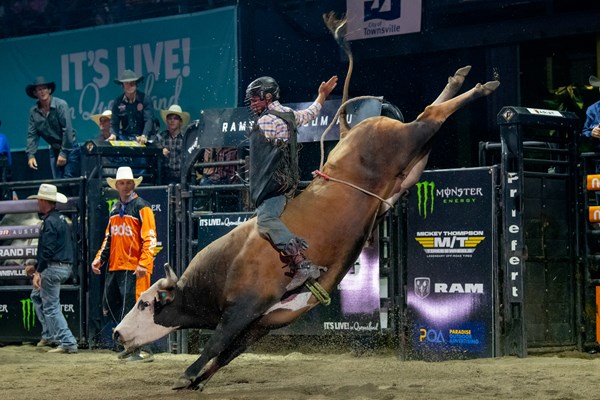 We have seen the cowboys get off to a hot start in Townsville in the last few editions of the PBR Australia Grand Finals and tonight looks like it will begin the same way.
There are plenty of good draws for the riders in the opening round, but we should see the bulls gain the upper hand as we move into Round 2. However, with the increase in difficulty comes the potential for some massive scores.
Here are my highlight matchups from the first two long rounds:
View the daysheet for Rounds 1 and 2 of the 2022 PBR Australia Grand Finals.
Round 1
Brock Radford on 707 Hollywood (Blackhall Livestock / Work Wide Contracting)
The Alberta cowboy is no stranger to riding bulls in Australia. We saw Radford post some handy results during his visits in the 2018 season, with a runner-up finish at the Last Cowboy Standing, a fourth-place cheque at Iron Cowboy and a 2-for-2 performance at the Global Cup. He went 6-from-9 to close out the 2022 PBR Canada season and narrowly missed out on the gold buckle, so he comes into this matchup against Hollywood in outstanding form. This bull is unridden through five PBR Australia trips, with the average buck off coming at 3.2 seconds and his best bull scores around 42 and 43 points. Four of the five buck-offs featured right-handed riders, so I am interested to see how a leftie fares, given he prefers a spin to the left.
Lachlan Richardson on 477 Vertical Limits (Blackhall Livestock)
Vertical Limits was only covered twice from a dozen outs for Dittmann Bucking Bulls, and tonight we see him have his first trip for Blackhall Livestock. Last season Aaron Kleier was marked 86.5 points at Rockhampton, and earlier this year in Cairns, we saw Qynn Andersen ride him for 85 points. His regular trip should be a favourable one for the Gresford bull rider. He likes to fake to the left before turning back to the right. Richardson enters his ninth PBR Australia Grand Finals in excellent form, having ridden three of his last five bulls on tour to pick up a top-5 finish in Tamworth and a Touring Pro win at Deepwater. His riding percentage in end-of-season events is 60%, so look for him to launch a strong bid for a second Grand Finals event title.
Thomas Hudson on -838 Lightning (CF7 Bucking Bulls)
The Dungog young gun heads north after posting his career-best finish in Tamworth, where he finished second in the aggregate standings at Iron Cowboy. He rode a previously unridden bull to kick off his night and then covered a handy one in the short go despite being left with the last bull in the draft. His opponent here is the leader of the Rookie Bull of the Year race, with his average bull score sitting at 43.75 points. Lightning has been out six times and has given up a score on three occasions. The most recent score went to Cody Heffernan at Cairns for 86 points. Early in the season, he tended to turn back to the right, but he prefers a turn to the left now, which should benefit Hudson in his finals debut.
Jono Couling on Y62 Super Natural (CF7 Bucking Bulls)
Couling is another rider that will make his finals debut. He has found some form in recent weeks and has drawn one of the most rider-friendly bulls in PBR Australia competition. Super Natural has had eleven outs since joining CF7 Bucking Bulls and has been ridden six times. Four of the last five scores have gone to left-handed bull riders, and two were good enough to win the round. Earlier this season at Mount Isa, we watched Aaron Kleier go for 90 points, and Jake Curr was 89 points the following evening. The Singleton talent went 2-for-2 at the final regular season tour stop in Deepwater to climb into a qualification spot for these finals. He will get no better chance to keep that momentum than this, with the bull expected to turn back to the right before reversing into his riding hand and finishing with a spin to the left.
Qynn Andersen on 730 Humdinger (Dunne Bulls)
With the Rookie of the Year award secure, and the Gold Buckle just out of reach, I think we will see Andersen go out and have some fun this weekend. He has already shown us he is comfortable under the bright lights, with two of his three wins this season coming at PBR Origin events. The Koumala cowboy has ridden 5 of his last 11 bulls since September's event in Maryborough, and he picked up the win at Rockhampton in October. Humdinger has bucked off six straight opponents since he gave up two scores in his first few trips in PBR competition in 2021, with Cody Heffernan owning the high-marked 83.5-point ride. In the 12 months of competition, we have only seen one right-hander attempt this bull. His clockwise pattern looks much more suited to the righties than the lefties.
Aaron Kleier on 689 Russian Roulette (ST Bucking Bulls)
On paper this looks like a very tough draw for Kleier, who makes his return from a groin injury that held him out of the final three events of the regular season. After being ridden for four scores early in his career, Russian Roulette has gone on to buck off 18 straight bull riders. The last score went the way of Fraser Babbington for 88 points to the second long-round win at Newcastle during the 2019 season. I don't think we are too far off seeing that streak snapped, with the buck-off times getting longer and his strongest trips probably behind him. The Clermont champion has made a habit of riding the seemingly unrideable in his six years on tour. Despite his recent injury and this bull preferring to spin away from his left riding hand, I give him a massive chance to ride time in the drive for gold buckle number five.
Round 2

Michael Smith on 560 Holy Poly (Wallace Bucking Bulls)
Holy Poly is really starting to find his feet at this level, and his average bull score keeps pushing up and up. His last trip at the Maryborough tour stop was a career-high 43.5 points. Right-handed cowboys are a perfect 3-from-3 aboard this bull, with the average ride score of 85 points split between Lachlan Richardson, Cody Heffernan and Brady Fielder. He likes to leave the chute, turn back to the right and settle into a nice rotation. That all looks pretty good for Smith, who makes his return to PBR competition for his first event since Cairns in July. He put together a nice run of results through the second quarter of this season, picking up cheques at six events across a seven-event stretch. This matchup looks like an excellent opportunity for the Tully bull rider in a challenging round and I have him favoured to post a score in the mid-high 80-point range.
Jay Borghero on 341 Cattle King Boogers Beach (Dittmann Bucking Bulls)=
The Beaudesert cowboy burst back onto the scene after two years away from the PBR with a third-place finish at Mackay and a runner-up result at Rockhampton courtesy of a couple of round-winning rides. He gets his shot at riding the defending bucking bull of the year, and I think it could be a pretty good fit. Boogers Beach has only been ridden four times in his 28-out career, and two of those scores have come in his last three outs. Jake Curr was 87.5 at Cairns, while Cody Heffernan was 89-points at Mackay. The bull continues to turn back strong to the right, and right-handed riders continue to make it deep into the clock. I think Borghero will be able to stick with him and post some round-winning numbers.
Lachlan Slade on 006 King Kong (Kleier Bucking Bulls)
This matchup looks like a good one for Slade. He has been riding well during the last couple of months and has covered a bull at his previous four tour events, including two round wins. We haven't seen much of King Kong over the past year, but when he bucks, he seems to give all riders a chance to post solid numbers. He has been covered twice from three outs this season, with right-handers Cody Heffernan and Kelsey Pavlou awarded 87 and 85 points, respectively. Aaron Kleier won this corresponding round last year aboard this bull with 85.25 points, but the Tamworth cowboy may earn an extra point or two with the bull expected to turn right into his hand.
Jake Curr on 512 Big Buck Hunter (ST Bucking Bulls)
It's been an outstanding year for Big Buck Hunter. We have seen him combine with Michael Smith and Cody Heffernan for round-winning scores of 86.5 points and he has carried three more riders to runner-up finishes averaging 86.33 points from a total of eight outs. Left-handers have a pretty good record aboard this bull, recording three rides from seven trips. The first score went to Macaulie Leather, and Aaron Kleier made the remaining two rides. I think Curr can add his name to that list tonight and get revenge in a rematch with this bull who defeated him in quick time during the third round at the finals last season. The Mount Isa young gun picked up a big win at Mackay before emerging scoreless from the Iron Cowboy and the PBR Canada Finals. It won't take long for him to bounce back. The bull should start spinning into his hand and reverse to the right after a couple of turns.
Nick Tetz on 866 Choppa (Blackhall Livestock / Essential Mining Services)
The 2022 PBR Canadian National Champion put together an outstanding last six weeks of the season in the Great White North. He rode seven of his eleven bulls across the last five events of the season and sealed the deal with a pair of 88-point rides and a fifth-place finish at the Finals. I think that Choppa looks like an ideal draw for Tetz, who will arrive in Australia full of confidence. This bull has only faced left-handed riders. He defeated three of those cowboys, but Aaron Kleier rode him for 84.5 points on his way to winning April's Bull Pit Bull Bash event. The bull has continued to turn back to the left, which will tip the odds in the Calgary talent's favour. He can take quite a long jump to clear the chutes, but if you can survive the turn back, he doesn't seem to have too many tricks.
Cody Heffernan on 506 Mystery (MJ Bucking Bulls and Keliher Bucking Bulls)
The Singleton veteran has ridden nine of his last thirteen bulls, and seven of those scores have been good enough to pick up the corresponding round win. Mystery was ridden four times in his first five trips in a PBR arena, but since Aaron Kleier's 86.5-point ride at Newcastle in 2019, he has shut out the cowboys. Eleven straight buck-offs with bull scores averaging 42.82 points. He is always strong, around to the right and comes into this event fresh off recording the high-marked trip at Rockhampton last month with 44 points. This opportunity is a big one for Heffernan, who needs to string together a few solid long-round finishes to gain ground in his hunt for a second gold buckle.
Don't miss Josh Hanson's insider commentary on the Ride The Rage website and follow along on Facebook (Ride the Rage), Twitter (@RideTheRagePBR) and Instagram (@RideTheRagePBR).
Stay tuned in to PBRAustralia.com.au and follow the tour on Facebook (PBR Australia), Twitter (@PBRAustralia), and Instagram (@PBRAustralia) for the latest results, news, stats and more.