Fielder Back in Australia but Excited to Rejoin Texas Rattlers for PBR Team Series
By: Darci Miller Friday, June 17, 2022 @ 3:01 PM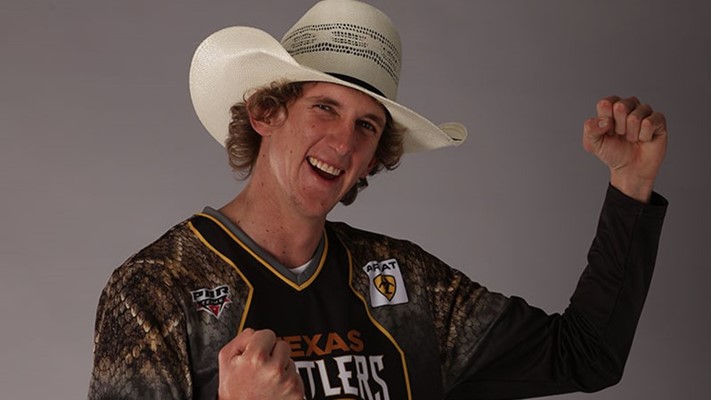 PUEBLO, Colo. – Brady Fielder is logging some serious frequent flier miles this year.
The Clermont, Queensland native began the 2022 season at home in Australia. In three PBR Australia events to begin the year, he won two and finished second in the other.
He then made his way to the U.S. and competed on the Unleash The Beast, qualifying for the PBR World Finals and finishing the season ranked No. 22 in the world standings.
Since the World Finals, Fielder has flown back to Australia, where he will compete in a few events before returning to the U.S. to join the Texas Rattlers for the inaugural PBR Team Series season.
"It feels great to be part of such a great team, really, and I can't wait," Fielder told PBR Australia. "They're all great fellas and great to be around. It's just onwards and upwards from here."
Fielder was head coach Cody Lambert and the Rattlers' fourth-round draft pick at the 2022 PBR Team Series Draft, presented by ZipRecruiter, joining Joao Ricardo Vieira, Cody Jesus, Brady Oleson and JC Mortensen. The Rattlers have since added Ednelio Almeida, Rafael Jose de Brito, Marco Juarez, Travis Wimberley, 2002 World Champion Ednei Caminhas and Jake Morinec via free agency.
The Rattlers will face their first test at the PBR Dakota Community Bank & Trust's PBR Team Series Preseason Event in Bismarck, North Dakota, on June 17-18.
RELATED: PBR Team Series Preseason schedule and competition format
All eight PBR Teams – the Rattlers, Austin Gamblers, Arizona Ridge Riders, Carolina Cowboys, Kansas City Outlaws, Nashville Stampede, Missouri Thunder, and Oklahoma Freedom – will send riders to compete in two games at each event (one game per night).
The head-to-head games will feature each team selecting five riders to match up against five bulls assigned to their team. The team with the highest aggregate score will be your game-winner. Ties will be allowed.
The same process will be repeated on Saturday night, with an additional four games taking place before a Bonus Round.
In the Bonus Round, each team will select one rider to attempt to ride one more bull. This rider does not have to be one of the five riders who competed earlier in his team's respective games and instead can be an alternate (bench) rider.
The Rattlers will take on the Carolina Cowboys on Friday and the Arizona Ridge Riders on Saturday.
Fans can watch all the action on RidePass on Pluto TV at 8:30 p.m. ET each night.
RELATED: Breaking down the competition format for PBR Team Series
The Rattlers will be represented by Oleson, Jesus, Caminhas, Almeida, Brito and Wimberly.
Fielder is still in Australia and is set to compete at the Mount Isa Show this weekend. While he's been Down Under, he placed fourth in the Monster Energy Rockhampton Invitational, riding End Game for 84 points, and is ranked No. 6 in the PBR Australia standings.
"Just keep riding my bulls, and just keep going at it, keep working at it," Fielder said of his game plan while in Australia.
Following Bismarck, PBR Teams will also compete in head-to-head, five-on-five bull riding games in Tryon, North Carolina, at the PBR Tryon Chute Out: PBR Team Series Preseason Event on June 24-25.
The regular season then kicks off at Cheyenne Frontier Days on July 25-26, and Fielder anticipates returning in time for the PBR Team Series.
The Rattlers will host their homestand event – Rattler Days – on Oct. 7-9.
"I'm just happy to be riding and be part of the Texas Rattlers," Fielder said.