The Morning Line – 2023 Rockhampton Invitational – Friday – Event 1
By: Josh Hanson Thursday, December 29, 2022 @ 6:14 PM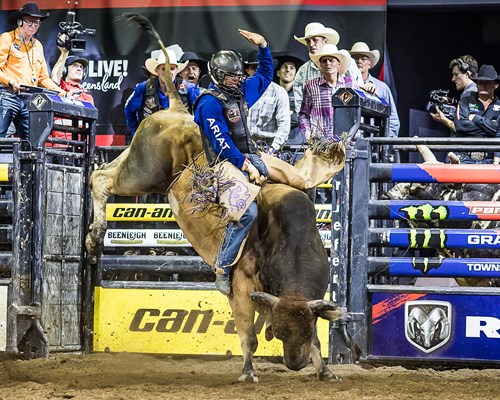 A new PBR Australia season kicks off this evening with the opening round of a two-day Monster Energy Tour event inside the arena at the Great Western Hotel in Rockhampton. There are a lot of new faces on both sides of the draw, so it should be an interesting event, and we should learn a lot moving into Championship Saturday.
Let's concentrate on what we do know and break down some of the Round 1 matchups:
Round 1
Trefor Sproule on 17 Spit n Grit (MJ Bucking Bulls and Keliher Bucking Bulls)
The Singleton cowboy strung together some good mid-season results before the heat died off over the last few events of the season. He gets a chance to get the train back on the tracks against Spit n Grit. The bull has been covered three times from ten trips in PBR Australia competition, with the scores averaging in the low-mid 80-point range. I don't know what trip we will get from this bull on this occasion. Early in his career, he regularly turned back to the right, but in his final few trips of last season, he preferred a left-handed spin. Only two right-handers have attempted this bull, with Qynn Andersen converting a good start into an 84-point ride here in October. No matter the direction, the right-handed Sproule should be able to remain in good shape well into the 8 seconds.
Beau Willis on T17 Cowboy Train (Kleier Bucking Bulls)
I have been really impressed with Cowboy Train since he made his PBR debut midway through the 2022 season. He recorded a career-high 43-points bull score in his final out at last month's Grand Finals, and I think that is a sign of things to come. With each trip, you can see him add more difficulty into his action, with his speed, steepness and forward movement all making him harder to get by. Jay Borghero was 85.50 points to win a long round at Mackay, but the bull has since gone on to buck off three straight right-handed riders. Willis didn't finish off last season as strong as he would have liked, but this looks like a good chance for him to begin the new season with a qualified ride. This pairing should do battle around to the right and into the Bowen bull rider's hand.
Aaron Kleier on 15 Rug Rat (Kleier Bucking Bulls)
Nobody has more PBR Australia event wins at the Great Western Hotel than Kleier, picking up six buckles from just fifteen starts inside the 'The Arena'. He enters the new year off the back of an eleven-win - 68% riding season, and Rug Rat looks like a great draw for him to carry that form over into 2023. This bull has been ridden once from four trips, with that 83-point score going the way of Lachlan Richardson at the April event here in Rockhampton last season. The bull prefers to spin to the left, but he can reverse the spin just before the whistle. It is a surprise that the three riders he has bucked off have all been left-handers, but there is no tougher leftie to get on the ground in the country than the Clermont talent, and the four-time National Champion will start a short-priced favourite in this matchup.
Lachlan Richardson on 850 Chaos (BK Bucking Bulls)
This is the matchup I am most looking forward to watching tonight. Richardson finished the 2022 season with the engine on full ahead, winning at Deepwater and then leading for most of the Grand Finals before running out of steam late and finishing runner-up to Cody Heffernan. Chaos was ridden for back-to-back round wins by right-handers to begin his PBR career, and he has since gone on to buck off three straight left-handed riders. He has a lot of twist and forward movement to his action, which really jerks the rider around as he makes his rounds in an anti-clockwise direction. With his average bull scores consistently in the 42.5-43 point range, the Gresford veteran can expect to pick up round-winning type numbers with a qualified ride away from his riding hand.
Don't miss Josh Hanson's insider commentary on the Ride The Rage website and follow along on Facebook (Ride the Rage), Twitter (@RideTheRagePBR) and Instagram (@RideTheRagePBR).
Stay tuned in to PBRAustralia.com.au and follow the tour on Facebook (PBR Australia), Twitter (@PBRAustralia), and Instagram (@PBRAustralia) for the latest results, news, stats and more.