Routine Key to Kleier's History-Pacing Success in 2021
By: Kacie Albert Tuesday, November 23, 2021 @ 7:24 PM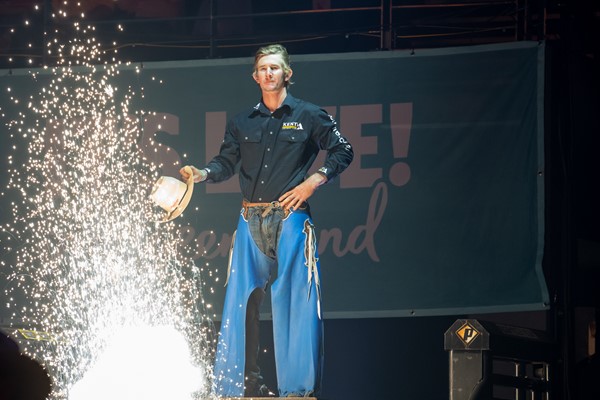 In the history of the PBR, only one rider has won an international title in the same title four times.
Accomplishing the feat in Australia, David Kennedy won the nation's top honor in 2009-2010, 2012 and 2014.
In 2021, however, Queensland-sensation Aaron Kleier is attempting to join the rare air occupied by Kennedy but do so in historic fashion. Should Kleier be crowned the 2021 PBR Australia Champion, it would mark his fourth consecutive title, an accomplishment never before attained by any rider in PBR's international divisions.
"It means a great deal, because it means I have stayed consistent for three years," Kleier said of the three titles he has already earned. "For someone to do that, that's a pretty hard thing to do -- stay consistent and at the top of their sport, in any sport, for three years – so it means a lot to me."
"That makes you feel great," Kleier added of his chance to match Kennedy's four titles. "Dave rode really good. He was riding when I was real young going with dad to PBRs. It would be good to have the same as him."
Throughout 2021, Kleier has been seemingly unstoppable.
Competing exclusively on home soil, the Clermont-resident has gone a torrid 20-for-30, covering 66.66% of Australia's rankest bovine athletes.
Along the way he registered a league-leading four event wins, including a strong final push to conclude the regular-season, emerging victorious at two of the final four events prior to the Grand Finals.
Kleier began his campaign on a strong note, winning the season-launch event in Rockhampton, backed by a monstrous 90.5-point ride on Black Tuxedo in his first out of the season.
And if you ask the reserved 23-year-old what has been instrumental in his dominance, he's quick to answer – routine.
"I try to keep it exactly the same, every single time I go to a bull riding," Kleier said of his competitive approach. "Even down to going to the bull riding, the stuff I do before, I try to keep it all the same so it is a routine for me, so it is not every weekend that I am changing and doing something different, I am doing exactly the same thing every weekend.
"That is one of the biggest things for me, focusing on my routine and keeping everything the same because I don't want to change something that is working for me. If it is working for me I am keeping it the same."
One factor, however, that nearly derailed Kleier's campaign was an injury he sustained en route to his win in Mackay, Queensland in early October. Dislocating his shoulder, Kleier was ruled out of competition for one event, however, is back to full health.
"It was an unlucky accident I suppose. It was no one's fault, not the bull's fault, not my fault, just an unlucky thing that happened. I am feeling good."
Known for his humility, Kleier is the first to admit that was he has accomplished thus far in his young career has yet to fully register.
"I feel like maybe when I am older, and I am finished, and I look back and I realize what I have done, but now I feel like I haven't really achieved much, that I have a fair bit to do."
"I don't really look at it like I am better than anyone or anything like that. I know anyone can ride better than me on a given day, but I am going to turn up every single time and do my job."
One last hurdle awaits Kleier on the calendar – the 2021 PBR Australia Grand Finals in Townsville, Queensland, on Nov.26-27.
As one of 22 riders readying to ride inside the Townsville Entertainment & Convention Centre, Kleier will make the journey as the odds-on favorite to win the title, ranked No. 1 in the nation, 195.83 points ahead of No. 2 Macaulie Leather.
"I try not to think about the different events, and the big events, and that sort of thing, but Townsville has a great atmosphere, and where we're riding it's all right on top of you," Kleier said of what awaits him. "It's pretty close to where I live, so a lot of people will go and get behind it."
Tickets for the 2021 PBR Australia Monster Energy Tour Grand Finals are on sale now and start at $35. Click here to purchase tickets.