Razor Sharp Readies for Intense Year-End Battle in Australian Bull of the Year Race
By: Kacie Albert Friday, November 5, 2021 @ 11:46 AM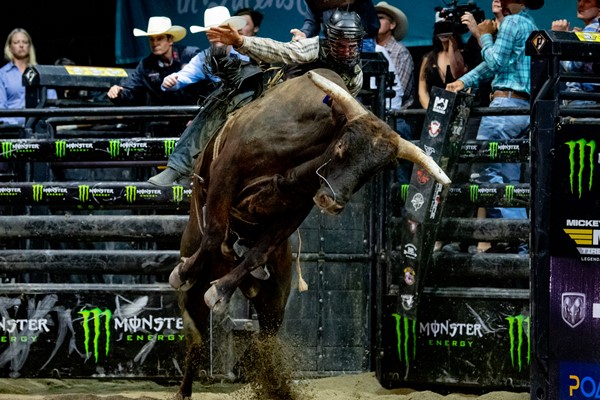 When the 2021 season comes to a close in late November, not only will the league crown an Australian Champion rider, but it will also anoint the Australian Bull of the Year.
Season long the nation's top bucking bulls have wowed city to city, including Peter Wallace standout Razor Sharp who is at the top of the standings heading into the homestretch in the race amongst Australia's bovine athletes.
"Razor has had a few good trips, he's been good all year actually," Peter Wallace said. "I thought he was outstanding in Cairns. He had a good buck on him up there, he had a great trip."
Razor Sharp made his season debut at the early May events in Rockhampton. After dispatching Trefor Sproule in 2.33 seconds in his first out of the year to earn a 43.5-point score, Razor Sharp returned even more powerful the following day, marked 44.5 points for his 3.28-second buckoff of Brady Fielder.
In his very next out, again registered in Rockhampton, Razor Sharp bucked his way to his first bull of the event honor. Posting a 44-point score, the revered animal athlete tossed Cody Heffernan in 2.8 seconds. 
"I've got him fairly big now and I think from here on in, he's going to be pretty powerful and hard to ride," Wallace added.
Following an uncharacteristic 43.5-point trip with three-time PBR Australia Champion Aaron Kleier, Razor Sharp delivered his career-best out in Cairns. Making quick work of Kurt Shephard at the second leg of the 2021 Origins tournament, Razor Sharp was marked 45 points to claim his second top bull honor of the season.
"He has matured a bit in the last six months," Wallace explained. "He was a bit of a late developer. He's always bucked, of course, but I think he is much stronger now, and hopefully he'll keep going the way he has been going, keep being dominant."
Razor Sharp returned to the bull pen in Burnett Heads for the PBR Bull Mania, collecting back-to-back Bull of the Event awards for his 44.5-point effort with Sam Payne.
Next bucking at the consecutive events held in Rockhampton, it was the league's sixth trip the city when Razor Sharp's 16-out career buckoff streak came to an end. Avenging two previous buckoffs aboard the bull, Shephard reached the whistle for an event winning 89 points.
Unbothered by Shephard's success, Razor Sharp returned dominant in his following two outs on Australian sol. In Mackay, Razor Sharp was Bull of the Event for his 44.5-point trip with Macaulie Leather and was most recently 44 points in Emerald when he bested Joshua Jones.
"Consistency is the key to anything, I reckon," Wallace said of what it will take for Razor Sharp to be crowned the 2021 PBR Australia Bull of the Year. "As long as he keeps having a real good trip every out, I think he just has to keep being consistent the way he is going, and he'll definitely give it a good run for his money."
Among the many riders that Razor Sharp has bested is current Australian No. 1 Kleier. Razor Sharp is one of just eight bulls to have sent the stoic Queensland native to the dirt in 2021.
"They don't come any tougher than Aaron, of course," Wallace said. "He's like how we want our bulls, super consistent, and hard to throw off.
"Razor did get Aaron's measure pretty quick last time, but I had another bull do that to him once too, and the second trip was a different story.
"[Aaron] is pretty hard to throw off the same bull twice. I would love to see Aaron matched up against him, especially in Townsville, that would be pretty awesome."
While Razor Sharp is the lead contender from Wallace's pen for Bull of the Year, he has another standout he wants to make sure fans take notice of – Pretty Boy.
Pretty Boy has made five outs on Australian soil in 2021, twice marked a season-best 44 points.
"He's been going really good the last few trips," Wallace said. "He was a little bit inconsistent at the start of the year, but I have put a few miles on him this year. I think he's a bit like Razor, he is just starting to mature. He is a bit younger than Razor, he's only a four-year-old, so you have to expect them to have a little off trip every now and then, some of them can be a bit like that.
"I am pretty sure I have his measure now, he seems to love what he is doing, and I think coming into this last leg, I think at the last two events that bull was outstanding, he was Bull of the Event in my eyes, but he is one to watch."
As the season enters the homestretch, with just a handful of events remaining prior to the 2021 PBR Australian Grand Finals in Townsville, Queensland, on Nov. 26-27, the anticipation is building amongst riders and contractors alike for the year-end tour stop.
"Townsville has been awesome for a lot of years now," Wallace said. "It is always a great atmosphere, always a real special event. I have been going to Townsville for a long time myself, and we enjoy it. They look after us pretty well and put on a good show for us. It is just a top event."
"We're just hoping they are going to be really good coming into the end of the year," Wallace concluded of his bovine athletes. "And I think they will be. We had a pretty good start to the season down here and they are pretty fresh, so I am looking forward to it, and I think they are too."