POA Fully Locked & Loaded Wins 2020 Bull of the Grand Finals After Banner Year for Dittmann Bucking Bulls
By: Kacie Albert Tuesday, March 2, 2021 @ 9:28 AM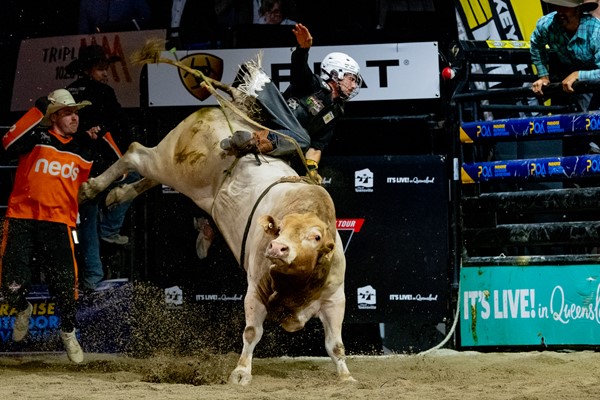 During the 2020 season, the rank pen of bovine athletes from Dittmann Bucking Bulls was dominant.
In addition to representing two of the Top-5 ranked bulls at year's end, the outfit's deep roster also contributed three of the Top-8 bull scores of the season and won the bull team competition at the Grand Finals.
Among the many standouts were Cattle Kings Boogers Beach, POA Lock n Load and 2020 PBR Australia Bull of the Grand Finals POA Fully Locked & Loaded.
"He had a great year," Jason Dittmann said of POA Fully Locked and Loaded. "The events that the PBR did, that Glen Young incorporated for us, were unbelievable. It was two events each time, but it was great just to be on it, to be back on the circuit.
"And then you do those events, and the lead up to the Grand Finals was amazing, and POA Fully Locked & Loaded got the Bull of the Finals, I can't ask for any better. I think this year will be his last year, and he's done us proud."
While no bovine was awarded the honor of PBR Australia Bull of the Year given the unique trajectory of the season, POA Fully Locked & Loaded was dominant from his first out.
Locked & Loaded's first scored-trip of the year was in Bundaberg, Queensland in early October. Bucking in both events for the double-header tour stop, the fierce bull was first marked 43.5 points for his 2.69 second buckoff of now three-time PBR Australia Champion Aaron Kleier, followed by a 44.5-point effort compliments of his 5.88-second out with Michael Smith.
Remaining a consistent presence on the Australian Monster Energy Tour, Fully Locked & Loaded buked in Mackay and Rockhampton, before earning his first Bull of the Event honor in Airlie Beach.
Once again drawn by Kleier, POA Fully Locked & Loaded was taken to the 8-second mark for the first, and only, time in 2020, marked 44 points as his rider opponent earned an 89-point score.
Locked & Loaded then continued his momentum at the fourth PBR Australia Grand Finals of his career, topping the season-culminating tour stop's bull pen with two massive scores.
After logging the second-best bull score of the event in Round 2, marked 43.75 points when he bucked off Lachlan Slade in 4.51 seconds, the powerful bovine athlete posted the top score of the Grand Finals in the championship round.
Matched up with Kurt Shephard, POA Fully Locked & Loaded sent the veteran rider to the dirt in 3.97 seconds to earn a commanding 44-point bull score.
"He's like a kid to us, he's part of our family," Dittmann added of POA Fully Locked & Loaded. "When we drive our bulls, and when we feed our bulls, he's the first there. When he hears that grain bin crack, he's the first one there. He loves it. And when he knows he's going on that truck, he knows something is going on when he gets in that chute. As soon as that chute gate opens, he just explodes. "
POA Fully Locked & Loaded concluded the year atop the bull standings in Australia, with an average score of 43.95 points among his Top 5 outs. He was also three times the bull of the event during the regular season, earning the honor in Bundaberg, Mackay and Rockhampton.
Bucking alongside POA Fully Locked & Loaded, and integral forces in Dittmann Bucking Bull's win at the Grand Final's bull team competition were Cattle Kings Boogers Beach and POA Lock n Load.
"To win any event in the PBR is like a dream come true for us," Dittmann explained. "When we started out, we didn't expect too much. There was a lot of people that had been doing this sort of stuff way before we came on the scene. And it's just been great. Glen Young has been great for us.
"We love our bulls, and we love going to PBRs, we love the people in the PBR. It's like a family. We jump in that truck and it's like a road trip for us. We don't want it to end."
For Cattle King's Boogers Beach his season was highlighted by two 44.5-point efforts, both logged in Bundaberg. The bull concluded the year with two trips at the Australia Grand Finals, marked 43.25 and 43.75 points, for his trips with Lachlan Richardson and Kleier, respectively.
He was also three times bull of the event, topping the pen in Tamworth, and at both tour stops in Bundaberg, concluding the year No. 2 in the bull standings with a 43.9-point average score among his Top 5 outs.
"I took him to Tamworth, he won Bull of the Night, I had just picked that bull up," Dittmann began. "And then from then on, Boogers Beach just kicked up a gear. Boogers Beach is our next coming superstar I reckon. He's the next one up their behind Locked & Loaded."
Rounding out Dittmann's winning trio was POA Lock n Load. 
"That bull there bucks every time," Dittmann said. "I can't expect any more out of that bull. Every time I take that bull he performs. When you get them good fellas like Aaron Kleier, Brady Fielder and Lachlan Richardson, when they ride that bull, they are going to be a bunch of points every time."
"He does the job. They love getting on him, because if they do ride him, they are going to win it."
Looking forward, Dittmann will continue to expect big things from his already established stars, but also has a few younger bovine athletes that he's eager to buck.
"I've got a couple of young bulls up my sleeve," Dittmann added. "I've got a couple of bulls now that are getting to that stage, where I don't want to take them there, where they'll start getting rode. I always want to look after the older bulls, and keep the younger bulls coming through. So I will use them and give them a try. I am excited for the younger bulls."
"I've got a couple of young bulls now, like there's a bull called Ranga I took to the Finals, he's a young bull," Dittmann added. "And I've got a bull called Reloaded. And I've got another young bull called Comeback Kid and Crack The Latch, but the bull I'm expecting big things from is a bull called Screaming Demon. He's a young bull by I'm A Gangster, and I expect big things from this bull. I reckon he's my next Fully Locked & Loaded."
Amidst Dittmann discussing his stellar season, he was also quick to highlight the work done by PBR to keep the sport going following the onset of the COVID-19 (coronavirus) pandemic.
"All the people in the PBR, they do an unreal job," Dittmann said.
"When we turn up there it's like you're seeing another family. We turn up and everyone is so excited to see each other. And I take my family to Townsville, because I've got kids so it's a bit hard to travel, and they all treat my kids the same. They love it. It's a close family situation. We go with other associations, like the CRCA, and they aren't the same as the PBR.
"They aren't the same. If there is another rodeo on, I will go to PBR before I go to anything else.