Kleier Begins Historic Pursuit of Fourth National Championship with 90-Point Ride
By: Kacie Albert Thursday, June 10, 2021 @ 2:22 PM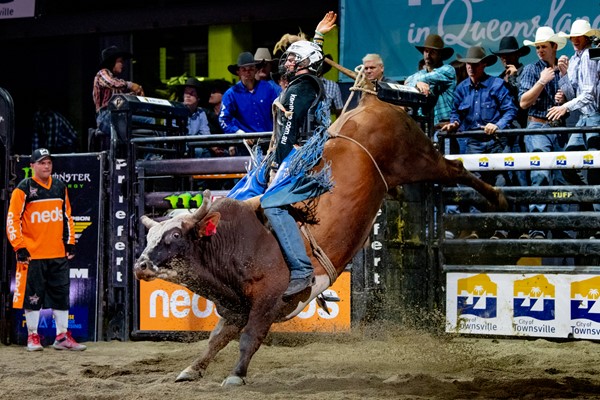 It is without question, that Clermont-native Aaron Kleier has his name firmly etched in the PBR record books.
In 2020, the now 23-year-old became the first rider in league history to win the PBR Australia Championship in three consecutive seasons, winning the year's title after finishing 58 points ahead of runner-up Lachlan Richardson.
And in 2021, Kleier will attempt to make further history as he seeks his fourth consecutive national title. Should he accomplish the feat, he would not only become the first rider to earn the honor four times in a row, but he would tie David Kennedy for most PBR Australia Championships won by one rider. Also a four-time champion, Kennedy topped the field in 2009-2010, 2012 and 2014.
"It would mean a lot to me," Kleier said of the potential milestone moment. "Obviously because it shows that I stay consistent for that many years. And that's a big thing and a hard thing to do, so it would mean a lot to me."
Kleier took a small step forward towards actualizing that goal when the 2021 season got underway in Rockhampton, Queensland, in early May – and he did so in head-turning fashion.
During Round 1 of the PBR Rockhampton Invitational, Kleier not only topped the field, but did so by recording the first 90-point score of his career, marked 90.5 points aboard Black Tuxedo.
"It felt good," Kleier said of the ride after. "Mainly the riding bulls side. Mainly to cover my bull and get him rode for 8 seconds."
Adding to the significance of the ride, the score was Kleier's first aboard the powerful bovine athlete after his two prior attempts ended in a buckoff.
"He's a really good bull, and he just bucked me off fair and square twice before," Kleier added. "Sometimes you just show up and you've got that feeling that you're going to do good that night, and you're not thinking about it much, you're just having fun. And it just worked out how I wanted it."
"It always makes you try a little bit harder when you've got a bull that's bucked you off before. You want to get him done because he has bucked you off once before and you've got that bit of bad blood against him."
As the event rolled on, Kleier continued his momentum.
Once again delivered an impressive score in the championship round, this time marked 88 points aboard Call Me Joe to cement his first event victory of the new season.
RELATED: Monstrous 90-Point Ride Propels Aaron Kleier to Victory at Season-Launch Event in Rockhampton 
Yet another familiar matchup for Kleier, he first matched up against Call Me Joe in December 2018, covering him for 82 points that year en route to his victory in Adelaide.
"He's a good bull, I have seen him around a bit," Kleier added of Call Me Joe. "He's been around a fair bit. He's a good bull, just jumps out and turns back, and I was pretty excited when I saw him and that I had him."
"He's always been one that you can win on. He fit me pretty good. Jumped out and went right into my hand."
Finishing four points ahead of runner-up Richardson in the event aggregate, Kleier's win earned him 77 national points, catapulting him to the top of the national standings. With the first event a mirror image of the fierce battle seen throughout 2020 between Kleier and Richardson, Kleier left Great Western Hotel a slim 16 points ahead of No. 2 Richardson.
"Just ride your bulls," Kleier said when asked what it would take to outlast Richardson once again for the national title. "Whoever rides the most bulls and stays consistent. There's a lot of even young fellas that have come through this year that have stepped up and have had good gos."
As the 2021 season continued the very next day, remaining in Rockhampton, Queensland, Kleier stumbled, going an uncharacteristic 0-for-2.
After POA Lock N Load brought the Queensland sensation down in a close 7.19 seconds in Round 1, Kleier was bested by Crackalackin in a swift 3.45 seconds in the championship round.
"I just had a bad day the next day," Kleier said in reflection. "The one bucked me off at the whistle, had a bit of bad luck, and I let it get to me a little bit in the short round.
"I wasn't happy with my first round effort, so I believe I was just fighting myself a little bit the second round. I will just got back to usual and ride my bulls."
Consequently, Kleier slipped to No. 2 in the national standings, trailing new No. 1 Macaulie Leather by 17 points.
With numerous regular-season events on the near horizon for Kleier to reclaim the top ranking, a trio come with added significance – the 2021 PBR Origin.
Modeled after the internationally renowned State of Origin Rugby event, considered Australian sport's greatest rivalry, the PBR Origin is a state vs. state showdown where riders will ban together in teams of 10 to determine which state is the supreme bull riding powerhouse.
A three-part event, PBR Origin I will be held in in Newcastle, New South Wales, on July 3, followed by PBR Origin II in Brisbane, Queensland on July 10, and PBR Origin III on July 17 in Cairns, Queensland.
And Kleier has earned a guaranteed position at each of the three events, tapped in early April to captain Team Queensland.
RELATED: Queensland's Aaron Kleier and New South Wales' Troy Wilkinson Names Team Captains for 2021 PBR Australia Origin Events
"I'm looking forward to a team again, even though bull riding is not at all team sport," Kleier said. "It gets everyone together and gets everyone pumped up a little bit more.
"We usually just always ride for ourselves, so to ride as a team, we don't get to do that much, so it just gets everyone pumped up a little bit more."
Eager to defend Team Queensland's victory from the inaugural event in 2019, Kleier is confident in what fans can expect from his contingent come July.
"We're going to stay consistent. Go there, have fun and ride our bulls."