Decorated Protection Athlete Shane "Maddog" Simpson Emerges from Retirement in 2021 in Time for PBR Origin II – Cairns
By: Kacie Albert Thursday, July 15, 2021 @ 9:25 PM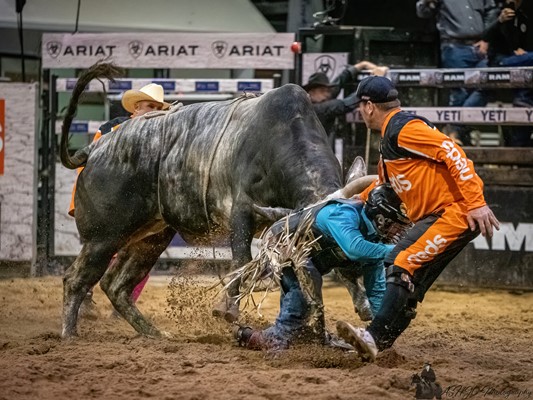 In 2013, World Finals protection athlete Shane "Maddog" Simpson hung up his cleats for the last time – or so we thought.
After spending the past eight years on the sidelines, Simpson decided return to the career he loves in 2021, once again dawning the cowboy protection jersey and laying it all on the line to ensure both rider and bull leave the arena safely each out.
"I was at the Townsville event last year as a spectator with my partner Theresa and when the [protection athletes] were introduced, I got a little emotional with passion because I miss it so much," Simpson said. "It was a big decision to make to return to the sport as a [protection athlete] because I knew that I had a lot of work ahead of me to get my fitness back to a level where I felt I was right to do the job again."
Putting in the needed work, Simpson made his triumphant return in Rockhampton, Queensland in mid-June, and will next take to the arena July 17 for PBR Origin II – Cairns at the Cairns Convention Centre.
"It was just good to get back into the arena," Simpson said. "I've never worked the indoor event at Cairns but have worked the few outdoor ones that have been held there. The north Queensland fans are always great supporters of this sport and I'm looking forward to seeing some old faces."
For Simpson, his career in western sports began in 1992 when he was working the land in the Gulf Country in far North Queensland.
While he initially competed as a bull and bronc rider, in addition to being a steer wrestler, Simpson quickly found himself most drawn to cowboy protection.
"I used to step around bulls at some practice days at different places on days off," Simpson recalled. "I liked it to the point that I thought that I would stick to one event in the sport of rodeo and focused solely on that."
And that decision proved dividends.
As one of the sport's most decorated protection athletes, Simpson earned nine Australian titles, multiple freestyle honors, and was selected to work the PBR World Finals in 2008.
"This is the pinnacle of events for any [protection athlete] and I was the last Australian [protection athlete] to work there," Simpson said of his World Finals selection. "To be able to work with best in the world was such an amazing experience and something I will never forget."    
 "On the first night when they called my name out to introduce me, I got butterflies in my belly, it was at that point I knew it was meant to be," he added.
"Working at the World Finals alongside Joe Baumgartner, Frank Newsom and Shorty Gorham was an honor and not to forget the funniest schoolteacher Flint Rasmussen, he was such a ball to work with. I gained so much more experience working with all of those guys and will forever be grateful for the opportunity I was given."
Alongside the great honor of working the PBR World Finals, Simpson, however, also sites a moment closer to home as one of the most memorable of his storied career.
"Career highlights for me, there would have to be two of them. The first one was when Troy Dunn asked me to [work] at the first-ever major bull riding events the he and Glen Young produced in Mackay and Townsville, Queensland. Troy has always been my idol through my whole career."
Taking his talents global, Simpson not only fought bulls in Australia and the United States, but also Canada and Mexico, experiences he was able to partake in during his brief tenure living in Mars Hill, North Carolina while working alongside four-time PBR Stock Contractor of the Year Jeff Robinson.
"Jeff gave me so many opportunity's while I was there that gave me exposure to the world of PBR in the USA that I was so grateful for," Simpson said. "The people I got to meet and the places I went was just amazing and welcoming."'
Throughout his entire career, Simpson was not only known for his incredible skills, but also his charismatic personality, a trait undeniable when you hear the Queensland-native tell the story of how he earned the nickname Maddog.
"When I was working in the Gulf in the 90s I was on a place up near Burketown and we were in the cattle yards," Simpson began. "One day working the cattle, the head stockman dared me to lay down in the gate way where we were drafting the cows and let 30 head of cattle jump over me. If I did it, he would give me a carton of beer and the nick name Maddog.
"So I did it. Mind you it was about 52 degrees Celsius, so the beer was very welcomed at the end of the day," Simpson concluded with a chuckle.  
After mounting a career for the history books, Simpson decided to retire in 2013, a choice fueled by his desire to fuel other passions.
"I had achieved a lot in my career and [cowboy protection] had taken up a lot of time," Simpson chronicle. "Not that I didn't enjoy it, but I had a passion for spear fishing and line fishing as well and couldn't do both on my days off."
"I also wanted to spend more time with my boys as they love to fish also. When you own a 25-foot reef boat and it sits there yelling at you when the weather is good and you're driving at the driveway to head to another bull ride."
"The boat got a bit sad at times," Simpson said with a laugh.
But during his near decade away from his first love, Simpson, who kept busy camping and working in the coal mines, in addition to fishing, was inevitably pulled back to the arena.
"The mates I had made," Simpson said of what he missed most. "You become like family overtime and that's pretty special."
When Simpson next returns to the arena July 17 in Cairns it will be for one of the nation's most anticipated events, the second leg of the 2021 PBR Origin tournament.
The stat vs. state showdown got underway July 10 in Brisbane, with Team Queensland outlasting Team New South Wales by one ride score to jump to an early 1-0 lead in the three-event tournament.
RELATED: Team Queensland Edges a Hard-Charging Team New South Wales by One Ride to Win PBR Origin I – Brisbane
"It's a great city and the atmosphere will be high because the Queensland boys will be wanting the win in their home state," Simpson, who will be cheering for, "Queensland all the way," said of the forthcoming event.
Looking to the future, Simpson who is relishing his return won't put a timeline on how long fans can expect to see him in the arena.
"How long is a piece of string," Simpson said with a laugh. "Look I'm not sure how long I plan to keep [working]. I think your body talks to you every day you wake up, so I will leave it up to the body to decide. As long as I keep going to the gym and training hard who knows."
Action for PBR Origin II – Cairns gets underway Saturday, July 17 at 7:30 p.m. AEST at the Cairns Convention Centre in Cairns, Queensland. Tickets are still available and can be purchased at Ticketek.com.au or pbraustralia.com.au.  
For more information, stay tuned to PBRAustralia.com.au and follow the tour on Facebook (PBR Australia), Twitter (@PBRAustralia), and Instagram (@PBRAustralia) for the latest results.