Richardson and Kleier Excited to Resume PBR Australia Title Race
By: Justin Felisko Thursday, September 24, 2020 @ 9:02 AM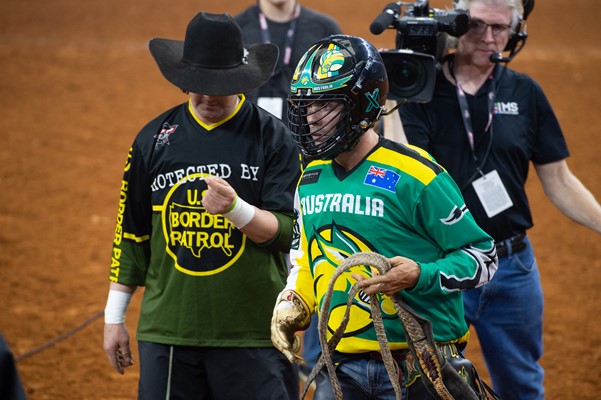 PUEBLO, Colo. – It has been more than six months since Lachlan Richardson walked out of the Ballarat Showgrounds with his first PBR Australia Monster Energy Tour victory of the season.
Richardson had just ridden The D.O.C. for an event-winning 89.5 points, and the No. 1-ranked rider in PBR Australia seemed poised and ready to make a run at his first Australian championship.
However, the world had different plans for Richardson, and all of us.
The COVID-19 pandemic was beginning to spread in countries all across the planet, and sporting events were getting cancelled left and right. Soon enough, PBR Australia was the next sport to be put on ice by COVID-19 just as PBR events in the United States were coming to a grinding halt.  
PBR Australia waited patiently for government approval, and the organization has been working tirelessly on a plan to restart its season for months.
The time to resume its 2020 season has finally arrived, and Australian riders are thrilled to be back to competition with this weekend's PBR Caboolture Invitational on Saturday.
The doubleheader will take place at 1 p.m.  and 6 p.m. locally, but fans in the United States can watch the events on RidePass Friday night at 11 p.m. ET and Saturday morning at 4 a.m. ET.
"Yeah, it's real good (to be back)," Richardson said. "It's been way too long."
The Caboolture Invitational is the first of seven doubleheader events that PBR Australia is hopeful to host before the 2020 PBR Australia Grand National Finals in Townsville, Australia, on Nov. 20.
Therefore, the 2020 PBR Australia championship is going to be a mad dash to the finish with Richardson holding a small 27.5-point lead on two-time and reigning PBR Australia champion Aaron Kleier.
Richardson and Kleier have tried their best to remain in good shape for when the time came for the PBR Australia season to resume. The top two riders in Australia spent the six months working on their family ranches and getting on practice bulls.
"I pretty much worked every day (in North Queensland) since the bull rides stopped," Richardson said. "It's pretty good. Cattle prices are better than ever. Been getting lots of work done, too. Then I've been doing my usual workouts and practicing.
"I'm doing the work, so just believe in myself and keep fighting until the end."
Richardson had begun the 2020 PBR Australia season 5-for-8 with a victory and two Top-5 finishes before PBR Australia had to postpone its season in the early spring.
RELATED: Richardson enjoying being home full time in Australia
Kleier is the reigning two-time PBR Australia and has the opportunity to become the first three-time PBR Australian national champion.
That goal was originally on the backburner for Kleier as he was competing full-time in the United States on the Unleash The Beast prior to the COVID-19 outbreak.
Kleier is currently the No. 28 rider in the world, and he was No. 15 when he decided to return home to Australia following the Gwinnett Invitational on March 13-14.
The 22-year-old has not even competed at a PBR Australia event in the current calendar year. He ended 2019 with three Top-5 finishes at three PBR Australia events, which counted toward the 2020 PBR Australia national standings. After beginning the year with a fourth-place finish in Tamworth, Kleier delivered a runner-up and third-place result in Melbourne and Rockhampton, Queensland, respectively.
Kleier, though, will be a threat to push Richardson for the PBR Australia title for the second consecutive year now that he is back in Australia. Kleier said he is "not sure" yet if he will be returning to the United States in 2020. There is still a ban on overseas travel out of Australia without a government-approved exemption.
"I am so thankful that they are starting back up and can't wait to be back riding bulls every weekend," Kleier said. "I have been good, just been working on the family property here at home."
Similar to Richardson, Kleier has been getting on practice bulls to stay game ready. Kleier's father, Fred, often hauls bulls to PBR Australia events, so Kleier has been able to get on high-quality bulls during the off period.
"My dad owns bucking bulls, so I still got to get on while I was stuck at home," Kleier said.
Richardson explained the restrictions in Australia have led to him remaining at home for the majority of the pandemic.
"They have been strict," Richardson said. "I have barely left since it all started. Some of the borders are shut here, so all of the bull rides are (going to be) in Queensland."
All riders will attempt one bull each in Round 1 of both events this weekend at QSEC Arena. The Top 8 will then advance to the championship round for one more out and a chance at the event title. In addition to competing for points towards the Australian national standings, riders will also vie for crucial points towards the World Finals.
The No. 1-ranked rider in Australia will also receive an invitation to compete at the 2020 Pendleton Whisky Velocity Tour Finals later this year.
Richardson knows this would be his only path to the World Finals after turning down an Unleash The Beast draw spot earlier this season to stay home and compete for the PBR Australia championship.
If he earns the invitation, and gets government approval to travel, Richardson said he would like to compete at the Velocity Tour Finals as the Australian invite. Last year, he passed on the opportunity due to the passing of his grandmother
"I'll be back," Richardson said. "Velocity Finals. World Finals. Then home."
Follow Justin Felisko on Twitter @jfelisko