Team Australia's Hamilton Continuing Strong Pursuit of PRCA Title
By: Justin Felisko Wednesday, December 9, 2020 @ 11:17 AM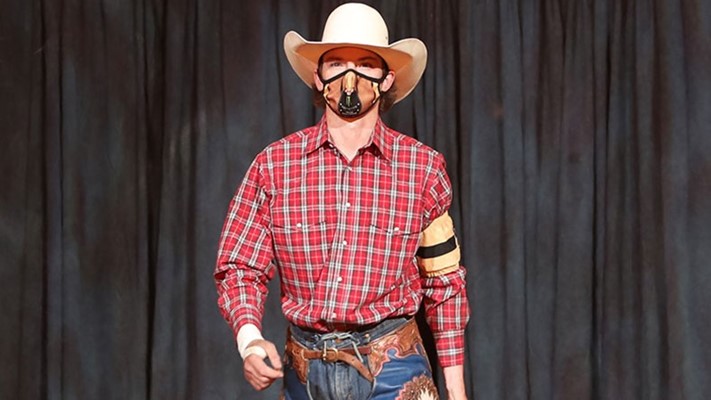 PUEBLO, Colo. – Ky Hamilton admits that, in the days and weeks leading up to the 2020 Wrangler National Finals Rodeo, there were some butterflies in the pit of his stomach.
The more people asked him about qualifying for his first NFR and making a run at the PRCA bull riding championship, those butterflies would flutter just a little bit faster.
With the NFR now more than halfway over at Globe Life Field in Arlington, Texas, Hamilton, though, has looked far from nervous and has not fallen to victim to any first-time jitters. Instead, the two-time Team Australia PBR Global Cup rider has been close to perfect at the NFR, going 4-for-6 to sit second in the race for the PRCA bull riding championship.
"My thoughts so far are I want to win a damn go-round," Hamilton joked on Tuesday morning from his hotel in Fort Worth, Texas. "No, I should be 5-for-5, but it's over with and I've just got to keep staying focused on one bull at a time and getting that next one rode."
Hamilton began the NFR sitting No. 2 in the PRCA bull riding standings, trailing only reigning six-time PRCA champion Sage Kimzey by $2,887.87.
The 20-year-old has usurped Kimzey by going 4-for-6 and earning 63,885 points through the first six rounds to retain his No. 2 ranking with 163,331.17 points. He trails new No. 1 Ty Wallace by 14,998.81 points. There are four more rounds until a PRCA champion is crowned on Saturday night.
Hamilton is attempting to become the first Australian bull rider to win a PRCA championship. 1998 PBR World Champion Troy Dunn qualified for the NFR, but he never won the PRCA title or event average at the NFR.
Greg Potter is the only Australian to have won the bull riding event average at the NFR, going 6-for-10 to win the bull riding title in 2003.
"There are a few good bull riders to come out of Australia, and the ones that have won over here are dang big shoes to fill, but that is what makes you better, striving to do something like that," Hamilton said.
Hamilton may join Potter in the record books by week's end. He is currently third and 81.5 points behind fellow PRCA rookie, Colten Fritzlan, in the event standings. Fritzlan is the only rider with five qualified rides through the first six rounds.
"This is my rookie year," Hamilton said. "There are two other rookies in there that ride dang good in Colten Fritzlan and Parker McCollum. I am going there to win the world, and if I do that Rookie of the Year will come with it."
Ky Hamilton rides through five rounds
Round 1:  90 points on Standard Tuesday
Round 2: 81.5 points on Crossfire Cowboy
Round 3: Buckoff
Round 4: 87.5 points on Director's Aristocrat
Round 5: 88 points on Nosebender
Round 6: Buckoff
Meanwhile, Kimzey's normal iron grip on the PRCA title is in jeopardy.
Kimzey is only 2-for-6 at Globe Life Field and is ninth in the event average. He has fallen to seventh in the PRCA standings (110,795.96).
2019 PRCA All-Around Champion Stetson Wright has surged to No. 4 in the PRCA bull riding standings (144,684.13) after winning the first two rounds at the NFR, and posting two 90-plus bull rides. Wright is also No. 1 in the all-around standings.
"I haven't looked at the standings," Hamilton said. "I just know watching Stetson Wright sure fires me up and makes me want to be better."
Chiseled bucks off 2020 World Finals event winner Boudreaux Campbell
Round 3 featured 2019 ABBI Classic Champion Chiseled squaring off against Boudreaux Campbell.
Chiseled bucked off the 2020 World Finals event winner just before the 8-second mark, while fellow 2020 World Champion Bull contender Hocus Pocus took down Kimzey in Round 3 as well. 
Campbell had a rough start at the NFR, bucking off his first four bulls, before riding Priefert's Tequila Worm for 87.5 points on Monday night. Campbell has dropped to No. 8 in the PRCA standings and is sitting 12th in the event average.