THE MORNING LINE - PBR TAMWORTH IRON COWBOY
By: Josh Hanson Saturday, November 23, 2019 @ 9:59 AM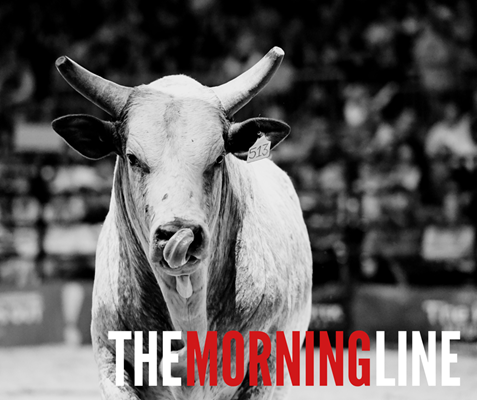 Highlights
THE MORNING LINE - PBR TAMWORTH IRON COWBOY
Iron Cowboy is run in a bracket-format, meaning each cowboy must outperform his opposing rider to progress. This can be via a qualified ride, or by the latest buck-off time, so we could see some surprise results with lower-seeded riders progressing into the late rounds.
While the focus is on the rider matchups, there are some nice bull and rider combinations set for Round 1, and I think we should see some solid scores posted. Here are my must-see matchups:
Round 1 Matchups
Rubens Barbosa on Midnight Hour (Maynes Bucking Bulls):
One of the biggest surprises at last weekend's PBR Australia Grand Finals was Barbosa going 0-for-4 after going 4-for-6 at the PBR World Finals the week before. Brady Fielder and Lachlan Richardson have covered midnight Hour in his short PBR career for 78 and 83.5 points. Look for the bull to turn back to the right into Barbosa's hand. It looks an excellent way for the Brazilian to get his Summer back on track.
Kaique Pacheco on Twisted X (Maynes Bucking Bulls):
One thing that was not a surprise was Pacheco covering four of his five bulls last weekend at the Grand Finals in his return from injury. Twisted X has allowed four qualified rides in his seven appearances on PBR Australia's tours in the past year and a half. We can only assume the 2018 World Champion will continue to gather momentum ahead of his return to the premier level in January and this bull will be around to the right and into his hand.
Brady Fielder on Pole Dancer (ST Bucking Bulls):
While Townsville wasn't Fielder's best performance of the season, he did post two solid scores off the back of a fierce World Finals outing. Pole Dancer has yet to display any decisive action that makes predicting these matchups easy. In his recent trips, we have seen him go right in Brisbane, and then he backed out at Newcastle and went left. If he gets out clean, I'd expect him to turn right, and we should see the 2019 PBR Australia Rookie of the Year progress from his matchup.
Troy Wilkinson on Booger Man (Brandenburg/MJ Bucking Bulls):
The 2017 PBR Australian National Champion finished the 2019 season very strong, and I expect we will continue to see him cover bulls at a high rate into the new season. Booger man gave up an 85-point ride to Nathan Burtenshaw at the Grand Finals. The other three rides on this bull belong to the left-handed Aaron Kleier. Outside of Kleier, this bull hasn't faced many left-handers with the talent of Wilkinson. The bull will turn to the left, and he has good timing, but sometimes we see a late reversal, so Wilkinson needs to stay alert. 
Eduardo Aparecido on High Flying Akubra (John Gill & Sons):
The Brazilian just missed out on the short round last weekend at the Grand Finals, covering two of his four opponents. He will face High Flying Akubra, who gave up just three rides in the 2019 season. Right-handed riders do have a good record against this bull, despite the fact he prefers a left-handed spin, but he can mix up his trips and does go right on the odd occasion. Kaique Pacheco rode High Flying Akubra for 83-points at the Sydney Global Cup in 2018, so I have no doubt he will have some first-hand knowledge to pass on. 
Aaron Kleier on Rockslide (Dunne Bulls):
Kleier and Rockslide will face off for a third time after splitting their previous matchups to sit at one win apiece. The bull took the victory in 2.98 seconds at Last Cowboy Standing in 2018, but Kleier got his revenge earlier this year at Mount Isa for 86.5 points. The bull prefers the left-handed spin, and that will be into the 2019 PBR Australian National Champion's hand. Kleier will be eager to shake off his 1-for-4 performance from last weekend, and he gets a great opportunity here.
Lachlan Slade on Russian Roulette (ST Bucking Bulls):
Slade didn't have the best second half of 2019, but he posted a nice score last weekend, and that might be enough to kickstart his new season. He returns home to face Russian Roulette who isn't the easiest bull to get by, only allowing four qualified rides in his twelve out PBR career. The bull should turn back to the right, and into Slade's hand, but Russian Roulette can travel a long way across the arena before making that decision. In the past, he has faked both left and right while producing some huge belly rolls, but if Slade can stick with him until he arrives at his spot, he should be able to open up and finish strong.