Team Queensland Dominates in Brisbane to be Crowned 2022 PBR Origin Champions
By: Kacie Albert Sunday, May 22, 2022 @ 11:30 AM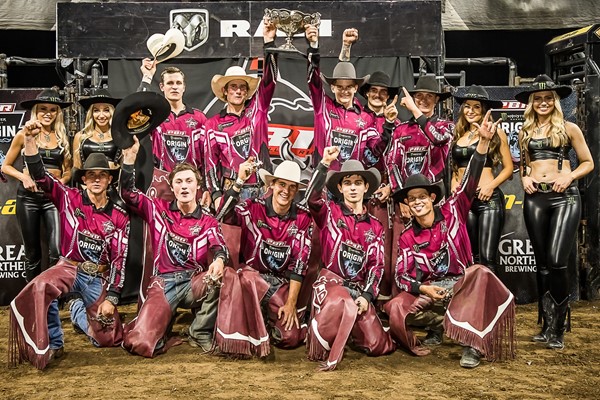 BRISBANE, Qld. – As the 2022 PBR (Professional Bull Riders) Australia Monster Energy Tour Origin series came to a climactic end in Brisbane, Queensland, home state favorites Team Queensland delivered a dominant performance, outscoring rivals Team New South Wales by five rides, to win PBR Origin III – Brisbane, and be crowned the 2022 PBR Origin Champions.
Leading into the final stop of the 2022 iteration of PBR Origin, Team Queensland and Team New South Wales were locked in a heated tie, with each stop having won one of the previous events. After Team Queensland topped the field in Newcastle, Team New South Wales kept their hopes alive with a golden effort in Tamworth.
Once inside Brisbane Entertainment Centre, however, Team Queensland was a contingent on a mission, never once surrendering the lead en route to their third consecutive PBR Origin title.
Kelsey Pavlou (Gracemere, Queensland) was the first to strike for the Maroons, covering Pied Piper (Ruhland Ranch Bucking Bulls) for 83 points.
As the very next rider to compete for Team Queensland, Ben Moran (Yeppoon, Queensland) expanded the state's lead when he converted aboard A Force (ST Bucking Bulls) for 81.5 points.
Qynn Andersen (Koumala, Queensland) was the next contender to reach the requisite 8, expanding Team Queensland's lead to 247-0 when he outlasted Titanium (Ruhland Ranch Bucking Bulls) for 82.5 points.
Seven-time PBR World Finals qualifier Lachlan Richardson (Gresford, New South Wales), however, rose to the occasion, preventing a shutout for Team New South Wales when he delivered the top score of the opening round, marked 84.5 points on Gin n Juice (Ruhland Ranch Bucking Bulls).
Riding Richardson's momentum, Chris Wilson (Parkville, New South Wales) covered in the Blues' next out, inching New South Wales within 81.5 points when he matched Houston Calling (Ruhland Ranch Bucking Bulls) jump-for-jump en route to an 81-point score.
Not to be outdone, Team Queensland Captain Aaron Kleier (Clermont, Queensland) again grew his teams lead entering Round 2 when he covered re-ride draw Firebug (Colin Fry) for 82.5 points.
As a result of their success, Team Queensland held a 163.5-point lead entering Round 2.
During the second round of competition, the event's bovine athletes dominated, surrendering just one qualified ride.
Andersen was the lone rider to experience success, riding Comeback Kid (Dittmann Bucking Bulls) for 86 points, growing Team Queensland's lead to 249.5 points ahead of the bonus round.
In the final outs of PBR Origin III – Brisbane, Moran, Andersen, Pavlou and Captain Kleier were tapped to ride one final time for Team Queensland, while Braith Nock (Bendemeer, New South Wales), Lachlan Slade (Tamworth, New South Wales), Trefor Sproule (Singleton, New South Wales) and Richardson earned the chance to compete one final time inside Brisbane Entertainment Centre for Team New South Wales.
After both Nock and Slade bucked off for Team New South Wales, Team Queensland had the victory clinched as Kleier readied to attempt The Pet (ST Bucking Bulls).
Kleier went on to further cement the win with an event-best 87.5-point score, while Andersen, as the last man to compete, punctuated the Maroons' victory with an 87-point ride atop Big Buck Hunter (ST Bucking Bulls).
When the dust settled, the final scoreboard read 590-165.5, with Team Queensland winning PBR Origin III – Brisbane by 424.5 points. Team Queensland has now won each iteration of the PBR Origin series since it was launched in 2019.
With crucial national points also on the line, Team Queensland's Andersen finished atop the podium, collecting 72.5 national points as the only rider to go a perfect 3-for-3. As a result of the golden individual finish, Andersen climbed from No. 4 to No. 2 in the national standings. He now trails No. 1 Cody Heffernan (Singleton, New South Wales), by a mere 6.5 national points.
Going a combined 7-for-9 across the three stops of the 2022 PBR Origin series, Andersen also earned the $20,000 series bonus.
In the bull pen, Cattle King Boogers Beach (Dittmann Bucking Bulls) was the supreme animal athlete. He was awarded an event-best 44.5-point score in the bonus round when he bucked off Slade in 2.71 seconds.
The 2022 PBR Australia season will continue Saturday, May 28 for PBR Cooyar Touring Pro Division event in Cooyar, Queensland. Action will get underway at 7:00 p.m. AEDT.
2022 PBR Australia Origin – PBR Origin III – Brisbane
Brisbane Entertainment Centre – Brisbane, Queensland
(Rides – Outs – Event Aggregate)
1. Team Queensland, 7-24-590
2. Team New South Wales, 2-24-165.5
2022 PBR Australia Origin – PBR Origin III – Brisbane
Brisbane Entertainment Centre – Brisbane, Queensland
Event Leaders (Round 1- Round 2-Event Aggregate-Australian Points)
1. Qynn Andersen, 82.5-86-87-168.50-72.5 Points.
2. Lachlan Richardson, 84.5-0-0-84.50-55 Points.
3. Kelsey Pavlou, 83-0-0-83.00-42 Points.
4. Aaron Kleier, 82.5-0-87.5-82.50-27.5 Points.
5. Ben Moran, 81.5-0-0-81.50-14 Points.
6. Chris Wilson, 81-0-0-81.00-8 Points.
Cody Heffernan, 0-0-0-0.00
Braith Nock, 0-0-0-0.00
Michael Smith, 0-0-0-0.00
Will Purcell, 0-0-0-0.00
Nathan Burtenshaw, 0-0-0-0.00
Jake Curr, 0-0-0-0.00
Caiden Sandilands, 0-0-0-0.00
Lachlan Slade, 0-0-0-0.00
Thomas Hudson, 0-0-0-0.00
Trefor Sproule, 0-0-0-0.00
Jackson Gray, 0-0-0-0.00
Beau Willis, 0-0-0-0.00
Sam Woodall, 0-0-0-0.00
Dan Ruhland, 0-0-0-0.00