Four-Time PBR Australia Champion Aaron Kleier Wins Touring Pro Division Event in Cooyar, Queensland
By: Kacie Albert Sunday, May 29, 2022 @ 9:55 PM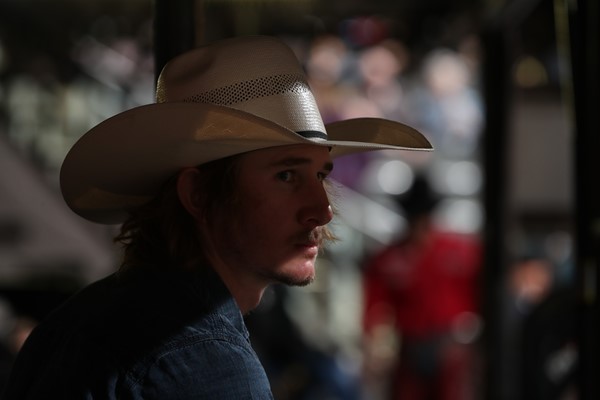 COOYAR, Qld. – As the 2022 PBR (Professional Bull Riders) Australia season continued Saturday evening, Queensland phenom Aaron Kleier (Clermont, Queensland) inched closer to further etching his name in the organization record books, winning the Touring Pro Division's PBR Cooyar at the Cooyar Showgrounds.
After tying David Kennedy (Kyogle, New South Wales) for most Australian national titles won by one rider in league history in 2021, each now with four, should Kleier win his unprecedented fifth consecutive national title at season's end, he would become the winningest bull rider in PBR Australia competition.
In Round 1, Kleier delivered the second-best score when he outlasted Shadow (ST Bucking Bulls) for an 84.5-point score.
The 24-year-old next readied to go head-to-head with Pirate Patch (Running Gold Bucking Bulls). Matching the powerful animal athlete jump-for-jump, Kleier reached the requisite 8, marked 87 points to clinch the event win.
The golden finish earned Kleier a critical 28 national points. He remained No. 4 in the Australian rankings, but now trails the No. 1 position by a mere 21 points.
As the only other rider to go a perfect 2-for-2, Qynn Andersen (Koumala, Queensland) was second, overtaking the No. 1 rank in the race for the 2022 PBR Australia Championship.
Andersen was a picture of perfection in Round 1, delivering the top score when he covered Bud Buster (JD Bucking Bulls) for 85 points.
The 19-year-old sensation then remained flawless in the second round when he dominated Rip Slinger (MJ/Keliher Bucking Bulls) for 82 points.
The silver finish netted Andersen 19 national points.
Leap-frogging 2016 PBR Australia Champion Cody Heffernan (Singleton, New South Wales) for the top position in the national standings, Andersen is now a slim 6.5 points out front of No. 2 Heffernan.
Heffernan also competed in Cooyar, however his fifth-place effort, was not enough to defend his No. 1 rank.
Going 1-for-2, the New South Wales contender rode Colewell King (MJ/Keliher Bucking Bulls) for 83 points in Round 1, garnering 6 national points.
Tying for third was seven-time PBR World Finals qualifier Lachlan Richardson (Gresford, New South Wales) and Taran Chirgwin (Calliope, Queensland), each netting 11 national points.
After bucking off in Round 1, both Richardson and Chirgwin returned determined in the final round of competition.
Splitting the championship round win with event victor Kleier, Richardson covered Ambush (MJ/Keliher Bucking Bulls) and Chirgwin rode Gin n Juice (Ruhland Ranch Bucking Bulls), both marked 87 points.
Richardson maintained his No. 3 rank in the national standings, now trailing No. 1 Andersen by 17.5 points.
Chirgwin rose five positions from No. 24 to No. 19, now 288 points removed from the top standing.
In the bull pen, Gin n Juice was unrivaled. The impressive bovine athlete was anointed the Bull of the Event when he was marked 44 points in his Round 2 out with Chirgwin.
The 2022 PBR Australia season will continue Saturday, June 11 for the PBR Monster Energy Tour Rockhampton Invitational in Rockhampton, Queensland. Action inside Great Western Hotel will get underway at 7:00 p.m. AEDT.
PBR Australia Touring Pro Division
PBR Cooyar
Cooyar Showgrounds – Cooyar, Queensland
Event Leaders (Round 1-Round 2-Event Aggregate-Event Points)
1. Aaron Kleier, 84.5-87-171.50-28 Points.
2. Qynn Andersen, 85-82-167.00-19 Points.
3. Lachlan Richardson, 0-87-87.00-11 Points.
(tie). Taran Chirgwin, 0-87-87.00-11 Points.
5. Cody Heffernan, 83-0-83.00-6 Points.
6. Kelsey Pavlou, 82.5-0-82.50-4 Points.
7. Trefor Sproule, 79-0-79.00-1 Points.
(tie). Beau Willis, 79-0-79.00-1 Points.
9. Clay Hall, 78-0-78.00
10. Jackson Gray, 77-0-77.00
11. Dan Ruhland, 76-0-76.00
(tie). Bryn Francis, 76-0-76.00
13. Joey Buckingham, 75-0-75.00
14. Zane Hall, 74-0-74.00
15. Will Purcell, 70.5-0-70.50
Braith Nock, 0-0-0.00
Caiden Sandilands, 0-0-0.00
Italo Aguilar Goncalves, 0-0-0.00
Harry Bridges, 0-0-0.00