PBR Australia's Monster Energy Tour Bucks Back to Caboolture for Third Consecutive Season on July 23
By: Kacie Albert Friday, March 11, 2022 @ 12:15 PM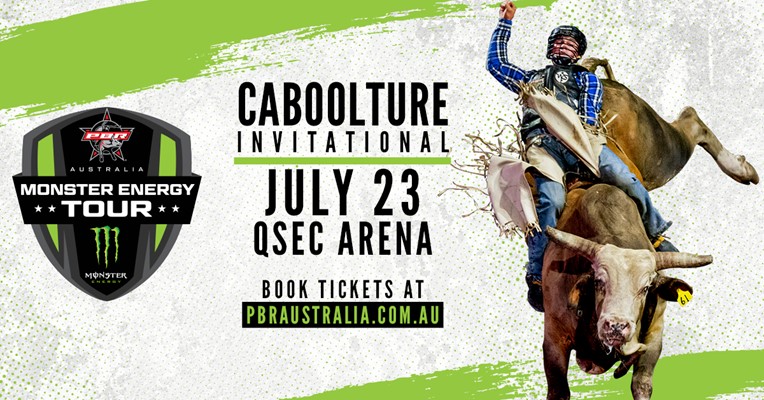 For the third consecutive season, PBR (Professional Bull Riders) Australia's elite Monster Energy Tour will buck into Caboolture, Queensland, travelling to QSEC Arena July 23 with the PBR Caboolture Invitational.
PBR Australia's Monster Energy Tour regularly features the nation's best riders squaring off against the rankest bucking bulls from across Australia. Fans will witness exhilarating 8-second rides and wrecks throughout the action-packed event as the PBR's courageous bull-riding athletes attempt to conquer their 900-kilogram opponents.
In 2021, Beau Willis (Bowen, Queensland) was electric, going a near perfect 2-for-3 to win the PBR Caboolture Invitational in Caboolture, Queensland, catapulting him inside the Top 10 in the race for the 2021 PBR Australia Championship.
Willis began his campaign for his first event victory in five years when he topped the field in Round 1, covering Shotgun (ST Bucking Bulls) for 85 points.  The home state contender remained perfect in Round 2 when he outlasted Amigo (MJ/Keliher Bucking Bulls) for 79 points.
While Willis was unable to conclude the event with a score, bested by Big Buck Hunter (ST Bucking Bulls) in 3.13 seconds, his initial two scores proved enough to clinch the win.
After beginning the event ranked No. 25, Willis, who earned a critical 148 national points, surged 18 positions in the national standings to No. 7, inching within 330.33 points of No. 1 Aaron Kleier (Clermont, Queensland).
Kleier's fourth-place effort last year in Caboolture was part of his historic push for an unprecedented fourth consecutive PBR Australia Championship. Throughout the season, Kleier went a PBR Australia-best 23-for-35, covering 65.71% of the nation's top bovine athletes. He concluded the year 248.01 points ahead of No. 2 Brady Fielder (Clermont, Queensland).
Only one other bull rider has won a national title four times in any of PBR's international divisions. Kleier, the first to achieve the feat in successive years, is now tied David Kennedy (Kyogle, New South Wales) for most Australian national titles won by one rider in league history. Kennedy topped the national standings in 2009-2010, 2012 and 2014.
In 2020, PBR Australia's Monster Energy Tour not only debuted in Caboolture, welcoming the PBR Australia Monster Energy Tour for a double-header, but the league held its triumphant return to competition in the city, emerging from a 203-day hiatus from live events following the onset of the COVID-19 (coronavirus) pandemic. .
Queensland sensation Jack McArthur (Cooyar, Queensland) won the opening edition of the PBR Caboolture Invitational, with young gun Kelsey Pavlou (Toora, Victoria) claiming the victory at the second event of the historic tour stop.
Prior to the nation's elite tour debuting in the city in 2020, Caboolture welcomed PBR Australia for Touring Pro Division events in 2013-2014. Those winners were: three-time PBR World Champion Silvano Alves (2014) and four-time PBR Australia Champion Kennedy (2013).
The bull riding action for the PBR Caboolture Invitational begins at 7:00 p.m. AEST on Saturday, July 23 at QSEC Arena. After all competing riders attempt one bull each in Round 1, the Top 10 will then advance to the championship round for one more out and a chance at the event title. In addition to competing for points towards the Australian national standings, riders will also vie for crucial points towards the World Finals.
Tickets for the PBR Australia Monster Energy Tour's Caboolture Invitational are on sale now for $40, taxes and fees not included, and can be purchased at PBRAustralia.com.au.