Captains Announced for 2022 PBR Origin Tournament
By: Kacie Albert Thursday, March 10, 2022 @ 11:43 AM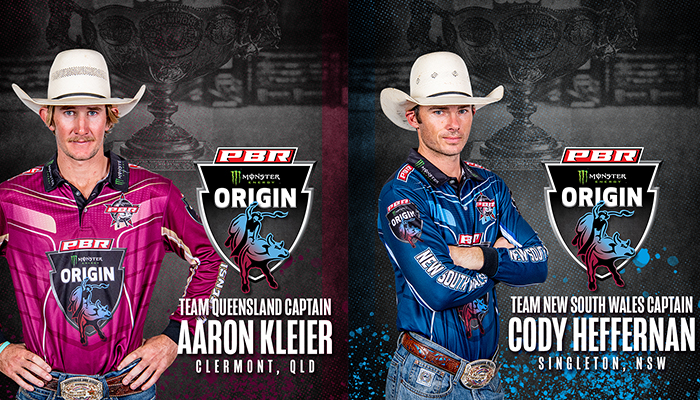 Ahead of the 2022 PBR (Professional Bull Riders) Australia Origin tournament, the organization has announced that four-time, and reigning, PBR Australia Champion Aaron Kleier (Clermont, Queensland) and 2016 PBR Australia Champion Cody Heffernan (Singleton, New South Wales) will captain Team Queensland and Team New South Wales, respectively.
PBR Australia held its first Origin event in 2019, when Team Queensland (682.5 points) defeated Team New South Wales (428.5 points) inside Sydney's ICC Theatre. In 2021, the widely popular event returned, expanding to a three-stop series of events, with Team Queensland again emerging the more dominant bull riding state, sweeping rivals New South Wales in both Origin I – Brisbane and Origin II – Cairns.
Again a three-event series of tour stops, the PBR Origin is modeled after the State of Origin Rugby League event that is considered Australian sport's greatest rivalry.
Through a trio of events held March 26 in Newcastle, New South Wales, April 23 in Tamworth, New South Wales, and May 21 in Brisbane, Queensland, Team Queensland and Team New South Wales will go head-to-head to determine which state is the supreme bull riding powerhouse.
"I am looking forward to riding as a team with the Queensland boys and representing our state with them. Putting on that maroon jersey Is truly an honour," Team Queensland Captain Kleier said. "With bull riding being such an individual sport, it is good to get the chance to ride together as a team. It just has an exciting and different feel to any other event."
"It's an absolute honour to be selected as Captain and lead the charge with the boys," Team New South Wales Captain Heffernan said. "I am looking forward to the atmosphere the Origin events create. We rarely get to ride in a team format, and there's no better team competition in Australia than New South Wales vs. Queensland."
Kleier was an integral member of the victorious Team Queensland for both the inaugural PBR Origin event in 2019 and the state's most recent win in 2021.
In 2019, including his 86-point ride on Rock The House (Dunne Bulls/BSA) in the championship round, the Clermont-native added 167.5 points to the Maroons' winning total. At the most recent iteration of the PBR Origin tournament, he went a combined 4-for-6 to help Team Queensland sweep Team New South Wales in consecutive events.
The 24-year-old will return to captain Team Queensland after making history in 2021, becoming the first rider in history to win the PBR Australia Championship in four consecutive seasons, while also tying David Kennedy (Kyogle, New South Wales) for most Australian national titles won by one rider in league history. Kennedy topped the national standings in 2009-2010, 2012 and 2014.
Heffernan has also competed at both iterations of the PBR Origin; however, the 2022 tournament will mark his first as Team New South Wales Captain. After being shut out in 2019, Heffernan rebounded in 2021, adding two scores to the Blues' resilient effort to defeat Queensland.
Tickets for PBR Origin I – Newcastle at the Newcastle Entertainment Centre, PBR Origin II – Tamworth at AELEC Arena, and PBR Origin III – Brisbane at the Brisbane Entertainment Centre are on-sale now and can be purchased at pbraustralia.com.au. 
Each stop of the 2022 PBR Origin tournament will feature three rounds of competition. After each of the 10 competing bull riders for both teams attempt one bull each in Round 1 and Round 2, the Top 4 riders from each team will advance to the bonus round for one final out. The event winner will be the team with the highest combined score in the event aggregate.
All future PBR Australia events are subject to change, planned in accordance with directives issued by relevant government and health authorities given the evolving regulations during the COVID-19 (coronavirus) pandemic.