Brumby Brandenburg Wins Career-First PBR Australia Monster Energy Tour Event in Mildura, Victoria
By: Kacie Albert Saturday, March 19, 2022 @ 3:36 PM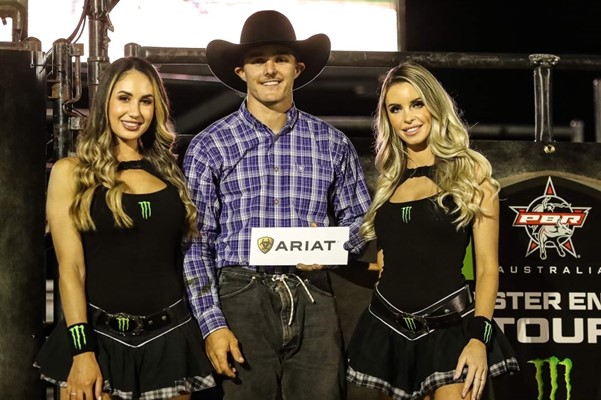 MILDURA, Victoria – As PBR (Professional Bull Riders) Australia returned to the state of Victoria Saturday evening for the first time since March 2020, no rider was more dominant than Brumby Brandenburg (Clermont, Queensland, Australia) at the elite Monster Energy Tour's Mildura Invitational. Going a perfect 2-for-2, Brandenburg earned his career-first PBR victory at Mildura Recreation Reserve – Brian Weightman Oval, surging from unranked to No. 5 in the race for the 2022 PBR Australia Championship.
In Round 1, Brandenburg recorded the first qualified ride of his career when he made the 8 aboard Cash Money (Throsby & Russell Bucking Bulls) for 83.5 points.
Tied for second on the event leaderboard, Brandenburg readied to go head-to-head against Natural Hillbilly (Throsby & Russell Bucking Bulls) in Round 2.
Brandenburg remained a picture of perfection, recording the high-marked ride of the tour stop and clinching the event win when he covered the striking animal athlete for 86.5 points.
For his efforts the Queensland contender earned a critical 75.5 national points. Unranked prior to the PBR Mildura Invitational, Brandenburg surged to No. 5, now just 117 points behind No. 1 Brady Fielder (Clermont, Queensland).
Qynn Andersen (Koumala, Queensland, Australia) was second, netting 55 national points.
His outing in Mildura was headlined by his Round 1-winning, 86-point ride atop Makers Mark (Throsby & Russell Bucking Bulls). Andersen fell short of the victory when he was bested by Mr. Buckmore (Throsby & Russell Bucking Bulls) in a hard-fought 6.42 seconds in Round 2.
Andersen is now No. 6 in the PBR Australia standings, 137.5 points behind the No. 1 position.
Third was Will Purcell (Merrijig, Victoria, Australia).
Purcell parlayed an 83.5-point ride aboard Bluey (Throsby & Russell Bucking Bulls) in the opening round into the bronze effort, garnering 40.5 national points.
Now ranked inside the nation's Top 10, Purcell is the No.7 rider in Australian competition, 145 points back of No. 1 Fielder.
Rounding out the Top 5, and tying for fourth, were Kelsey Pavlou (Toora, Victoria, Australia) and Michael Smith (Tully, Queensland, Australia).
Both riders registered 80-point rides in Round 1, covering Hells Gate (Woodall Rodeo Co.) and Smokie (Woodall Rodeo Co.), respectively, to net 20 national points.
While Pavlou took over sole ownership of the No. 3 rank, now within 95.5 points of the No. 1 position, Smith rose from being unranked to No. 11.
In the bull pen, Crackalackin (Throsby & Russell Bucking Bulls) was the Bull of the Event. The animal athlete was scored an unmatched 44 points in Round 2 for his 2.89-second buckoff of Purcell.  
The 2022 PBR Australia season continues Saturday, March 26 in Newcastle, New South Wales, as the 2022 PBR Origin tournament gets underway. Action for the PBR Monster Energy Tour Origin I – Newcastle, will get underway at 7:00 p.m. AEDT at the Newcastle Entertainment Centre.
PBR Australia Monster Energy Tour
PBR Mildura Invitational
Mildura Recreation Reserve: Brian Weightman Oval – Mildura, Victoria
Event Leaders (Round 1-Round 2-Event Aggregate-National Points)
1. Brumby Brandenburg, 83.5-86.5-170.00-75.5 Points.
2. Qynn Andersen, 86-0-86.00-55 Points.
3. Will Purcell, 83.5-0-83.50-40.5 Points.
4. Kelsey Pavlou, 80-0-80.00-20 Points.
(tie). Michael Smith, 80-0-80.00-20 Points.
Lachlan Richardson, 0-0-0.00
Cody Heffernan, 0-0-0.00
Chris Wilson, 0-0-0.00
Trefor Sproule, 0-0-0.00
Braith Nock, 0-0-0.00
Caiden Sandilands, 0-0-0.00
Cody Fraser, 0-0-0.00
Jack Keats, 0-0-0.00
Thomas Hudson, 0-0-0.00
Will Watson, 0-0-0.00
Jono Couling, 0-0-0.00
Darcy McBean, 0-0-0.00
Oscar Leake, 0-0-0.00
Toby Leake, 0-0-0.00
Ben Moran, 0-0-0.00