Kelsey Pavlou Wins Rockhampton Invitational to Crack Top 5 in the Race for the 2022 PBR Australia Championship
By: Kacie Albert Saturday, June 11, 2022 @ 11:43 AM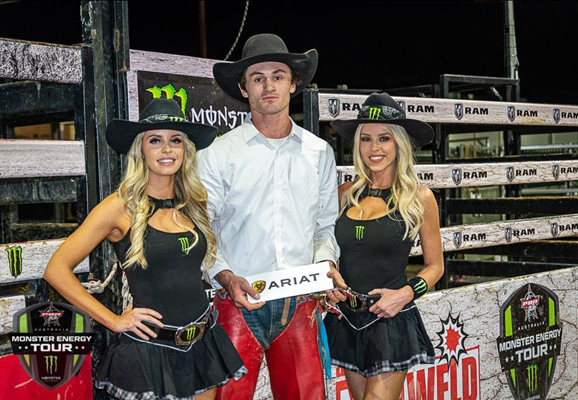 ROCKHAMPTON, Qld. – In front of a raucous crowd Saturday evening at the Great Western Hotel in Rockhampton, Queensland, Kelsey Pavlou (Toora, Victoria) delivered a perfect 3-for-3 showing to win the PBR (Professional Bull Riders) Australia Monster Energy Tour's Rockhampton Invitational, cracking the Top 5 in the race for the 2022 PBR Australia Championship.
Pavlou first converted in Round 1 when he covered Ariat's Flaunt It (Dunne Bulls) for 80 points.
Seventh on the leaderboard entering Round 2, Pavlou then surged to the top of the event standings when he made the requisite 8 atop Bang and Grind (Fred Kleier) for 82.5 points.
Pavlou next readied to go head-to-head against King Kong (Fred Kleier) in the championship round. As the last man to leave the chutes inside Great Western Hotel, Pavlou was a picture of perfection atop the mammoth animal athlete, reaching the whistle for 85 points to clinch the victory.
The golden finish earned Pavlou a critical 89 national points, elevating him from No. 6 to No. 5 in the national standings. He is now within 93 points of the top rank.
Compliments of a third-place finish, which garnered him 55 national points, Lachlan Richardson (Gresford, New South Wales) overtook the No. 1 rank in the fierce battle to be crowned the season's PBR Australia Champion.
Despite being bested in Round 1 by Rockslide (Dunner Bulls) in a hard-fought 7.86 seconds, the seven-time PBR World Finals qualifier returned determined in the second round.
In perfect time with Run For Your Life (Fred Kleier), Richardson topped the round courtesy of an event-best 85.5-point score.
The New South Wales sensation, however was no match for Ambush (MJ/Keliher Bucking Bulls) in the final round, sent to the ground in 3.11 seconds.
Richardson, who began the event ranked No. 3, is now the No. 1 rider in Australia, 12 points ahead of No. 2 Cody Heffernan (Singleton, New South Wales).
While he may have surrendered the top position, Heffernan went 1-for-3 to finish fifth, collecting 32 national points.  
Heffernan delivered his lone score of the event in Round 1 when he covered Mickey Mouse (Peter Wallace) for 82.5 points.  
Second was Ben Moran (Yeppoon, Queensland), earning 71 national points.  
In Round 1, Moran rode Slick 60 (Peter Wallace) for 82 points, before being upended by Bear Down (Peter Wallace) in a close 5.99 seconds in Round 2.  
Moran, however, was fast to right his momentum in the championship round. Tasked with Freckles Brown (Peter Wallace), Moran emerged the more dominant athlete, reaching the 8 for 81.5 points.
The silver finish allowed Moran to surge to No. 10 in the Australian standings, positioning him within 234.5 points of No. 1 Richardson.
Newly drafted Ariat Texas Rattlers rider Brady Fielder (Clermont, Queensland) was fourth.
Courtesy of a Round 1-winning, 84-point ride aboard End Game (Dunne Bulls) in Round 1, Fielder left Rockhampton having earned 45 national points.
Fielder is now No. 6 in the Australian standings, 105 points behind the No. 1 rank.
In the bull pen, Pretty Boy (Peter Wallace) earned his season-best fourth Bull of the Event honor. Bucking a cut above the rest, the powerful animal athlete was scored 45 points in the championship round after he bucked off Fielder in 3.28 seconds.
The 2022 PBR Australia season will continue June 17-18 in Mount Isa, Queensland for the Touring Pro Division's PBR Mount Isa Show. Action will get underway nightly at 7:00 p.m. AEDT.
Stay tuned in to PBRAustralia.com.au and follow the tour on Facebook (PBR Australia), Twitter (@PBRAustralia), and Instagram (@PBRAustralia) for the latest results, news, stats and more.
PBR Australia Monster Energy Tour
PBR Rockhampton Invitational
Great Western Hotel – Rockhampton, Queensland
Event Leaders (Round 1-Round 2-Round 3-Event Aggregate-Event Points)
1. Kelsey Pavlou, 80-82.5-85-247.50-89 Points.
2. Ben Moran, 82-0-81.5-163.50-71 Points.
3. Lachlan Richardson, 0-85.5-0-85.50-55 Points.
4. Brady Fielder, 84-0-0-84.00-45 Points.
5. Cody Heffernan, 82.5-0-0-82.50-32 Points.
6. Aaron Kleier, 81-0-0-81.00-16 Points.
7. Jackson Gray, 80.5-0-0-80.50-7.5 Points.
(tie). Wyatt Milgate, 80.5-0-0-80.50-7.5 Points.
9. Brody Woodard, 78.5-0-0-78.50-3 Points.
Qynn Andersen, 0-0-0-0.00
Brumby Brandenburg, 0-0-0-0.00
Kurt Shephard, 0-0-0-0.00
Caiden Sandilands, 0-0-0-0.00
Taran Chirgwin, 0-0-0-0.00
Italo Aguilar, 0-0-0-0.00
Blayne Johnson, 0-0-0-0.00
Quinton Kammann, 0-0-0-0.00