Four-Time PBR Australia Champion Aaron Kleier Wins Touring Pro Division Event in Mount Isa with Walk-Off 90-Point Ride
By: Kacie Albert Friday, June 17, 2022 @ 4:31 PM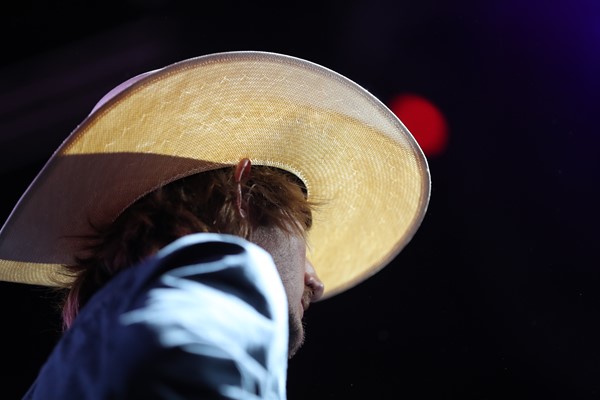 MOUNT ISA, Qld. – Compliments of a walk-off, 90-point ride, four-time PBR (Professional Bull Riders) Australia Champion Aaron Kleier (Clermont, Queensland, Australia) won the Friday night Touring Pro Division event in Mount Isa, Queensland, surging to No. 3 in the heated battle to be crowned the 2022 PBR Australia Champion.
In Round 1, Kleier first put points on the board when he covered Random Assault (Dunne Bulls) for 87 points.
Tied for second on the event leaderboard, Kleier next readied to go head-to-head against Super Natural (Colin Fry).  In near picture-perfect form, Kleier covered the powerful animal athlete for a monstrous 90 points, clinching the PBR Mount Isa Show event win.
The 90-point ride was the second of Kleier's career, and first on Australian soil in 2022.
For his efforts, Kleier earned 27 national points. He is now ranked No. 3 in the heated PBR Australia Championship race, within a 15.5 points of standings leader Lachlan Richardson (Gresford, New South Wales).
Richardson rode in Mount isa, however went 0-for-2. After being bucked off by Forward Scout (Dunne Bulls) in 4.97 seconds in Round 1, the seven-time PBR World Finals qualifier was upended by Comeback Kid (Dittmann Bucking Bulls) in 6.85 seconds in Round 2.
Texas Rattlers rider Brady Fielder (Clermont, Queensland) was second, netting 19 national points.
Fielder was unmatched in Round 1, covering G Shock (Throsby & Russell Bucking Bulls) for 87.5 points.
The Queensland sensation then continued the momentum in the second round, making the whistle atop Cattle King Ray Ban (Dittmann Bucking Bulls) for 84.5 points.
Seeking his first national title in 2022, Fielder is now ranked No. 5 in Australia, 86 points behind the top spot.
Surging young gun Qynn Andersen (Koumala, Queensland) was third.
Flawless in Mount Isa, Andersen made the requisite 8 atop Cover Up (Colin Fry) for 86.5 points, and Candy Man (Throsby Russell & Curr) for 80 points.
Earning 10 national points, the 19-year-old is now ranked No. 4 in the national standings, a slim 27.5 points back of No. 1 Richardson.
Jack Keats (Cloncurry, Queensland) was fourth, collecting 4 national points.
Also besting both of his bovine athlete counterparts, Keats rode Ariat's Flaunt It (Dunne Bulls) for 78.5 points in Round 1, and Pay Cheque (Colin Fry) for 80.5 points in Round 2.
Rounding out the Top 5 in fifth was Jake Curr (Mount Isa, Queensland).
The hometown favorite wowed the local crowd when he rode Cash Money (Throsby & Russell Bucking Bulls) for 74 points in Round 1, followed by an 82-point effort aboard Living On Dreams (Colin Fry) in Round 2.Curr left the Buchanan Park Events Complex having netted 3.5 national points.
In the bull pen, two animal athletes posted a score of 46 points or more. While Cattle King Boogers Beach (Dittmann Bucking Bulls) was awarded 46 points for his 6.95-second buckoff of Beau Willis (Bowen, Queensland) in Round 2, Roid Rage (Dittmann Bucking Bulls) was crowned Bull of the Event for his 46.5-point score earned in the second round when he dispatched Brody Woodard (Dingo, Queensland) in a close 7.25 seconds.
After tying David Kennedy (Kyogle, New South Wales) for most Australian national titles won by one rider in league history in 2021, each now with four, should Kleier win his unprecedented fifth consecutive national title at season's end, he would become the winningest bull rider in PBR Australia competition.
The 2022 PBR Australia season will continue June 18 in Mount Isa, Queensland for the Touring Pro Division's PBR Mount Isa Show. Action will get underway nightly at 7:00 p.m. AEDT.
Stay tuned in to PBRAustralia.com.au and follow the tour on Facebook (PBR Australia), Twitter (@PBRAustralia), and Instagram (@PBRAustralia) for the latest results, news, stats and more.
PBR Australia Touring Pro Division
PBR Mount Isa Show
Buchanan Park Events Complex– Mount Isa, Queensland
Event Leaders (Round 1-Round 2-Event Aggregate-Event Points)
1. Aaron Kleier, 87-90-177.00-27 Points.
2. Brady Fielder, 87.5-84.5-172.00-19 Points.
3. Qynn Andersen, 86.5-80-166.50-10 Points.
4. Jack Keats, 78.5-80.5-159.00-4 Points.
5. Jake Curr, 74-82-156.00-3.5 Points.
6. Braith Nock, 0-91-91.00-9 Points.
7. Taran Chirgwin, 0-89-89.00-4 Points.
8. Caiden Sandilands, 87-0-87.00-4 Points.
9. Lachlan Slade, 86-0-86.00-1 Points.
10. Bradley Wheeler, 83.5-0-83.50
11. Will Purcell, 0-82-82.00-0.5 Points.
12. Kurt Shephard, 78.5-0-78.50
Lachlan Richardson, 0-0-0.00
Cody Heffernan, 0-0-0.00
Kelsey Pavlou, 0-0-0.00
Brumby Brandenburg, 0-0-0.00
Ben Moran, 0-0-0.00
Jackson Gray, 0-0-0.00
Jono Couling, 0-0-0.00
Beau Willis, 0-0-0.00
Brody Woodard, 0-0-0.00
Darius webb, 0-0-0.00