Australians Luke Parkinson and Callum Miller Sign with Bass Pro Shops Missouri Thunder Via Free Agency ahead of Inaugural PBR Team Series Season
By: Mandi McCary Thursday, June 2, 2022 @ 3:27 PM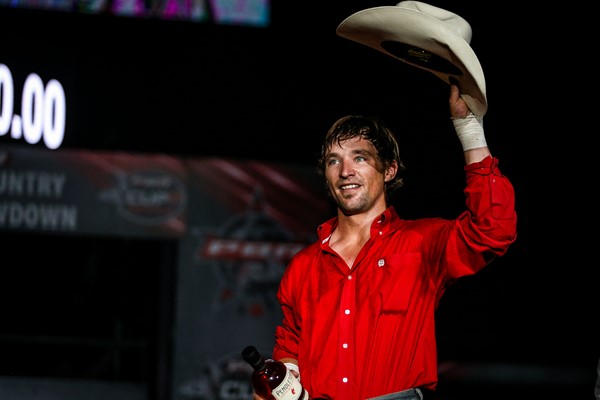 RIDGEDALE, Mo. - The Bass Pro Shops Missouri Thunder, one of eight new professional sports team set to compete in the inaugural PBR (Professional Bull Riders) Team Series, have signed via free agency seven new riders including Australians Luke Parkinson (Denman, New South Wales, Australia) and Callum Miller (Warwick, Queensland, Australia), in addition to Adriano Salgado (Batatais, Brazil), Marcelo Procopio Pereira (Rinopolis, Brazil), Fletcher Lee Jowers (Waxahachie, Texas), Jestyn Woodward (Custer, South Dakota), and Leandro Machado (Nova Esperança, Brazil).
These signings follow the initial PBR Team Series Draft, presented by ZipRecruiter, on Monday, May 23 when eight teams in the new bull riding league to begin regular-season competition in July participated in a five-round draft to begin building their rosters.
Up-and-coming Australian Parkinson joins the team amidst his third season competing in the PBR. After competing in his home nation during his first two campaigns as a professional from 2020-2021, Parkinson made his debut stateside this March. No stranger to the team format, Parkinson competed for Team Australia at the 2022 PBR Global Cup USA, where he delivered a career-best 88.5-point ride atop Bread Basket.
While Miller may be a native of Australia, the 27-year-old has spent the majority of his time since 2017 competing in Canada. Earning his career-first event win in PBR Canada competition in November 2020 at the uniquely formatted PBR Canada National Finals in Grande Prairie, Alberta, Miller contended for the PBR Canada Championship in both 2020 and 2021, attempting to become the first Australian in PBR history to win the Canadian national title.
24-year-old Salgado joins the team following his fifth year competing in the PBR. Known for the flash of his brightly colored chaps and ear-to-ear smile, the talented young Brazilian made his Unleash The Beast debut in August of 2021 and most recently completed the 2022 season inside the Top 40 riders in the world standings.
Pereira, the 32nd-ranked rider in the world, has four seasons competing in PBR with two career 90-point rides.  The 27-year-old native of Rinopolis, Sao Paulo, Brazil has two event wins, most recently at the elite series' PBR Gwinnett Invitational in Duluth, Georgia this past January. 
Jowers joins the team roster in his first official season competing in PBR. The 21-year-old is a Waxahachie, Texas native. 
Woodward joins the Bass Pro Shops Missouri Thunder for his first official season in the PBR. The 18-year-old is a Custer, South Dakota native.  Woodward is the 2019 South Dakota Territorial Professional Bull Riding championship winner.
Machado, of Nova Esperança, Paraná, Brazil, has four seasons on the PBR tour. The 24-year-old rider has three event wins and one career 90-point ride.
Parkinson, Miller, Pereira, Jowers, Woodward and Machado join Colten Fritzlan (Rifle, Colorado), Clayton Sellars (Fruitland Park, Florida), Cody Teel (College Station, Texas), Andrew Alvidrez (Seminole, Texas), and Jesse Petri (Dublin, Texas) as the core riders building the Bass Pro Shops Missouri Thunder team.
Thunder Days, a three-day weekend homestand in which all eight teams compete against each other, will be held at the Thunder Ridge Nature Amphitheatre in Ridgedale, Missouri on September 23-25, 2022. Fans can purchase tickets by visiting  PBR.com, Ticketmaster.com,  or by calling PBR Customer Service at 1-800-732-1727.