PBR Australia's Monster Energy Tour Grand Finals Return to Townsville, Queensland for Fifth-Consecutive Season Nov. 25-26
By: Kacie Albert Thursday, February 24, 2022 @ 4:11 PM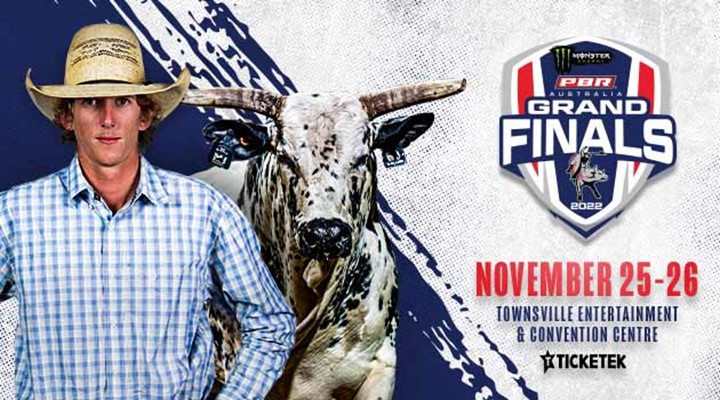 For the fifth consecutive year, PBR (Professional Bull Riders) Australia will return to Townsville, Queensland, and Townsville Entertainment & Convention Centre for the elite Monster Energy Tour's Grand Finals Nov. 25-26 when the 2022 PBR Australia Champion will be crowned.
Season long, riders will have had the opportunity to compete across Australia at more than 20 events, spanning the Monster Energy Tour, Origins tournament and Touring Pro Division, to earn points towards the Australian National Standings, all in an effort to be the No.1-ranked cowboy at year's end and earn the coveted PBR Australia title.
"Townsville and North Queensland loves it cowboys, whether they are throwing a football or riding a ferocious bull," said Jenny Hill, Mayor of Townsville. "I can think of no better place to hold the PBR Australia Grand Finals than in Townsville, the events capital of northern Australia. I am proud that Townsville City Council has been able to work with PBR to bring the Grand Finals to the Townsville Entertainment Centre, and I'm looking forward to another night of edge-of-your-seat action."
"For the past 22 years, PBR has had a presence in Townsville, and thanks to the incredible support we have received from the community, city leadership and local businesses, we have made the city both a key destination on our annual schedule, and also the home of our Grand Finals," said Glen Young, PBR Australia General Manager. "Throughout those two decades, Townsville and the Entertainment & Convention Centre has played host to some of the most prestigious events in Australian bull riding history, and the atmosphere it generates is second to none. The fanfare for which Townsville has come to be known for motivates the world's best riders and bulls to deliver some of the most memorable moments in Australia western sports history, a tradition we tend to continue when we return in 2022."
PBR Australia first held the nation's Grand Finals in Townsville in 2018. While now three-time PBR World Finals qualifier Lucas Divino (Nova Crixas, Brazil) rode to the event win, Aaron Kleier (Clermont, Queensland) finished third to capture his first national championship.
In 2019 and 2020, while Lachlan Richardson (Gresford, New South Wales) and Brady Fielder (Clermont, Queensland), respectively, rode to the event's winner circle, Kleier remained unstoppable, winning his second and third PBR Australia Championships.
At the most recent iteration of the season-culminating event, Kleier made history by winning his unprecedented fourth consecutive PBR Australia Championship. 
Only one other bull rider has won a national title four times in any of PBR's international divisions. Kleier, the first to achieve the feat in successive years, is now tied David Kennedy (Kyogle, New South Wales) for most Australian national titles won by one rider in league history. Kennedy topped the national standings in 2009-2010, 2012 and 2014.
Courtesy of a strong 3-for-5 showing Sam Woodall (Heywood, Victoria) won the prestigious 2021 PBR Australia Grand Finals event title.
Woodall was electric on Championship Saturday, rebounding from a dismal opening day of competition. In a must-ride situation, Woodall snapped his backwards skid at the Grand Finals when he covered Super Natural (Colin Fry) for 86.25 points, the second-best score of Round 3.
He continued to climb the leaderboard in his very next out, winning Round 4 when he bested Drag Iron (Dunne Bulls) for 85.75 points.
Woodall then cemented his event win by reaching a crucial career milestone. In near picture-perfect form, the 23-year-old rode POA Fully Locked & Loaded (Dittmann Bucking Bulls) for 90 points, the first 90-point score of his career.
Adding to the significance of the out, it also marked the swan song for POA Fully Locked & Loaded who retired following the trip. Throughout his career, the Dittmann Bucking Bulls' bovine athlete was ridden just 9 times in 54 outs.
Woodall concluded the year No. 7 in the national standings, after beginning the event No. 9 in Australia, his second consecutive year-end Top-10 ranking.
Prior to the PBR Australia Grand finals relocation to Townsville, the title-determining event was held in Sydney from 2011-2017, Tamworth in 2009-2010 and Melbourne in 2008.
Other past PBR Australia Grand Finals event winners are: Nathan Burtenshaw (2017) Robinson Guedes (2015, 2015); Joe Polkinghome (2014); Chris Lowe (2013); Chase Outlaw (2012); Ben Jones (2007, 2010, 2011); Rocky McDonald (2009); Pete Farley (2008) and Denny Farley (2006).
Tickets for the 2021 PBR Australia Monster Energy Tour Grand Finals go on sale Thursday, February 24, and start at $35. They can be purchased at PBRAustralia.com.au.
Corporate box seats are also available from groups of 8-16 people. Featuring the best seats in the arena, the corporate boxes also include direct food and beverage service throughout the event, and a special PBR gift. For more information, or to purchase a corporate box, email pbra@pbr.com.
All future PBR Australia events are subject to change, planned in accordance with directives issued by relevant government and health authorities given the evolving regulations during the COVID-19 (coronavirus) pandemic.