Queensland Native Brady Fielder Ties for Fifth at PBR Challenger Series Event in Fort Worth, Texas
By: Kacie Albert Monday, August 1, 2022 @ 11:52 AM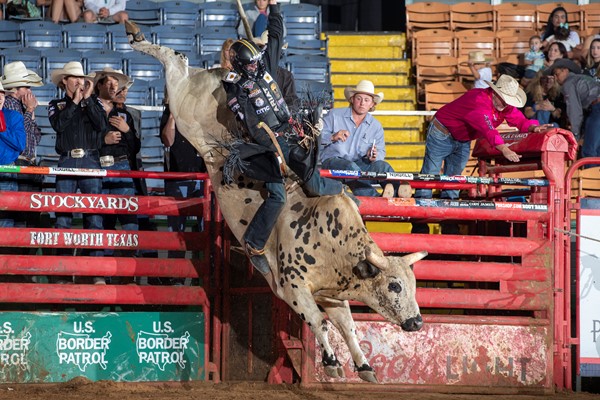 FORT WORTH, Tex. – As the PBR (Professional Bull Riders) Challenger Series residency continued on Sunday in Fort Worth, Texas, Queensland-native and Ariat Texas Rattlers rider Brady Fielder (Clermont, Queensland) delivered a 1-for-2 showing to tie for fifth alongside the Nashville Stampede's Lucas Fideles Souza (Barnstable, Massachusetts).
Fielder and Souza were both successful in Round 1, scoring 81.5 points.  Fielder topped Gravy (Hookin' W Ranch), while Souza's 8-second effort was earned on LW 990 (Hookin' W Ranch).
Each rider collected 6 Challenger Series points.
As the only rider to go a perfect 2-for-2, the Carolina Cowboys' Ramon de Lima (Rio Branco, Brazil) was victorious Sunday afternoon inside the iconic Cowtown Coliseum, winning the PBR Sunday at Cowtown.
In Round 1, Lima delivered the fifth-best score when he covered Brush Fire (Silent 7/Hilton Bull Co.) for 76 points.
Lima then faced Jerry Lee (Shuler Bucking Bulls) in the final round. Matching the bovine athlete jump-for-jump, the reserved Brazilian was scored 86 points, clinching the event win.
For his efforts, Lima earned 38 Challenger Series points.
Round 1 winner Paulo Rodriguez (Mato Grosso, Brazil) was second, collecting 27 Challenger Series points.
Rodriguez delivered the highest-marked ride of the event in the opening round when he conquered Justice Seeker (Cord McCoy) for 87 points. The 25-year-old, however, fell short of the win when he was bucked off by Siroucho (Dozier Cattle Co./Martinez Bucking Bulls) in 5.58 seconds.
2004 PBR World Champion Mike Lee (Decatur, Texas) and Bruin Bradshaw (Challis, Idaho) tied for third after delivering matching 83.5-point rides.
Lee covered Mr. Personality (Southern Cross Bucking Bulls) in Round 1, while Bradshaw went the distance aboard Lone Wolf (Martinez Bucking Bulls LLC) in the championship round.
Each rider left Fort Worth having earned 12 Challenger Series points.
In the bull pen, Renegade (Cord McCOy/Rodosky/Lovell/Punke) bucked a cut above the rest. Crowned the Bull of the Event, Renegade was scored 45 points in Round 1 when he bucked off Braidy Randolph (Jonestown, Pennsylvania) in a quick 2.52 seconds.
The PBR Challenger Series residency at Cowtown Coliseum continues Sunday, August 7. Action gets underway at 2 p.m. CT.
PBR RidePass on PlutoTV will offer re-airs and on-demand replays of PBR Challenger Series events. PBR RidePass is available on desktops, laptops and mobile devices via www.pluto.tv. Tune to channel 2150 for the latest programming schedule, and click here for on-demand PBR programming.
PBR Challenger Series
PBR Sunday at Cowtown
Cowtown Coliseum – Fort Worth, Texas
Event Leaders (Round 1-Round 2-Event Aggregate-Event Points)
1. Ramon de Lima, 76-86-162.00-38 Points.
2. Paulo Rodriguez, 87-0-87.00-27 Points.
3. Mike Lee, 83.5-0-83.50-12 Points.
(tie). Bruin Bradshaw, 0-83.5-83.50-12 Points.
5. Lucas Fideles Souza, 81.5-0-81.50-6 Points.
(tie). Brady Fielder, 81.5-0-81.50-6 Points.
7. Rafael Jose de Brito, 69-0-69.00-3 Points.
Ednei Caminhas, 0-0-0.00
Fernando Henrique Novais, 0-0-0.00
Davi Henrique de Lima, 0-0-0.00
João Henrique Lucas, 0-0-0.00
Vitor Crespo, 0-0-0.00
Leonardo Lima, 0-0-0.00
Dayer Da Costa, 0-0-0.00
Mauricio Pares Pinto, 0-0-0.00
Carlos Gomes Junior, 0-0-0.00
Zach Laney, 0-0-0.00
Robson Guedes, 0-0-0.00
Alex Marcilio, 0-0-0.00
Matt Birdwell, 0-0-0.00
Marcio Luis Lima, 0-0-0.00
Lucas Divino, 0-0-0.00
Luis Escobedo, 0-0-0.00
Austin Richardson [1], 0-0-0.00
Austin Richardson [2], 0-0-0.00
Sawyer Hill, 0-0-0.00
Braidy Randolph, 0-0-0.00
Ty Scott, 0-0-0.00
Kelsey Pavlou, 0-0-0.00
Cesar Talamantes, 0-0-0.00
Pete Bradshaw, 0-0-0.00
Brayan Alvarez Pena, 0-0-0.00