Flawless Aaron Kleier Sweeps PBR Tour Stop in Rockhampton to Win Second Consecutive Monster Energy Tour Event
By: Kacie Albert Sunday, April 17, 2022 @ 10:24 AM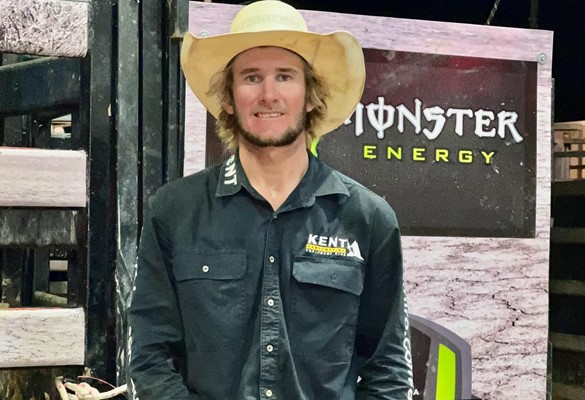 ROCKHAMPTON, Qld. – As the 2022 PBR (Professional Bull Riders) Australia Monster Energy Tour season continued Saturday evening in Rockhampton, Queensland, there was no contender more dominant than four-time Australian Champion Aaron Kleier (Clermont, Queensland). Sweeping both rounds of competition inside the Great Western Hotel, Kleier earned his second consecutive event win at the PBR Rockhampton Invitational, climbing to No. 4 in the race for the 2022 PBR Australia Championship.
Fresh off his event win last weekend in Toowoomba, Queensland, Kleier first struck in Round 1, surging to an early event lead when he rode Get A Haircut (Diamond J Rodeo Co.) for 86 points.
The stoic Queensland native then readied to face a familiar opponent in Round 2 – Rambo (Dittmann Bucking Bulls). The duo of athletes first went head-to-head in Julia Creek, Queensland in 2019 with Rambo besting Kleier in 2.05 seconds.
Reversing his fortunes, Kleier conquered the powerful animal athlete, reaching the requisite 8 for a Round 2-best, and event-winning, 86.5-point score.
For his efforts, Kleier earned 80 national points.
Climbing from No. 5 to No. 4 in the Australian rankings, Kleier also inched within 24.5 points of No. 1 Cody Heffernan (Singleton, New South Wales), who did not compete in Rockhampton due to injury.
In 2022, Kleier is chasing history.
After tying David Kennedy (Kyogle, New South Wales) for most Australian national titles won by one rider in league history in 2021, each now with four, should Kleier win his unprecedented fifth consecutive national title at season's end, he would become the winningest bull rider in PBR Australia competition.
Seven-time PBR World Finals qualifier Lachlan Richardson (Gresford, New South Wales) was second, collecting 58 national points.
In Round 1, Richardson bested Lightning (Colin Fry) for an 85-point score and remained perfect in Round 2 when he covered Rug Rat (Fred Kleier) for 83 points.
While Richardson travelled to Rockhampton ranked No. 9 in the standings, the silver finish allowed him to rise to No. 5 as he seeks his first PBR Australia Championship in 2022. The 29-year-old now trails the No. 1 position by 80.5 points.
As the final rider to go a perfect 2-for-2, Brumby Brandenburg (Clermont, Queensland) finished third.
The red-hot 24-year-old first reached the 8 aboard 9 Crimes (Diamond J Rodeo Co.) for 82.5 points in Round 1 to enter the final round of competition third on the leaderboard.
Brandenburg then punctuated his perfect performance at the Great Western Hotel with an 80.5-point ride atop Rocky Top (Colin Fry).
Collecting 42 national points, Brandenburg rose from No. 8 to No. 7 in the standings.
Caiden Sandilands (Rockhampton, Queensland) was fourth.
While the hometown contender was bucked off in Round 1, dispatched by Bang and Grind (Fred Kleier) in a close 5.96 seconds, he was quick to rebound in Round 2, covering Pay Cheque (Colin Fry) for 84.5 points.
Sandilands netted 32 national points and is now No. 16 in the national standings.
Rounding out the Top 5 in fifth was Michael Smith (Tully, Queensland), garnering 19 national points.
Despite being bested by POA Crack The Latch (Dittmann Bucking Bulls) in 3.3 seconds in the opening round, Smith returned determined in the second round, riding Firebug (Colin Fry) for 83.5 points.
Cracking the Top 10 in the nation, new No. 10 Smith now trails top-ranked Heffernan by 143.17 points.
In the bull pen, Comeback Kid (Dittmann Bucking Bulls), Rambo, Reload (Dittmann Bucking Bulls) and Screaming Deamon (Dittmann Bucking Bulls) tied for the Bull of the Event honor, each posting a 43-point score.
While Comeback Kid bucked off Qynn Andersen (Koumala, Queensland) in 1.72 seconds in Round 1, the remaining three bulls earned the top score in Round 2.
Rambo logged his 43-point mark when he was covered by Kleier, while Reload topped Ben Reiter (Myrrhee, Victoria) in 5.36 seconds and Screaming Deamon dispatched Taran Chirgwin (Calliope, Queensland) in 1.8 seconds.
The 2022 PBR Australia season will continue Saturday, April 23 for the second iteration of the 2022 PBR Origin Tournament in Tamworth, New South Wales. Action inside AELEC Arena will get underway at 7:00 p.m. AEDT.
PBR Australia Monster Energy Tour
PBR Rockhampton Invitational
Great Western Hotel – Rockhampton, Queensland
Event Leaders (Round 1-Round 2-Event Aggregate-National Points)
1. Aaron Kleier, 86-86.5-172.50-80 Points.
2. Lachlan Richardson, 85-83-168.00-58 Points.
3. Brumby Brandenburg, 82.5-80.5-163.00-42 Points.
4. Caiden Sandilands, 0-84.5-84.50-32 Points.
5. Michael Smith, 0-83.5-83.50-19 Points.
6. Ben Moran, 0-82-82.00-9 Points.
7. Kelsey Pavlou, 81.5-0-81.50-10 Points.
8. Qynn Andersen, 0-79.5-79.50-5 Points.
9. Brody Woodard, 78.5-0-78.50-6 Points.
10. Jackson Gray, 76-0-76.00-4 Points.
Beau Willis, 0-0-0.00
Taran Chirgwin, 0-0-0.00
Cody Fraser, 0-0-0.00
Wyatt Milgate, 0-0-0.00
Blayne Johnson, 0-0-0.00
Ben Reiter, 0-0-0.00
Hayden Davis, 0-0-0.00