Flawless Lachlan Richardson Wins PBR Bull Mania in Burnett Heads, Queensland
By: Kacie Albert Tuesday, September 7, 2021 @ 1:57 PM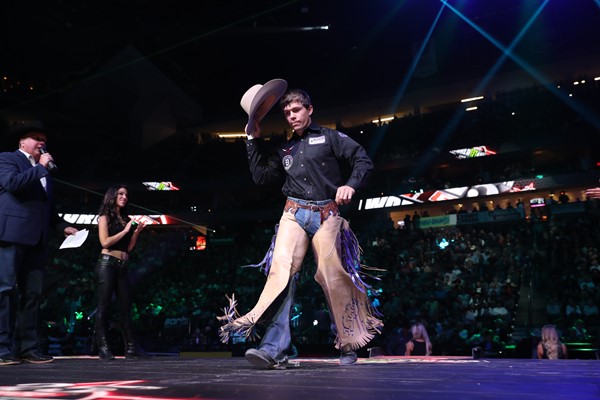 BURNETT HEADS, Qld. – As the 2021 PBR (Professional Bull Riders) Australia season continued this past weekend in Burnett Heads, Queensland, Lachlan Richardson (Gresford, New South Wales) delivered a flawless 2-for-2 performance to capture his first event win of the year, victorious at the PBR Bull Mania at Burnett Heads Field.
As one of 10 riders to deliver a qualified ride in the opening round, Richardson punched his ticket to the championship round when he delivered the third-best score, marked 83.5 points atop Bad Moon (Dunne Bulls).
Matched up against Flyin Hippie (Peter Wallace) in the final round, Richardson surged to the top of the event leaderboard when he delivered the high-marked ride of the event. Making the requisite 8, Richardson was score 87.5 points.
Richardson earned a crucial 39 national points for his efforts, cracking the Top 5 in the race for the 2021 PBR Australia Championship.
The seven-time PBR World Finals qualifier is now No. 5 in Australia, up two positions from No. 7, 173.33 points behind No. 1 Aaron Kleier (Clermont, Queensland).
Three-time PBR Australia Champion Kleier extended his lead atop the national standings after going a perfect 2-for-2 to finish third.
In Round 1, Kleier was sixth, covering Slink E Malinki (JD Bucking Bulls) for 80 points.
Kleier then capped his performance in Burnett Heads with an 83.5-point effort atop Bang Ya Drum (Dunne Bulls) in the championship round.
The Queensland sensation's sixth Top-5 finish of the season netted him 18.5 national points, allowing him to increase his lead over No. 2 Macaulie Leather (Calliope, Queensland) to 99.83 points.
Attempting to make history in 2021, should Kleier win the national title an unprecedented fourth consecutive time he would tie David Kennedy (Kyogle, New South Wales) for most Australian national titles won by one rider in league history. Kennedy topped the national standings in 2009-2010, 2012 and 2014.
Second was Kurt Shephard (Mareeba, Queensland), collecting 28.5 national points to climb one position in the national title race, rising from No. 4 to No. 3.
Shepard reached the whistle in both rounds, covering Tezzas Pride (JD Bucking Bulls) for 83 points in Round 1, before outlasting The Pet (ST Bucking Bulls) for 85 points in the championship round.
Seeking to earn his first PBR Australia Championship in 2021, Shephard is now within 150.83 points of No. 1 Kleier.
Fourth was Lane Mellers (Munduberra, Queensland).
The 22-year-old clinched his third Top-5 finish of the season courtesy of a 79-point ride on Catfish Billy (JD Bucking Bulls) in Round 1, and 82.5-point effort aboard Bad Romance (BK Bucking Bulls) in the final round.
Mellers left Burnett Heads Field having earned 10 national points. He maintained his No. 9 rank in the standings, now 234.33 points behind the No. 1 position.
Rounding out the Top 5 in fifth, and the final rider to go a perfect 2-for-2, was Cody Fraser (Wilmington, South Australia).
Competing in just his second PBR event, the 23-year-old registered his first qualified ride with the league when he rode Dance Monkey (BK Bucking Bulls) for 76 points in Round 1.
Fraser's momentum continued in the championship round when he again reached the buzzer, this time scored 83.5 points atop Makin 8 Bucksnort (Peter Wallace).
The career-best finish earned Fraser 10.5 national points, catapulting him from unranked to No. 18 in nation.
In the bull pen, Razor Sharp (Peter Wallace) was the high-marked bull of the event. The powerful bovine athlete was marked 44.5 points in the championship round for his 2.1-second trip with Sam Payne (Rockhampton, Queensland).
PBR Australia action continues on September 11, when the Monster Energy Tour returns to Rockhampton, Queensland, and Great Western Hotel with the PBR Rockhampton Invitational. The Back to the Heartland Series tour stop gets underway at 7:00 p.m. AEST. Tickets are still available and can be purchased at www.tix.pbraustralia.com.au.
Stay tuned to PBRAustralia.com.au for the latest event information.
PBR Australia Touring Pro Division – PBR Bull Mania
Burnett Heads, Queensland – Burnett Heads Field
(Round 1-Round 2-Event Aggregate-Event Points)
1. Lachlan Richardson, 83.5-87.5-171.00-39 Points.
2. Kurt Shephard, 83-85-168.00-28.5 Points.
3. Aaron Kleier, 80-83.5-163.50-18.5 Points.
4. Lane Mellers, 79-82.5-161.50-10 Points.
5. Cody Fraser, 76-83.5-159.50-10.5 Points.
6. Lawson Nobbs, 0-85-85.00-10.5 Points.
(tie). Bailey Woodard, 85-0-85.00-15 Points.
8. Brady Fielder, 84-0-84.00-9 Points.
9. Macaulie Leather, 0-83-83.00-1 Points.
10. Mitchel Paton, 81-0-81.00-2 Points.
11. Kelsey Pavlou, 79.5-0-79.50
12. Sam Woodall, 74.5-0-74.50
Dan Ruhland, 0-0-0.00
Caiden Sandilands, 0-0-0.00
Daniel Rogan, 0-0-0.00
Taran Chirgwin, 0-0-0.00
Sam Payne, 0-0-0.00