Kurt Shephard Wins PBR Rockhampton Invitational to Surge to No. 2 in the Race for the 2021 PBR Australia Championship
By: Kacie Albert Saturday, October 2, 2021 @ 12:57 PM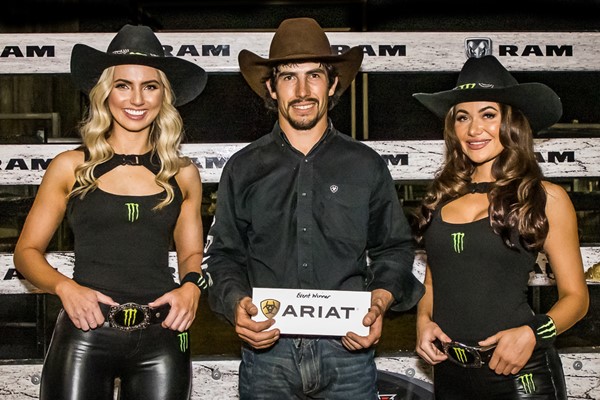 ROCKHAMPTON, Qld. – Amidst a career-best season on home soil in 2021, Kurt Shephard's (Mareeba, Queensland) quest for his career-first PBR (Professional Bull Riders) Australia Championship took a critical step forward Saturday evening. The Queensland sensation captured his second Monster Energy Tour event victory of the season after going a near perfect 2-for-3 at the sixth iteration of the Back to the Heartland Series' Rockhampton Invitational, surging to No. 2 in the race for the 2021 PBR Australia Championship.
As action got underway at the renowned Great Western Hotel, Shephard was quick to strike, covering Iron Jacket (Peter Wallace) for a second-best 85.5 points in Round 1. The ride was the second of Shephard's career aboard the bovine athlete, first riding him for 85 points at a 2018 iteration of the tour stop in Rockhampton.
In Round 2, Shephard, however, was unable to replicate his initial success, brought down by Bang Ya Drum (Dunne Bulls) in a hard-fought 4.98 seconds.
Despite the buckoff, the 27-year-old's opening round effort was enough to earn him one of the coveted six positions in the championship round.
Shephard returned collected, readying to faceoff against the previously unridden Razor Sharp (Peter Wallace). Undeterred by the 2021 PBR Australia Bull of the Year contender's impressive resume, Shephard erupted from the chutes, and in near picture-perfect form, reached the 8-second whistle for an event-best 89 points.
The golden finish earned Shephard a crucial 75.5 national points, allowing him to surpass Macaulie Leather (Calliope, Queensland) for the No. 2 position in the national standings. After beginning the tour stop 150.83 points behind No. 1 Aaron Kleier (Clermont, Queensland), Shephard is now within 84.33 points of the top position.
Competing at seven events to date on home soil, Shephard has registered a Top-10 effort in each outing. He has gone a torrid 12-for-17, covering 70.58% of his bovine athlete counterparts.
In uncharacteristic fashion, three-time, and reigning, PBR Australia Champion Kleier finished the tour stop eighth, earning just 9 national points, and opening the door for the other contenders to gain ground in the national title race.
Kleier went 1-or-3 in Rockhampton, recording his lone qualified ride in Round 2 when he went the distance aboard Amigo (MJ/Keliher Bucking Bulls) for 81 points.
Capitalizing on Kleier's rare stumble, 2020 PBR Australia Grande Finals event winner Brady Fielder (Clermont, Queensland), Lawson Nobbs (Moura, Queensland) and seven-time PBR World Finals Qualifier Lachlan Richardson (Gresford, New South Wales) all delivered Top-5 finishes to gain ground on the No. 1 ranking in Australian competition.
Fielder rebounded from a Round 1 buckoff early in the event, going 2-for-3 to finish second at the PBR Rockhampton Invitational and earn 67 national points.
While Bad Moon (Dunne Bulls) dealt Fielder a 6.64-second buckoff in Round 1, he quickly righted course in Round 2, topping the field courtesy of an 86-point effort atop Ariat's Ol' Son (Dunne Bulls).
The score not only punched Fielder's ticket to the championship round, but also allowed him to avenge a buckoff from the 2020 season. Ariat's Ol' Son and Fielder first went head-to-head in Airlie Beach last November, with the powerful bull getting the better of Fielder in 4.31 seconds.
Fielder continued his climb up the leaderboard as the event came to a climactic end, covering Big Buck Hunter (ST Bucking Bulls) for a season-best 88 points to clinch the silver finish in the championship round.
After beginning the event ranked No. 4 in the national standings, Fielder is now the No. 3 rider in Australia. He trails No. 1 Kleier by 133.17 points.
Nobb's third-place effort was earned in near mirror fashion.
On the spurs of a heart-breaking 6.47-second buckoff atop Dirty Money (JD Bucking Bulls) in Round 1, Nobbs regained his title-contending form in Round 2 when he covered Makin 8 Bucksnort (Peter Wallace) for 82 points.
The 24-year-old then delivered his second qualified ride of the event when he bested Ambush (MJ/Keliher Bucking Bulls) for an 85.5-point score in the championship round.
Nobbs left the Great Western Hotel having earned a much-needed 48 national points.
He rose two positions in the race for the 2021 PBR Australia Championship, which will conclude Nov. 26-27 in Townsville, Queensland, for the 2021 PBR Australia Grand Finals, climbing from No. 7 to No. 5. Nobbs now trails No. 1 Kleier by 174 points.
Richardson continued is second-half surge in Rockhampton, going 2-for-3 to finish fourth and collect 38 national points.
As the lone rider to cover his opening two draws, Richardson advance to the championship round as the No. 1 rider on the event leaderboard.
After winning Round 1 via an 86-point rid aboard Tezzas Pride (JD Bucking Bulls), the famed New South Wales rider declined a re-ride after making the 8 on Breaking Bad (MJ/Keliher Bucking Bulls) in Round 2 for 74.5 points.
The decision, however, proved to work against Richardson.
Bucking off Black Tuxedo (Peter Wallace) in a quick 3.77 seconds in the final round, Richardson's opening scores were not enough to retain his position atop the standings.
While his event may have ended in less-than-ideal fashion, Richardson still gained ground in the PBR Australia standings. Remaining No. 6, he inched within 174.83 points of No. 1 Kleier, after beginning the event 203.83 points back.
Rounding out the Top 5 in fifth was Sam Woodall (Heywood, Victoria).
Marking his first event back since sustaining a groin injury in early September in Burnett Heads, Queensland, Woodall went 1-for-3 to earn 20.5 national points.
Woodall's qualified ride was earned in Round 1, marked 85.5 points on Random Assault (Dunne Bulls).
In the bull pen, no bovine athlete was more dominant than Flyin Hippie (Peter Wallace). Earning his first Bull of the Event honor, Flyin Hippie was marked a Rockhampton Invitational best 45 points for his 2.68-second buckoff of Wyatt Milgate (Mareeba, Queensland) in Round 2.
The 2021 PBR Australia Monster Energy Tour will continue Saturday, October 9 in Mackay, Queensland. Action for the PBR Mackay Invitational, presented by Kent Hire, at BB Print Stadium gets underway at 7:00 p.m. AEST. Tickets are still available and can be purchased at PBRAustralia.com.au.
For more information, stay tuned to PBRAustralia.com.au and follow the tour on Facebook (PBR Australia), Twitter (@PBRAustralia), and Instagram (@PBRAustralia) for the latest results.
PBR Australia Monster Energy Tour – PBR Rockhampton Invitational 6
Great Western Hotel – Rockhampton, Queensland
Event Leaders (Round 1- Round 2-Round 3-Event Aggregate-Australian Points-World Points)
1. Kurt Shephard, 85.5-0-89-174.5-75.5-15
2. Brady Fielder, 0-86-88-174-67-8
3. Lawson Nobbs, 0-82-85.5-167.5-48-7
4. Lachlan Richardson, 86-74.5-0-160.5-38-4
5. Sam Woodall, 85.5-0-0-85.5-20.5-3
6. Troy Wilkinson, 0-83-0-83-17-2
7. Taran Chirgwin, 82-0-0-82-10-1
8. Aaron Kleier, 0-81-0-81-9-0
9. Macaulie Leather, 0-79.5-0-79.5-6-0
Dan Ruhland, 0-0-0-0.00-0-0
Caiden Sandilands, 0-0-0-0.00-0-0
Mitchel Paton, 0-0-0-0.00-0-0
Wyatt Milgate, 0-0-0-0.00-0-0
Ty Thomson, 0-0-0-0.00-0-0
Zane Hall, 0-0-0-0.00-0-0
Lane Howlett, 0-0-0-0.00-0-0
Qynn Andersen, 0-0-0-0.00-0-0