Three Time PBR Australia Champion Aaron Kleier Furthers Stronghold on No. 1 Ranking with Win at Final Regular-Season Event in Rockhampton
By: Kacie Albert Saturday, November 13, 2021 @ 6:20 PM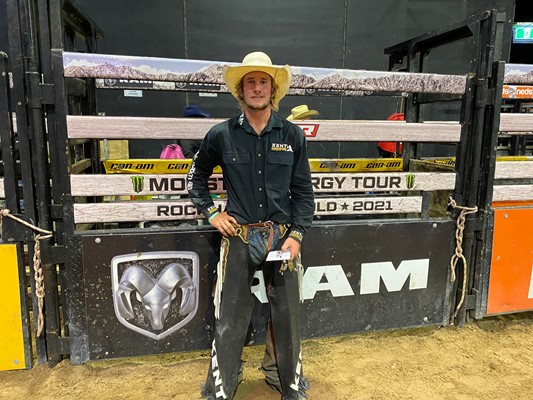 ROCKHAMPTON, Qld. – As the regular season for the 2021 PBR (Professional Bull Riders) Australia Monster Energy Tour wound to a close Saturday evening in Rockhampton, Queensland, three-time national title holder Aaron Kleier (Clermont, Queensland) inched closer to history. Marking his league-leading fourth event victory of the season, Kleier won the seventh iteration of the PBR Rockhampton Invitational at the Great Western Hotel, furthering his stronghold on the No. 1 rank in the national standings as he seeks his fourth consecutive PBR Australia Championship.
Should Kleier win the national title an unprecedented fourth consecutive time, the 23-year-old sensation would tie David Kennedy (Kyogle, New South Wales) for most Australian national titles won by one rider in league history. Kennedy topped the national standings in 2009-2010, 2012 and 2014.
In Round 1 of the PBR Rockhampton Invitational, Kleier was quick to strike, avenging a 3.79-second buckoff from earlier this season in Mackay, Queensland, when he rode Red Flash (Fred Kleier) for 85 points.
Kleier surged to the top of the leaderboard when he dominated Round 2, covering Ariat's Flaunt It (Dunne Bulls) for the second time in his career when he reached the requisite 8 for 83.5 points.
As the last man to leave the chutes, Kleier punctuated his perfect performance with a championship round winning, 85.5-point ride aboard Big Bang Theory (BK Bucking Bulls).
For his efforts, Kleier earned a crucial 89 national points to extend his lead atop the national standings to 195.83 points ahead of No. 2 Macaulie Leather (Calliope, Queensland).
Reigning PBR Australia Grand Finals event winner Brady Fielder (Clermont, Queensland) was second, netting 64 national points.
Fielder bookended his effort in Rockhampton with qualified rides. First covering Zoo Animal (BK Bucking Bulls) for 85.5 points in Round 1, Fielder concluded the tour stop with a score when he bested King Kong (Fred Kleier) for 85 points.
In the national standings, Fielder rose one position, climbing from No. 5 to No. 4. He is now within 259.51 points of No. 1 Kleier.
As the final rider to post two scores at Great Western Hotel, Joshua Jones (Kingaroy, Queensland) was third.
Jones was sensational in Round 1, riding Thor (ST Bucking Bulls) for 83 points, however, was upset in Round 2 when he was dispatched by Blinky Bill (BK Bucking Bulls) in 4.53 seconds.
Fast to rebound, Jones recaptured his success from his opening draw when he converted in the championship round, marked 80 points aboard Humdinger (Dunne Bulls).
The home state contender netted 42 national points, catapulting to No. 12 in the national standings. Jones is now within a mere 9.5 points of the Top 10.
Fourth was Round 1 winner Sam Woodall (Heywood, Victoria).
Riding Code Blue (Fred Kleier) for an event-best 87 points, Woodall earned 35 national points.
Woodall is now ranked No. 9 in the race for the 2021 PBR Australia Championship, 452.33 points back of No. 1 Kleier.
Rounding out the Top 5 in fifth was Kurt Shephard (Mareeba, Queensland), collecting a much-needed 16 national points.
The World Finals qualifier's efforts in Rockhampton were highlighted by his 84.5-point score on Bad Romance (BK Bucking Bulls) in Round 1.
Shephard remained No. 3 in the national standings as he seeks his career-first PBR Australia Championship but slipped to 214.33 points back of top-ranked Kleier.
In the bull pen, Razor Sharp (Peter Wallace) earned his fifth Bull of the Event honor. He was marked a tour stop best 44.5 points in the championship round when he tossed Lawson Nobbs (Moura, Queensland) in 4.54 seconds.
The 2021 PBR Australia season will conclude on Nov. 26-27 in Townsville, Queensland, at the Townsville Entertainment & Convention Centre for the 2021 PBR Australia Grand Finals. Action will get underway at 8:00 p.m. AEST on Friday, November 26 and at 7:30 p.m. AEST on Saturday, November 27.
Fans can watch LIVE all the remaining action in the race for the 2021 PBR Australia Championship on Facebook. For $4.49 AUD fans will be able to watch the LIVE stream of all the events, and the on-demand video of the tour stop which will publish in the days that follow. To purchase the Facebook LIVE stream of the events via Facebook Pay, fans should visit the official event page here, and select get access.
For more information, stay tuned to PBRAustralia.com.au and follow the tour on Facebook (PBR Australia), Twitter (@PBRAustralia), and Instagram (@PBRAustralia) for the latest results.
PBR Australia Monster Energy Tour – PBR Rockhampton Invitational
Great Western Hotel – Rockhampton, Queensland
Event Leaders (Round 1- Round 2-Round 3-Event Aggregate-Australian Points)
1. Aaron Kleier, 85-83.5-85.5-254.00-89 Points.
2. Brady Fielder, 85.5-0-85-170.50-64 Points.
3. Joshua Jones, 83-0-80-163.00-42 Points.
4. Sam Woodall, 87-0-0-87.00-35 Points.
5. Kurt Shephard, 84.5-0-0-84.50-16 Points.
6. Lawson Nobbs, 83.5-0-0-83.50-9 Points.
Beau Willis, 0-0-0-0.00
Macaulie Leather, 0-0-0-0.00
Qynn Andersen, 0-0-0-0.00
Lachlan Richardson, 0-0-0-0.00
Troy Wilkinson, 0-0-0-0.00
Lane Mellers, 0-0-0-0.00
Caiden Sandilands, 0-0-0-0.00
Kelsey Pavlou, 0-0-0-0.00
Mitchel Paton, 0-0-0-0.00
Taran Chirgwin, 0-0-0-0.00