Rookie Sensation Macaulie Leather Wins Career-First Event at PBR Rockhampton Invitational to Surge to No. 1 Rank in the Australian National Standings
By: Kacie Albert Saturday, May 8, 2021 @ 10:51 AM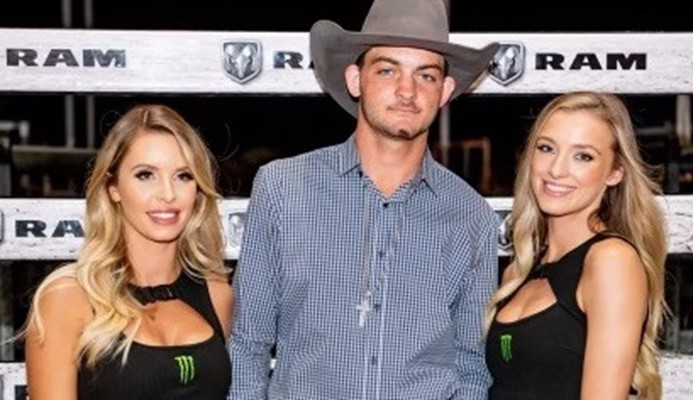 ROCKHAMPTON, Queensland – Competing at just the second PBR (Professional Bull Riders) event of his career, Macaulie Leather (Calliope, Queensland) was dominant Saturday evening in Rockhampton, Queensland, capturing his career-first event victory at the Monster Energy Tour's Rockhampton Invitational to overtake the No. 1 ranking in the national standings.
Leather's golden finish was headlined by his Round 1-winning, 88.5-point score aboard Dance Monkey (BK Bucking Bulls) at the Back to the Heartland Series event.
For the second time in as many days, Leather then drew Cattle King Boogers Beach (Dittmann Bucking Bulls) in the championship round. With the victory clinched, Leather was unable to reverse his fortunes from the previous evening, once again bucked off, this time in a quick 2.49 seconds.
Despite ending the event short of the 8-second whistle, Leather left the Great Western Hotel having earned a critical 65 national points, propelling him from No. 4 to No. 1 in the national standings.
Erasing then No. 1 Aaron Kleier's (Clermont, Queensland) 48-point lead ahead of the event, Leather now leads No. 2 Kleier by 17 points.
For Leather his victory came on the heels of his fourth-place finish at his PBR debut on Friday evening in Rockhampton. Leather notably brought the raucous Queensland crowd to its feet when he covered his first-ever draw at a PBR event, riding Iron Jacket (Peter Wallace) for 86 points.
Reigning PBR Australia Grand Finals event winner Brady Fielder (Clermont, Queensland) was second, collecting 52 national points.
Fielder's runner-up effort was championed by his 86.5-point trip on Ariat's Flaunt It (Dunne Bulls) in Round 1.
Unranked in the national standings ahead of the event, Fielder is now No. 4 in the early 2021 PBR Australia National Championship race, 42 points behind No 1 Leather.
In third was young gun Dan Ruhland (Mount Walker, Queensland).
The 19-year-old logged the first qualified ride of his PBR career in Round 1 when he went the distance aboard Rambo (Dittmann Bucking Bulls) for 85.5 points.
Ruhland, however was unable to continue the momentum in the championship round, bested by Mr. Buckmore (Throsby & Russell Bucking Bulls) in 4.03 seconds.
The Queensland rider's bronze effort earned him 39 national points, elevating Ruhland to No. 7 in the national standings. He now trails the top ranking by 55 points.
Rockhampton's own Caiden Sandilands (Rockhampton, Queensland) registered his second consecutive Top-5 finish in PBR Australia competition, going 1-for-2 to finish fourth.
Sandilands netted 26 national points courtesy of his 83.5-point score on Tough Walk (Dunne Bulls) in Round 1.
Seeking his career-first national title in 2021, Sandilands is now ranked No. 6 in the Australian standings, 54 points behind No. 1 Leather.
Rounding out the Top 5 in fifth was Kelsey Pavlou (Toora, Victoria), collecting 14 national points.
Pavlou's first Top-5 effort of the year was earned compliments of his 80-point score on Home Grown (Dunne Bulls) in the first round.
The 19-year-old is now No. 8 in the Australian national standings, 80 points removed from the No. 1 rank.
The 2021 PBR Rockhampton Invitational also featured a bull team competition.
With the dominant quartet of Cattle Kings Boogers Beach, Reloaded, Cattle King Ted and Ranga, Dittmann Bucking Bulls was crowned the champions, posting an average score of 43.625 points.
For the second consecutive event, Cattle Kings Boogers Beach was the high-marked bull of the event. Once again matching up with Leather in the championship round, Cattle Kings Boogers Beach was marked a season-best 45.5 points for his 2.49 seconds of work.  
Fans can relive all the action from the PBR Australia Monster Energy Tour Rockhampton Invitational, part of the Back to the Heartland Series, on RidePass starting at 8:00 a.m. AEST on Sunday, May 9 at RidePass.com or via the RidePass app available on iOS, Android and Roku.
The 2021 PBR Australia Back to the Heartland Series will continue on May 29 when the league bucks into Alice River, Queensland and Hervey Range Rodeo Grounds for a tour stop held in conjunction with the North Queensland Elite Junior Rodeo. Action will get underway at 5:00 p.m. AEST. Tickets are still available, and can be purchased at TryBooking.com.
Stay tuned to PBRAustralia.com.au for the latest event information.
PBR Australia Monster Energy Tour – PBR Rockhampton Invitational 2
Great Western Hotel – Rockhampton, Queensland
Event Leaders (Round 1- Round 2-Event Aggregate-Payout-Australian Points-World Points)
1. Macaulie Leather, 88.5-0-88.5-$2,163.84-65-15
2. Brady Fielder, 86.5-0-86.5-$1,491.84-52-8
3. Dan Ruhland, 85.5-0-85.5-$1,034.88-39-7
4. Caiden Sandilands, 83.5-0-83.5-$403.20-26-4
5. Kelsey Pavlou, 80-0-80-$282.24-14-3
6. Wyatt Milgate, 77.5-0-77.5-$0-8-2
Aaron Kleier, 0-0-0.00-$0-0-0
Lachlan Richardson, 0-0-0.00-$0-0-0
Lawson Nobbs, 0-0-0.00-$0-0-0
Lane Mellers, 0-0-0.00-$0-0-0
Cody Heffernan, 0-0-0.00-$0-0-0
Jake Curr, 0-0-0.00-$0-0-0
Joseph Down, 0-0-0.00-$0-0-0
Taran Chirgwin, 0-0-0.00-$0-0-0
Trefor Sproule, 0-0-0.00-$0-0-0
Ty Thomson, 0-0-0.00-$0-0-0
Lachlan Slade, 0-0-0.00-$0-0-0
Zane Hall, 0-0-0.00-$0-0-0
Michael Smith, 0-0-0.00-$0-0-0
Beau Willis, 0-0-0.00-$0-0-0
Thomas Hudson, 0-0-0.00-$0-0-0
Joshua Jones, 0-0-0.00-$0-0-0
Jono Couling, 0-0-0.00-$0-0-0
Sam Spencer, 0-0-0.00-$0-0-0
Jack Cameron, 0-0-0.00-$0-0-0
Isaac Leclair, 0-0-0.00-$0-0-0
Luke Parkinson, 0-0-0.00-$0-0-0
Ben Graving, 0-0-0.00-$0-0-0
Clay Hall, 0-0-0.00-$0-0-0
Bryn Francis, 0-0-0.00-$0-0-0
Chris Wilson, 0-0-0.00-$0-0-0