ROSTER ANNOUNCED FOR THIS WEEKEND'S PBR ROCKHAMPTON INVITATIONAL
By: PBRA Friday, September 21, 2018 @ 8:07 AM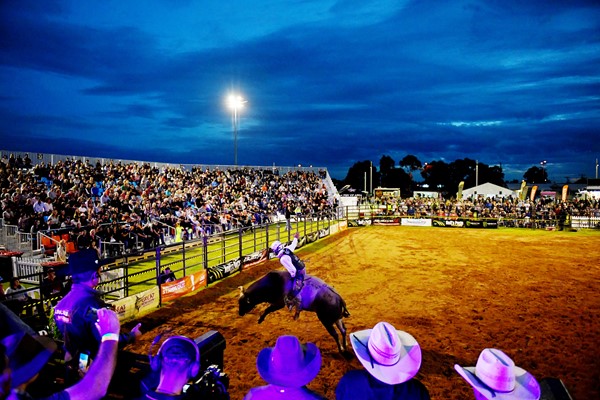 Top athletes from across Australia have been confirmed for Rockhampton's biggest bull riding competition this Saturday September 22, with Professional Bull Riders Australia (PBR) announcing the lineup for the PBR Monster Energy Tour: Rockhampton Invitational.
Several top ranked riders on the 2018 Australian Standings have been confirmed to the Rockhampton roster including Clermont young gun Aaron Kleier (#1), Cliff Richardson (#2), 2016 PBR Australian title holder Cody Heffernan (#4), Rockhampton local Jason Mara (#5), Ayr cowboy Budd Williamson (#7) and Bailey Woodard (#10).
Some of the best bull and rider match-ups for this weekend include the draw of the event for Australia's highest ranked rider Aaron Kleier whose first bull out for the night will be Cloud Jumper.  Aaron has ridden Cloud Jumper twice before for high scores  in previous match-ups.
Kleier's second bull King Kong is owned by his stock contractor father, and is a  bull that has only been ridden once in nine previous PBR Australia appearances by Lachlan Richardson for 87.75 points in Townsville back in 2017.
Cody Heffernan has drawn Dittmann's  POA's Fully Locked and Loaded, while Budd Williamson on Biloela based local stock contractor Peter and Jasmine Wallace's I'm A Freckle Too will be a rematch ride to watch – with PBR insiders tipping the cowboy to come out on top and move further up the Australian standings.
The event will feature two full rounds comprising a total of 48 buckouts.
With a new venue and state-of-the-art mobile stadium bucking into Browne Park, the Rockhampton Invitational is set to host a critical showdown that could narrow or widen gaps in this year's intensifying title race.
Aaron Kleier, a twenty year-old sensation from Clermont (QLD), has led the Australian Standings throughout 2018, following a breakout 2017 season which saw him crowned Rookie of the Year and narrowly pipped to the PBR Australia title.
Kleier grew up attending rodeos from a young age, as well as riding horses and mustering cattle on the 22,000 hectare beef farm that his parents continue to run to this day.
#2 ranked Cliff Richardson will be a long way from his Hunter Valley (NSW) home base when he goes head to head with Kleier this weekend.  A win in Rockhampton could see Cliff cinch the #1 spot.
Also in the mix will be 2016 PBR Australia Champion, Cody Heffernan, who will also fly the flag for New South Wales in Rocky.
One of the PBR Australia's smallest contenders at just 68kgs and 175cm tall, Heffernan puts his success down to being able to get in sync with bulls. He says the job is 80 to 90 per cent mental and compares his bull riding mentality to going into a UFC fight.
Queensland bull breeders and protection athletes will also line-up at the Rockhampton Invitational, including locally based protection athlete Clint Kelly and superstar bovines from Biloela stock contractors Wallace Bulls.
Top ranked bulls confirmed for competition include the local Wallace's Super Natural, Dittmann's POA Palooka, as well as Dunne's Rock The House, Barn Yard (Kleier), Superstition (King)  and Bring It On (Curran).  
Not just a bull riding battle, the Rockhampton Invitational will also grant all ticket-holders access to a jam-packed official after party event with sets from Australian country music Dee Jaye Bux.
Tickets are still on sale for the Rockhampton Invitational at www.pbraustralia.com.au. However, reserved seating is selling fast so event organisers are encouraging fans to get in quick to avoid having to stand. Tickets will also be on sale at the gate from 5pm on Saturday, September 22 – but with long queues expected the PBR suggest pre-purchasing tickets for quicker entry.