RICHARDSON WINS DARWIN AND CLOSES GAP FOR TITLE
By: Dianne Hallam Saturday, July 1, 2017 @ 11:45 PM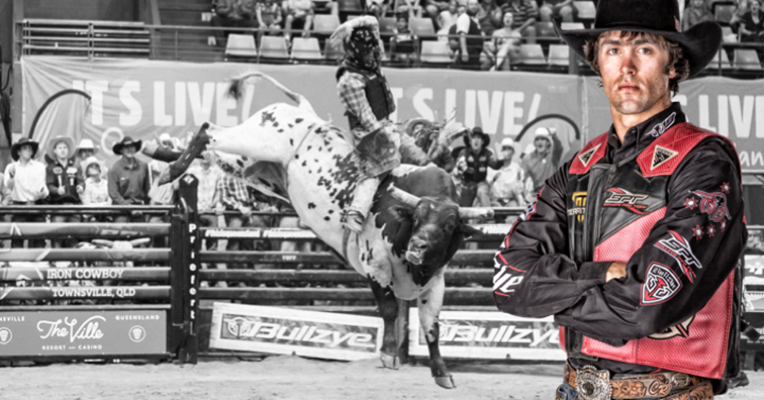 DARWIN, NT - Gresford NSW cowboy Cliff Richardson was on fire at the Darwin Territory Day Touring Pro event on the weekend and the win has moved him up three places in the national standings.
This is the business end of the season – The July Cup Series kicks off next Saturday at the Cairns Convention Centre, followed by Brisbane Entertainment Centre July 15, Last Cowboy Standing and Qudos Bank Arena in Sydney July 22 for the Australian Finals, the time is  right now  for riders to be 100% fit  – physically and mentally.
In round one there were some great rides put together but Richardson top scored with an 84.5 aboard Rocky Horror.  Reigning champion Cody Heffernan, who is still within reach of defending his title was next in line with an 83 point ride on Moves Like Jagger.
Three cowboys marked 82's – Darcy McBean on Shagadelic, rookie and title contender Aaron Kleier on Hot Chocolate and world ranked number 31 and also title contender Troy Wilkinson on top of Brumby Pride.  Hovering just out of round money was Braydon Wellby who marked 81.5's on both his entries.
Into the short go and there were some great match ups – One was undoubtedly Cody Heffernan on Brandenburg's Unbroken – Heffernan went 7.65 seconds in one of the gutsiest attempts put up by anyone all season. Unbroken's record remains in tack but not so sure it will if Cody draws him again in the next few weeks – He is confident he will go the eight on him next time around.
The first ride out in the short go was Braydon Wellby on Ricky Bobby and it was rewarded with an 81; Braydon then backed up to make another qualified ride on Wicked Sister for 80.5.
Richardson was the last one out for the night so he knew all too well if he was going to win the event he had to make the whistle on Blossom.  In true Richardson style he held nothing back and marked an 87 to take out the event.
Jack Daniel's National Events and Sponsorship Manager Rachel Penny presented Cliff with his championship buckle. In his acceptance Cliff commented "Yeah I'm starting to really like Darwin – This is the second time I've won up here" he added with a smile.
The battle for this years PBRA Australian national title is up for the taking – The Cup events reward riders with more points than a Touring Pro and then the Finals the reward is even bigger – Who will take out this year's title and the $20,000 bonus?
Time will tell but fans do not miss out on all the action – Tickets are on sale click on to WWW.PBRAUSTRALIA.COM.AU and book now to avoid missing out.