DAKOTA BRANDENBURG, PBR AUSTRALIA STOCK CONTRACTOR OF THE YEAR 2017
By: PBR Australia Wednesday, August 2, 2017 @ 8:06 AM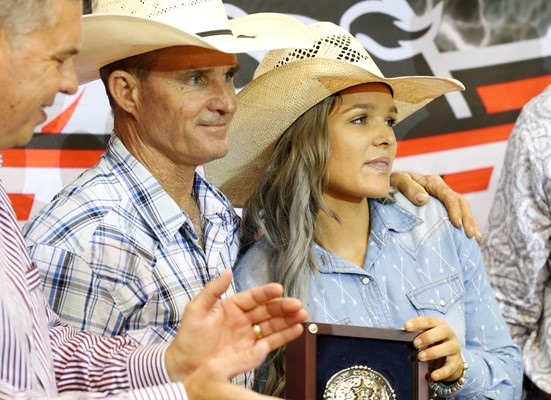 Over 7 Events and 39 Buck-Outs – Dakota had a Bull Team Average of 43.2767 points for the 2016/17 season. 
From the inaugural launch of the Bull Team Standings, Dakota Brandenburg has consistently delivered one of the most consistent and competitive Bull Teams over the course of the 2016/17 PBR Australia season, averaging;
43.125 points over 2 nights at the Iron Cowboy in Townsville
43 points in Charters Towers
42.5 points in Atherton
45.25 points in Julia Creek
42.125 points in Mount Isa
42.75 points in Cairns
44.1875 points at the Sydney National Finals.
The stand out bull on Dakota's team has undoubtedly been her PBR debut performer, "Un Broken" which has consistently delivered scores between 44 to 46.5 points over the course of the season, but not to be forgotten are the outstanding performances from the rest of her team including Slam n Jam who was the only other bull from the 2016/17 Season to deliver a 46 point bull score along with Take The Gamble, Lock n Load and Blossom, which have also scored 44 points or better in their outs over the course of the Tour.
This is the inaugural year for the Contractor of the Year Award, said PBR General Manager, Glen Young. It was a title that we felt was warranted with the direction we are taking with the sport. Riders want to get on good bulls, our fans want to see good bulls buck and we want to reward and acknowledge our contractors that can consistently deliver a great pen of bulls for our riders and fans. 
Dakota is no stranger to going the extra mile to insure that each one of her bulls are in prime condition for each and every event they contest, which is testament to her early success as a PBR Contractor, accumulating a Bull of the Year Award, numerous High Point Bull of the Event Awards combined with 2 Bull Team wins and a second out of the 3 Cup Series Events this season and now becoming the first ever PBR Australia Contractor of the Year.
On behalf of PBR Australia, our riders, personnel and approved stock contractors we would like to take the opportunity to congratulate Dakota on an outstanding 2016/17 performance with her bulls, she has not only travelled tens of thousands of kilometres, she has also maintained them in superb condition over the course of the season, resting them when required and having them in peak physical condition for each event they contested. 
2016/17 PBR Australia Contractor of the Year: "Dakota Brandenburg"