Game Notes – 2022 PBR Origin I – Newcastle
By: Kacie Albert Friday, March 25, 2022 @ 6:41 PM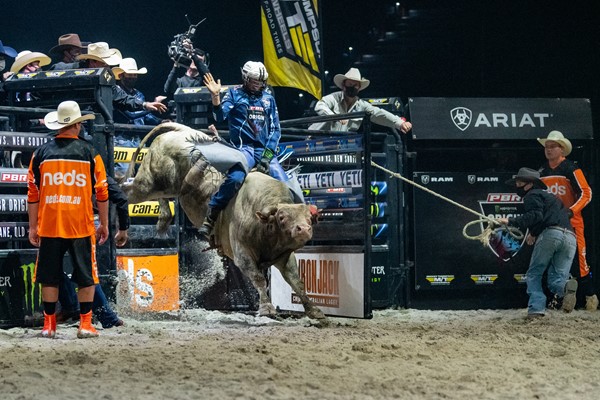 BUCKING INTO NEWCASTLE  – This weekend, the 2022 PBR Origin tournament will kickoff in Newcastle, New South Wales, hosting PBR Origin I at the Newcastle Entertainment Centre. The 2022 PBR Origin marks the third iteration of the state vs. state bull riding showdown, modeled after the State of Origin rugby league event that is considered Australian sport's greatest rivalry. Action gets underway at 7:30 p.m. AEDT.
RELATED: Click here for the complete 2022 PBR Origin I - Newcastle Game Notes.
THIS WEEKEND'S FORMAT – The 2022 PBR Australia Origin I – Newcastle will feature three rounds of competition. After each of the 10 competing bull riders for both teams attempt one bull each in Round 1 and Round 2, the Top 4 riders from each team will advance to the bonus round for one final out. The event winner will be the team with the highest combined score in the event aggregate. In addition to vying the title of PBR Australia Origin Champion and their share of the event purse, riders will also be competing for points towards the Australian national standings and broader PBR World Standings. All points will be awarded for each riders' efforts in Round 1, Round 2 and the event aggregate. No points will be awarded for the bonus round.
LOOKING BACK: 2021 PBR STATE OF ORIGIN – In 2021, PBR Australia held the second iteration of the Origin event, seeking to determine which state was the supreme bull riding powerhouse, Queensland or New South Wales. Expanding the event to a multi-part tournament, Team Queensland beat Team New South Wales in consecutive events held in Brisbane and Cains.
PBR Origin I – Brisbane:  Holding off a hard-charging Team New South Wales, Team Queensland won the opening stop of the tournament in 2021 in Brisbane, edging the Blues by one ride and a mere 88 points. After the Maroons watched on as Team New South Wales' Troy Wilkinson bucked off Call Me Joe in a close 6.39 seconds, Queensland Captain Kleier gave his squad an early lead, covering Cliffhanger for 85 points. As the opening round continued, first-time Origin rider Joseph Down put the initial points on the board for Team New South Wales, covering Told Ya So for 83.5 points. While Team New South Wales inched within 1.5 points of their rivals, the close score was short lived. Team Queensland extended their lead to 86 points the very next out, as Lawson Nobbs went the distance aboard Broken Halo for 84.5 points. As the next rider to leave the chutes for the Maroons, three-time PBR Australia Grand Finals qualifier Lane Mellers continued Team Queensland's growing momentum, contributing 86 points to the contingent's total as he reached the requisite 8 aboard Crackalackin. Sam Woodall, however, refused to let Team New South Wales fall further behind. Facing a rematch in Chemical Weapon, Woodall avenged a close 6.1-second buckoff aboard the bull from the 2020 Tamworth Iron Cowboy, this time besting the animal athlete for an 81-point score. As a result, Woodall shrank the Maroons' lead from 172.5 points to 91 points. The back-and-forth battle continued, with each team adding one more score in Round 1 to leave Team Queensland with an 87.5-point lead entering Round 2.
In Round 2, however, the tables turned, and Team New South Wales made their presence known as they sought to avenge defeat from the 2019 State of Origin event. While Captain Kleier once again converted for Team Queensland, covering Roam Aviation High Risk for 84.5 points, to give the Maroons their second momentous start to a round, yet another first-time Team New South Wales competitor ensured the celebration was short lived. Matched up against Ariat's Flaunt It, Trefor Sproule reached the whistle, scored 82 points, to keep the Blues within 90 points of the defending Origin Champion Maroons. The 8-second effort was the first of three rides recorded by Team New South Wales, that Team Queensland failed to answer. Continuing Sproule's success, 2016 PBR Australia Champion Cody Heffernan brought Team New South Wales within a mere 3 points of their rivals when he rode Gangatino for 87 points, while Slade gave the Blues their first lead of the tournament's opening event when he covered Random Assault for 85.5 points. Following the trio of qualified rides, Team New South Wales led Team Queensland by 82.5 points. Macaulie Leather then briefly returned Queensland to the top of the leaderboard, snapping the team's backwards slide when he rode Big Buck Hunter for 85.5 points. However, Lachlan Richardson was fast to answer for Team New South Wales, covering Freckles Brown for the third time in as many attempts for 87 points.
In the final outs of PBR Origin I – Brisbane, Shephard, Leather, Mellers and Captain Kleier were tapped to ride one final time for Team Queensland, while Down, Heffernan, Richardson and Slade earned the chance to compete one final time inside Brisbane Entertainment Centre for Team New South Wales. As the first man to leave the chutes, Shephard catapulted Team Queensland back to the top of the event-leaderboard when he covered Ambush for 86.5 points. Mellers then extended the nation's lead to 88 points when he rode POA Fully Locked & Loaded for 85.5 points. The event then came down to the final two riders – Queensland Captain Kleier and New South Wales sensation Slade, both of whom went 2-for-2 in the opening rounds. In uncharacteristic fashion, Kleier bucked off Razor Sharp in a swift 1.49 seconds, leaving the door open for Slade to cover his draw, Cattle King Boogers Beach, and lead Team New South Wales to victory. Slade, however, proved no match for the fierce bovine athlete as he was sent to the ground in 3.38 seconds.
Going a combined 8-for-24 to collect 680.5 points, Team Queensland outlasted a hard-charging Team New South Wales by one ride and 88 points to win the opening installment of the 2021 PBR Origin tournament.
With crucial national points also on the line, Team New South Wales' Slade was the top performing individual rider, tallying 172 points to earn 72.5 national points. While he began the tournament stop No. 11 in the nation, he surged to No. 5.
PBR Origin II – Cairns: In Cairns for PBR Origin II, Team Queensland was dominant defeating Team New South Wales by a commanding five rides and a massive 415 points to win their second event in the 2021 iteration of the state vs. state bull riding tournament and be crowned the 2021 PBR Origin Champions. From the moment the first rider representing Team Queensland erupted from the chutes, the Maroons were atop the leaderboard, never once relinquishing the top spot to Team New South Wales. PBR Origin II – Cairns got underway with a showdown between captains –Troy Wilkinson for the Blues and Aaron Kleier for the Maroons. After Wilkinson covered Random Assault for 82.5 points, Kleier brought the raucous crowd to its feet when he climbed aboard unridden Tribal (Dunne Bulls), who had never once been covered in his 12 prior outs on record. Kleier, however, cracked Tribal's code, going the distance aboard the fierce bovine athlete for 84.5 points to give Queensland a 2-point lead. Following back-to-back buckoffs registered by both teams, Bailey Woodard righted Team Queensland's momentum, covering Rockslide for 84 points, and extending his state's lead to 86 points. Despite Sam Woodall briefly inching Team New South Wales within 0.5 points of Queensland, riding Ariat's Flaunt It for 85.5 points, Lawson Nobbs padded the reining Origin Champions lead when he quickly responded with an 84.5-point score aboard Code Blue. Holding an 85-point lead midway through Round 1, Team Queensland then went on a tear, outscoring Team New South Wales three rides to one to enter Round 2 with an impressive 254-point lead.
In Round 2, Team Queensland's momentum continued to roll in seemingly unstoppable fashion. Young gun Kelsey Pavlou was the first to convert for the Maroons in the second round, rising to the occasion when he rode Slick 60 for 80.5 points to extend his state's lead to a then event-best 334.5 points. After Joseph Down and Woodall contributed two unanswered rides for the Blues, riding Get Ya Freak On for 83.5 points and Chemical Weapon for 80.5 points, respectively, to climb within 170.5 points of Team Queensland, the Maroons mounted a rally for the record books. Queensland's lead first grew to 253.5 points when Woodard registered his second qualified ride in Cairns, making the 8 aboard Amigo for 83 points. Also remaining perfect inside the Cairns Convention Centre, Shepard delivered his second score of the evening, expanding the Maroons' lead to 335.5 points when he rode Milky Way Man for 82 points. The trio of scores for Team Queensland was then punctuated by Nobbs' 84-point score on Notorious, allowing the home state contenders to surge to a 419.5-point lead. With just two riders from each contingent left to ride ahead of the bonus round, Nobbs' score all but guaranteed Queensland their second victory at the state vs. state tournament. While each state registered a score in their final duo of Round 2 outs, New South Wales contender Lachlan Slade's 85-point ride aboard High Class Hooker was not enough to keep his team's hopes of a bonus round comeback alive. As the last man to leave the chutes in Round 2, Queensland's Lane Mellers covered Get A Haircut for 82 points, giving Queensland a 416.5-point lead ahead of the bonus round and clinching the Maroons the 2021 PBR Origin Championship.
Despite the 2021 PBR Origin Champion determined, both teams continued to deliver ferocious efforts in the bonus round. Kleier set the tone early, riding Black Tuxedo for 88.5 points. Slade, however, ensured Team New South Wales concluded the tournament on a high note, riding Cattle King Boogers Beach for a monstrous, and career-best, 90 points. The 90-point effort was just the second of the season on Australian soil.
When the dust settled inside Cairns Convention Centre, Team Queensland out rode Team New South Wales by five rides, with the final score 1,005.5-590.5, propelling the Maroons to their second PBR Origin Championship.
With crucial national points also on the line, Team Queensland riders filled the podium. Each going a perfect 2-for-2 in the opening rounds, Nobbs finished first to earn 68.33 national points, Shephard was second to collect 58.5 national points, and Woodard concluded the event third to take home 39 national points.
TEAM QUEENSLAND – These are the 10 riders that will ride for the Team Queensland Maroons at PBR Origin I – Newcastle:
Captain Aaron Kleier (Clermont, Queensland)
Kelsey Pavlou (Gracemere, Queensland)
Brumby Brandenburg (Clermont, Queensland)
Qynn Anderson (Koumala, Queensland)
Jake Curr (Mount Isa, Queensland)
Michael Smith (Tully, Queensland)
Lane Mellers (Mundubbera, Queensland)
Caiden Sandilands (Rockhampton, Queensland)
Dan Ruhland (Mount Walker, Queensland)
Taran Chirgwin (Calliope, Queensland)
TEAM NEW SOUTH WALES – These are the 10 riders that will ride for the Team New South Wales Blues at PBR Origin I – Newcastle:
Captain Cody Heffernan (Singleton, New South Wales)
Will Purcell (Albury, New South Wales)
Trefor Sproule (Singleton, New South Wales)
Braith Nock (Bendemeer, New South Wales)
Lachlan Richardson (Gresford, New South Wales)
Lachlan Slade (Tamworth, New South Wales)
Thomas Hudson (Dungog, New South Wales)
Oscar Leake (Dungog, New South Wales)
Steven Carter (Wards River, New South Wales)
Josh Dallas (Wootton, New South Wales)
FAMILIAR WATERS – Round 1 of PBR Origin I – Newcastle, just one rider will face a familiar opponent. For Lane Mellers he will climb aboard Broken Halo for the second time in his career. Facing off in 2021 during an iteration of the Monster Energy Tour's Rockhampton Invitational, Broken Halo bested Mellers in a hard-fought 5.76 seconds.
Round 2 of PBR Origin I – Newcastle, will feature seven familiar showdowns, headlined by the fourth meeting between Cody Heffernan and Call Me Joe. Boasting an unblemished record, Heffernan has covered Call Me Joe in each of their four meetings. The duo first met in 2018, squaring off in both Shepparton, Victoria, and Dubbo, New South Wales, with both trips ending in an 89-point score for Heffernan. Their rivalry was renewed in 2019 in Sydney, New South Wales. Heffernan continued his string of successes, earning an 88-point score. Lachlan Richardson is the only other rider to have covered his draw, entering a rubber match with Spokane. After Richardson rode Spokane for 81.5 points in Shepparton in 2019, the bull got the better of him later that season, bucking him off in a close 6.17 seconds in Wodonga, Victoria.   
The remaining Round 2 rematches are:
Brumby Brandenburg vs. Rip Slinger (2022 PBR Australia Rockhampton, Queensland – 4.43 seconds)
Dan Ruhland vs. Arm Chair (2021 PBR Australia Origin I Brisbane – 2.11 seconds)
Kelsey Pavlou vs. Kung Foo 2 (2022 PBR Australia Mildura, Victoria – 2.56 seconds)
Lachlan Slade vs. Volatile (2022 PBR Australia Scone, New South Wales – 0.5 seconds)
Lane Mellers vs. Shotgun (2018 PBR Australia Tamworth, New South Wales – 2.81 seconds)
PAST NEWCASTLE EVENT WINNERS – While this weekend's event will mark the first-ever PBR Origin event in Newcastle, the city is no stranger to world-class bull riding competition.  Historically, PBR Australia has visited the New South Wales city 13 times in league history. The nation's elite Monster Energy Tour last stopped in Newcastle in 2019 when Brady Fielder and Fraser Babbington tied for the event victory. For Fielder, who was competing amidst his rookie season on home soil, the win was his fifth of the year. Going 2-for-3, the Queensland sensation logged qualified rides aboard Shots for 82.5 points and Black Tuxedo for 86 points. Fielder won two additional events and concluded the season ranked No. 3 in the national standings. The 2019 season marked the third consecutive iteration of the tour stop when the Newcastle event ended in a tie. In 2018, now four-time PBR Australia Champion Aaron Kleier split the win with veteran Cliff Richardson , while in 2017, Kleier tied with Babbington.
Brady Fielder/Fraser Babbington (2019)
Aaron Kleier/Cliff Richardson (2018)
Aaron Kleier/Fraser Babbington (2017)
Matt Triplett (2017)
Chris Lowe (2016)
Sam O'Connor (2014)
Gustavo Pedrero (2013)
Lachlan Richardson (2012)
Brendon Clark (2011)
Rocky McDonald (2009)
Saras Ramsey (2009)
Pete Farley (2008)
BULL PEN – At this weekend's PBR Origin I – Newcastle event, stock contractors from both Queensland and New South Wales will provide animal athletes as the 2022 iteration of the state vs. state tournament gets underway. While Throsby & Russell and Maynes Bucking Bulls will be the lone outfits representing Team New South Wales, MJ/Keliher Bucking Bulls and ST Bucking Bulls will all have bucking bulls onsite that hail from Queensland.
PROVIDING PROTECTION – This weekend's protection athletes are Shane Simpson, Eric Richardson and Brodie Frizzell.
NEXT UP – The 2022 PBR Australia season will continue April 8-9 for the Monster Energy Tour's Toowoomba Invitational at Meatstock. Action at the Toowoomba Fairgrounds will get underway at 4:30 p.m. AEDT on Friday, April 8, and at 12:00 p.m. AEDT on Saturday, April 9.