After Global Cup Debut, Aussie Woodall Continues Push for World Finals in Glendale
By: Justin Felisko Friday, March 11, 2022 @ 1:35 PM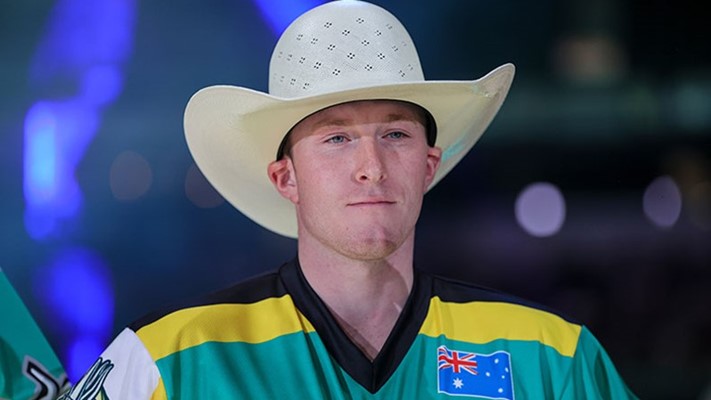 GLENDALE, Ariz. – Sam Woodall pulled up a gray folding chair and took a seat in the corner of the locker room inside Gas South Arena in Duluth, Georgia, on Jan. 22.
At the time, the 23-year-old did not personally know a single soul inside the Unleash The Beast locker room. The 2021 PBR Australia Finals event winner was set to make his debut on American soil, and he nervously glanced around the room at a bunch of faces and names he had previously only idolized or watched on TV or social media.
"I haven't had too many nerves until now," Woodall said. "It is a bit surreal seeing everyone around here, but it is pretty cool to be riding with the top bull riders in the world."
A shy Woodall even admitted he was "too nervous" to introduce himself to one of his idols, Chase Outlaw, who was only a few chairs away from him.
They eventually connected, and Outlaw even helped Woodall on the back of the bucking chutes that weekend.
The Heywood, Victoria cowboy is one of four riders in contention for the 2022 PBR Rookie of the Year title. Woodall is looking forward to rebooting his first season in the United States after lacerating his kidney/liver at just his second event and on only his third bull in the U.S. when Not Today bucked him off in 3.33 seconds in Sacramento, California, on Jan. 28.
2022 Rookie of the Year standings
Bob Mitchell (191.5 points)
Clayton Sellars (-82.25 points)
Sam Woodall (-125.5 points)
Dawson Branton (-132 points)
Woodall initially expected to be out three months, but he wound up making a speedy recovery and returned to competition in five weeks to suit up for Team Australia at the 2022 PBR Global Cup USA, presented by Monster Energy last weekend.
"Of course, you are disappointed in that, but that is part of what it is," Woodall said. "You can't control those things. The moment it happened, I started working towards getting back right away. Really, they said I would be out three months, so Global Cup didn't look likely. I just tried to push forward for this, but there was nothing I could do but wait.
"It was real frustrating just not being able to do things. That was the main thing, being limited to what you could do."
Woodall went 0-for-2 as Team Australia placed fourth overall.
No more limitations now means Woodall can get back to trying to notch his first qualified ride on American soil.
Woodall, the No. 46-ranked bull rider in the world, has five injury exemptions at his disposal. He has drawn War Cry (11-3, UTB) for Round 1 of the PBR U.S. Border Patrol Invitational on Saturday night in Glendale (8:30 p.m. ET on RidePass on Pluto TV).
"I had a good start to the season (in Australia), and I was sitting well in the standings, so I figured I might as well come over," Woodall said. "You don't get a chance like this very often. I am here until April 19th-ish, and then I fly back home for a wedding I am attending. I will come back and be at the World Finals, hopefully."
Woodall is no stranger to Western sports as his father, Gavin Woodall, is the 1997 Australian Pro Rodeo Association champion bull rider.
Sam was getting on little steers by the time he was 2 years old, and it was only a matter of time before he was working his way up the youth ranks in the Land Down Under. He eventually won the 2017 National Rodeo Council of Australia bull riding championship following three straight Rodeo Services Association Bull Riding championships (2014-2016). In 2018, Woodall was named the APRA Rookie of the Year bull rider.
Woodall was unable to claim a PBR Australia championship or an APRA championship, but he believes he is maturing to a point where he can make a splash in the United States.
 "I guess I wasn't as focused as I've been recently," Woodall said. "I liked to party a little too much, and I finally settled down some to focus on what I need to do now. I was willing to do what I had to do to come over."
Woodall says the nerves are starting to settle down, and having a friend like fellow Aussie Ky Hamilton nearby his place in Stephenville, Texas, is helping him transition to the United States.
Now healthy and a little bit more comfortable, Woodall is ready to make a push up the world standings and solidify himself his first trip to the PBR World Finals on May 13-22.
"Always the first time you come to something new, you sort of get that feeling of uneasiness, but you just try to stay in control of your emotions," Woodall concluded.