Game Notes – Rockhampton
By: Kacie Albert Thursday, June 9, 2022 @ 7:47 PM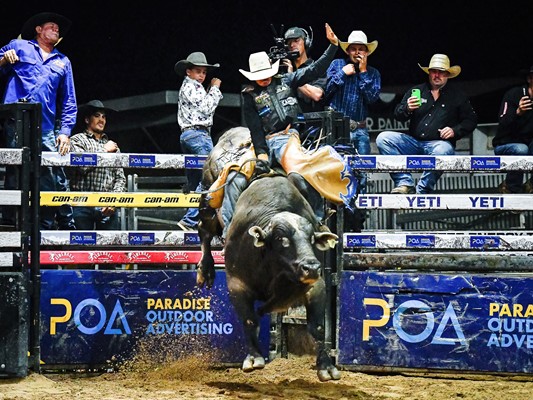 RETURNING TO ROCKHAMPTON  – This weekend, for the 34th time in league history, PBR Australia will travel to Rockhampton, Queensland. As the 13th event of the 2022 season, and fourth stop in Rockhampton, the PBR Monster Energy Tour Rockhampton Invitational will buck into the Great Western Hotel on Saturday, June 11 at 7:00 p.m. AEDT. 
RELATED:  Click here for the complete PBR Rockhampton Invitational Game Notes.
THIS WEEKEND'S FORMAT – The PBR Australia Monster Energy Tour's Rockhampton Invitational at the Great Western Hotel will feature three rounds of bull riding. After all competing bull riders attempt one bull each in Round 1 and Round 2, the Top 6 riders will advance to the championship round where they will draft their final animal athlete opponent. The event champion will be determined by the rider with the highest total score from their three draws.
WELCOME HOME FIELDER – This weekend in Rockhampton, for the first time since mid-February, Queensland sensation Brady Fielder will compete on home soil. Prior to travelling to the United States, where he has been competing since his departure, Fielder was electric in PBR Australia competition, briefly holding the No. 1 rank in the race to be crowned the 2022 PBR Australia Champion. After a runner-up finish at the season-launch event in Rockhampton, Fielder won back-to-back events, first at the Monster Energy Tour even in Scone, New South Wales, and again when the tour returned to Rockhampton. As a result, Fielder went an impressive 4-for-7 (57.14%) on home soil before leaving for the United States. Once in the United States, Fielder delivered a season which not only led to him qualifying for his second career PBR World Finals, but also being drafted by the Ariat Texas Rattlers ahead of the inaugural season for the groundbreaking PBR Team Series. His season highlights included two Top-5 finishes on the premier series, led by a third-place result in Everett, Washington, and his first two 90-point rides on the elite Unleash The Beast. Fielder recorded his second 90-point score, and top-marked ride of his career during Round 7 of the 2022 PBR World Finals when he covered YETI PBR World Champion Bull contender Pookie Holler for a monstrous 91 points.
Back in Australia, Fielder will travel to Rockhampton ranked No. 5 in the race for the 2022 PBR Australia Championship, 112.5 points behind No. 1 Qynn Andersen. Fielder has drawn End Game in Round 1 and a rematch in Meet Ya Maker for Round 2 of the PBR Rockhampton Invitational.
ANDERSEN OVERTAKES NO. 1 RANK – This weekend in Rockhampton, a new face will begin the event as the nation's No. 1-ranked rider – 19-year-old sensation Qynn Andersen. Andersen overtook the top spot in the nation compliments of his runner-up finish at the most recent Touring Pro Division event held in Cooyar, Queensland. As the only other rider to go a perfect 2-for-2 except winner Aaron Kleier, Andersen was a picture of perfection in Round 1, delivering the top score when he covered Bud Buster for 85 points. The young gun then remained flawless in the second round when he dominated Rip Slinger for 82 points. The silver finish netted Andersen 19 national points. Leap-frogging 2016 PBR Australia Champion Cody Heffernan for the top position in the national standings, Andersen is now a slim 6.5 points out front of No. 2 Heffernan. Andersen's surge to the top of the rankings was also supported by his dominant showing for Team Queensland during their march to the 2022 PBR Origin Championship. Going a combined 7-for-9 across the three stops, including event wins in both Newcastle and Brisbane, Andersen netted a collective 146.5 national points, and earned the $20,000 series bonus presented to the top performing individual rider.
As reflected by his successes at PBR Origin and his runner-up effort in Cooyar, Andersen has been one of PBR Australia's most consistent riders in 2022. He's gone a combined 14-for-25 (56%) registering two event wins, and an accompanying six Top-10 finishes. This weekend in Rockhampton, Andersen will attempt to extend his lead atop the national standings when he faces Young Blood in Round 1, and Random Assault in Round 2.
KLEIER GETS THE W IN COOYAR – Aaron Kleier will begin the fourth iteration of the 2022 PBR Rockhampton Invitational with winning momentum, victorious at the most recent Touring Pro Division stop in Cooyar, Queensland. In Round 1, Kleier delivered the second-best score when he outlasted Shadow for an 84.5-point score. The 24-year-old next readied to go head-to-head with Pirate Patch. Matching the powerful animal athlete jump-for-jump, Kleier reached the requisite 8, marked 87 points to clinch the event win. The golden finish earned Kleier a critical 28 national points. He remained No. 4 in the Australian rankings, but now trails the No. 1 position by a mere 21 points. Seeking further history in 2022, after tying David Kennedy for most Australian national titles won by one rider in league history in 2021, each now with four, should Kleier win his unprecedented fifth consecutive national title at season's end, he would become the winningest bull rider in PBR Australia competition. In Rockhampton, Kleier has drawn Colewell King in Round 1 and a rematch with Black Tuxedo in Round 2.
FAMILIAR WATERS – In Round 1 of this weekend's PBR Rockhampton Invitational, just one rider will face a familiar opponent. For seven-time PBR World Finals qualifier Lachlan Richardson he will face off against Rockslide for the second time in his career. The duo first went head-to-head in 2019 in Rockhampton, with Rockslide getting the better of Richardson in 5.78 seconds.
Round 2 of competition, however, will feature three familiar showdowns, including a rubber match between Aaron Kleier and Black Tuxedo. For Kleier, he has attempted Black Tuxedo four times prior, with two of those outs ending in qualified rides. The duo first met in 2019 at the Last Cowboy Standing in Brisbane. Despite a hard-fought effort, Kleier was brought down in 6.83 seconds. Black Tuxedo then got the better of Kleier again in their second showdown, next meeting in 2020 in Toowoomba. Making quick work of Kleier, Black Tuxedo bucked off the Queensland rider in 1.07 seconds. That buckoff, however, was the last that Kleier would suffer at the hooves of Black Tuxedo. In Rockhampton in 2021, Kleier reached the requisite 8 atop Black Tuxedo for a monstrous 90.5 points. When they met again in 2021 during PBR Origin II – Cairns, Kleier again made the whistle, that time for 88.5 points. Brady Fielder and Brumby Brandenburg have also drawn rematches. For Fielder, he will look to remain perfect against Meet Ya Maker. In 2021, Fielder covered the bull for 85 points during Round 1 of the Grand Finals. Brandenburg, however, will look to reverse his fortunes aboard Seven Eleven. Earlier this season in Rockhampton, the bull brought him down in 1.71 seconds.
PAST ROCKHAMPTON EVENT WINNERS – One of the longest tenured events in PBR Australia history, since the Queensland city welcomed the league for the first time in 2006, PBR has held a total of 33 events in Rockhampton, including seven tour stops throughout the 2021 campaign, and three held to date in 2022.
At the most recent PBR event in Rockhampton in mid-April, Aaron Kleier swept both rounds of competition, earning his second consecutive event win at the PBR Rockhampton Invitational, climbing to then No. 4 in the race for the 2022 PBR Australia Championship. Fresh off his event win the weekend prior in Toowoomba, Queensland, Kleier first struck in Round 1, surging to an early event lead when he rode Get A Haircut for 86 points. The stoic Queensland native then readied to face a familiar opponent in Round 2 – Rambo. The duo of athletes first went head-to-head in Julia Creek, Queensland in 2019 with Rambo besting Kleier in 2.05 seconds. Reversing his fortunes, Kleier conquered the powerful animal athlete, reaching the requisite 8 for a Round 2-best, and event-winning, 86.5-point score.
The complete list of past winners is as follows:
Aaron Kleier (2022)
Brady Fielder (2022)
Kurt Shephard (2022)
Aaron Kleier (2021)
Kurt Shephard (2021)
Bailey Woodard (2021)
Aaron Kleier (2021)
Kurt Shephard (2021)
Macaulie Leather (2021)
Aaron Kleier (2021)
Sam Woodall (2020)
Aaron Kleier (2020)
Lawson Nobbs (2020)
Lawson Nobbs (2019)
Ryan Storey (2018)
Jason Mara (2018)
Bailey Woodard (2017)
Lachlan Richardson (2016)
Fraser Babbington (2015)
Roy Dunn (2015)
David Kennedy (2009)
Kevin "Jock" Connolly (2009)
Cody Heffernan (2008)
Ben Seeds (2008)
Ben Jones (2007)
Budd Williamson (2007)
Ben Keliher (2007)
Denny Farley (2006)
Ben Jones (2006)
Steven Clark (2006)
Ryan Storey (2006)
Wayne Brokenbrough (2006)
Heath Shrimp (2006)
BULL PEN – This weekend's bull pen for the PBR Rockhampton Invitational will be headlined by Pretty Boy, who currently leads PBR Australia with three Bull of the Event honors earned thus far in 2022. Pretty Boy first led the pen at the season-launch event in Rockhampton. Matched up with Thomas Hudson, Pretty Boy dispatched the rider in 2.29 seconds to earn a 44.5-point bull score. The impressive animal athlete was back atop the leaderboard in Toowoomba, marked 44 points when he upset four-time PBR Australia Champion Aaron Kleier in 3.14 seconds. Pretty Boy earned his most recent Bull of the Event honor at the Touring Pro Division stop in Bloomsbury. Drawn by 2022 PBR Rookie of the Year contender Sam Woodall, Pretty Boy sent the Victoria native to the ground in 2.85 seconds, earning a 45-point bull score. In addition to having an impressive season to date, Pretty Boy has yet to be ridden in his career, delivering a buckoff in each of his 18 outs on record.
Pretty Boy will be joined in the championship round by Freckles Brown, Ambush, Razor Sharp, Alcatraz and King Kong. Much like Pretty Boy, Alcatraz is also unridden (5-0) in PBR competition.
PROVIDING PROTECTION – This weekend's protection athletes are Gus Roberts, Alan Tankard and Jayden Hakaria.
NEXT UP – The 2022 PBR Australia season will continue on Friday, June 17 and Saturday, June 18 for PBR Mount Isa Show Touring Pro Division event in Mount Isa, Queensland. Action will get underway at 7:00 p.m. AEDT.
ROCKHAMPTON COMPETITORS BY COUNTRY
Australia (16) – Qynn Andersen, Brumby Brandenburg, Taran Chirgwin, Brady Fielder, Jackson Gray, Cody Heffernan, Blayne Johnson, Quinton Kammann, Aaron Kleier, Wyatt Milgate, Ben Moran, Kelsey Pavlou, Lachlan Richardson, Caiden Sandilands, Kurt Shephard, Brody Woodard.
Brazil (1) – Italo Aguilar.
BREAKDOWN BY STATE –
New South Wales – Cody Heffernan, Lachlan Richardson; Queensland – Qynn Andersen, Brumby Brandenburg, Taran Chrigwin, Brady Fielder, Jackson Gray, Blayne Johnson, Aaron Kleier, Wyatt Milgate, Ben Moran, Kelsey Pavlou, Caiden Sandilands, Kurt Shephard, Brody Woodard; Western Australia – Quinton Kammann.