Game Notes – Caboolture
By: Kacie Albert Friday, July 22, 2022 @ 9:13 AM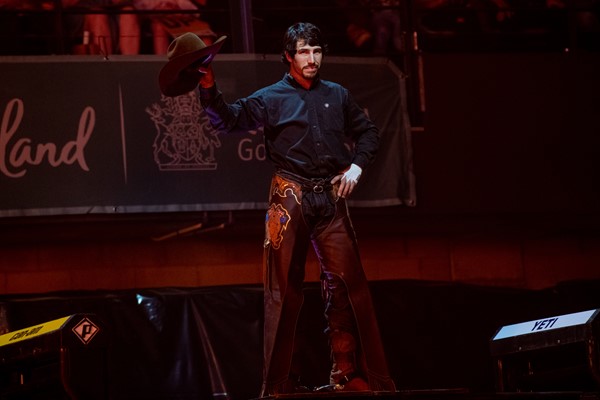 COWBOYS TAKE ON CABOOLTURE – This weekend PBR Australia will travel to Caboolture, Queensland. As the 18th event of the 2022 season, the PBR Monster Energy Tour Caboolture Invitational will buck into QSEC Arena on Saturday, July 23 at 7:00 p.m. AEDT. 
RELATED: Click here for the complete Caboolture Game Notes.
THIS WEEKEND'S FORMAT – The PBR Australia Monster Energy Tour's Caboolture Invitational at QSEC Arena will feature two rounds of bull riding. After all competing bull riders attempt one bull each in Round 1, the Top 12 riders will advance to the championship round where they will draft their final animal athlete opponent. The event champion will be determined by the rider with the highest total score from their two draws.
KLEIER TAKES OVER NO. 1 RANK – Last weekend in Cairns, the feverish race to be crowned the 2022 PBR Australia Champion reached a new level of intensity. Tying for the Monster Energy Tour Cairns Invitational win alongside Jake Curr, Aaron Kleier inched closer to further etching his name in the history books, overtaking the No. 1 rank in the national standings. After tying David Kennedy for most Australian national titles won by one rider in history in 2021, each now with four, should Kleier win his unprecedented fifth consecutive national title at season's end, he would become the winningest bull rider in PBR Australia competition. Going 2-for-3, Kleier was dominant in the opening rounds of competition. The Queensland man was quick to strike in Round 1, surging to the top of the leaderboard when he road Bombshell for 85.5 points. Awaiting Kleier in the second round was Comeback Kid. In perfect time with the animal athlete, Kleier again reached the requisite 8, retaining his position atop the event courtesy of his 86.5-point score. While Kleier was bested in the championship round, upended in a close 7.08 seconds by Alcatraz, his opening round scores were enough to clinch the win. Kleier garnered 170 national points for the golden finish, rising from No. 4 to No. 1 in the PBR Australia standings. He now leads No. 2 Qynn Andersen by 55 national points. This weekend in Caboolture, Kleier will look to expand his lead, first taking on Running Gold Little Muddy Jacket during the opening round of action inside QSEC Arena.
HEFFERNAN REMAINS IN THE HUNT – After holding the No. 1 rank in the national standings at the beginning of the season, Cody Heffernan remained in the hunt for his second PBR Australia Championship last weekend in Cairns by finishing fifth. The 2016 title holder's outing was headlined by an 86-point score aboard Lightning in the second round. The New South Wales sensation netted 61 national points. Heffernan remained No. 3 in Australia, now 105.5 points back of the top position. This weekend in Caboolture, Heffernan will attempt to gain ground on No. 1 Aaron Kleier when he first attempts Dunya Jacket.
PAST CABOOLTURE EVENT WINNERS – Last season in Caboolture, Beau Willis was electric, going a near perfect 2-for-3 to win the PBR Caboolture Invitational, catapulting him inside the Top 10 in the race for the 2021 PBR Australia Championship. Willis began his campaign for his first event victory in five years when he topped the field in Round 1, covering Shotgun for 85 points.  The home state contender remained perfect in Round 2 when he outlasted Amigo for 79 points. While Willis was unable to conclude the event with a score, bested by Big Buck Hunter in 3.13 seconds, his initial two scores proved enough to clinch the win. After beginning the event ranked No. 25, Willis, who earned a critical 148 national points, surged 18 positions in the national standings to No. 7, inching within 330.33 points of No. 1 Aaron Kleier. Kleier's fourth-place effort last year in Caboolture was part of his historic push for an unprecedented fourth consecutive PBR Australia Championship. Throughout the season, Kleier went a PBR Australia-best 23-for-35, covering 65.71% of the nation's top bovine athletes.
Beau Willis (2021)
Kelsey Pavlou (2020)
Jack McArthur (2020)
Silvano Alves (2014)
David Kennedy (2013)
BULL PEN – During Round 1 of the PBR Caboolture Invitational, three bulls will make their PBR debut: BK Bucking Bulls' Freaky Spider, JD Bucking Bulls' Freak On a Leash and MJ/Keliher Bucking Bulls' On Bail. Seven-time PBR World Finals Qualifier Lachlan Richardson will take on Freaky Spider, Ben Moran will climb aboard Freak On a Leash, and Italo Aguilar will face On Bail. The opening round of competition will be headlined by BK Bucking Bulls' Rata Tat Tat who has been ridden just once in 16 PBR outs on record. Having not bucked since the Toowoomba event in 2020, Rata Tat Tat's lone qualified ride was during his most recent out. Drawn by Aaron Kleier, the Queensland sensation rode the bull for 78.5 points. When action continues in the championship round, two bulls will look to remain unridden – ST Bucking Bulls' Little Thunder (21-0) and pen mate Arm Chair (15-0).      
PROVIDING PROTECTION – This weekend's protection athletes are Brodie Frizzell, Kerry Whitehouse and Kirstin Wood.
NEXT UP – The 2022 PBR Australia season will continue on Saturday, August 27 for the Touring Pro Division's PBR Bull Pit in Bull Pitt, Queensland. Action at the Dittmann Bull Pit will get underway at 7:00 p.m. AEDT.
CABOOLTURE COMPETITORS BY COUNTRY
Australia (23) – Brumby Brandenburg, Joey Buckingham, Jono Couling, Bryn Francis, Cody Fraser, Clay Hall, Zane Hall, Cody Heffernan, Thomas Hudson, Jack Keats, Aaron Kleier, Toby Leake, Ben Moran, Braith Nock, Will Purcell, Lachlan Richardson, Dan Ruhland, Caiden Sandilands, Kurt Shephard, Lachlan Slade, Trefor Sproule, Bradley Wheeler, Beau Willis.
Brazil (1) – Italo Aguilar
BREAKDOWN BY STATE –
New South Wales – Jono Couling, Cody Heffernan, Thomas Hudson, Thomas Leake, Braith Nock, Lachlan Richardson, Lachlan Slade, Trefor Sproule, Bradley Wheeler; Queensland – Brumby Brandenburg, Joey Buckingham, Bryn Francis, Jack Keats, Aaron Kleier, Ben Moran, Dan Ruhland, Caiden Sandilands, Kurt Shephard, Beau Willis; South Australia – Cody Fraser, Clay Hall, Zane Hall; Victoria – Will Purcell.