Fielder Helps PBR Team Series Draft Stock with Ride Aboard The Punisher
By: Justin Felisko Friday, April 8, 2022 @ 10:24 AM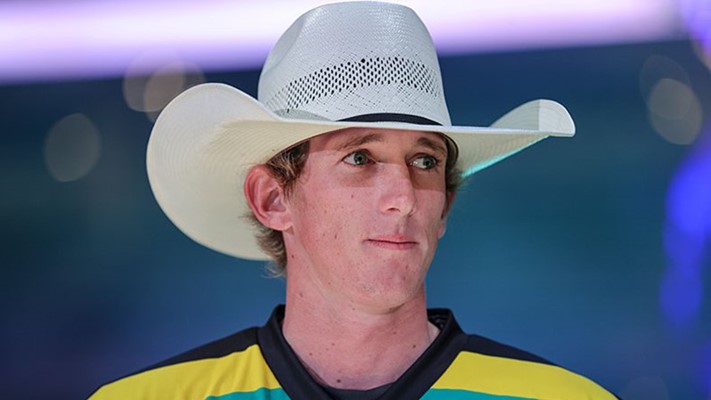 EVERETT, Wash. – The inaugural PBR Team Series season-opener may still be three months away, but the coaching staffs for each of the eight founding franchises are already beginning to make an impact, even slightly, on the PBR riders willing to listen and take in some advice.
One example is Brady Fielder.
The 2021 PBR Australia Finals event winner has been one of Australia's rising young talents for the past four years, but the 22-year-old had yet to break through in the United States until Wednesday night at the PBR Everett Invitational inside the Angel of the Winds Arena.
Fielder raised some eyebrows on the back of the bucking chutes when he surprisingly made easy work of The Punisher in the championship round, becoming only the second rider in 23 outs at all levels to ride the Chad Berger bucking bull.
"It was easy," Fielder said with a grin. "It's just another bull and bull riding, and that's what it's all about. I just had to do my job and sit up and make a bull ride."
It may sound simplistic, but Fielder explained that bull riding is ultimately all about correctly doing the fundamentals.
It is a message PBR co-founder Cody Lambert has instilled in Fielder's good friend Ky Hamilton, and Fielder recently received some advice from Lambert – the head coach of the Ariat Texas Rattlers – last week before competing in Sioux Falls, South Dakota.
"It was awesome to go there and just have a bit of fun there. I watched Ky get on one and had a good time there," Fielder said. "Cody explained bull riding to the fellas that were there, and it was helpful."
Lambert's ranch in Bowie has seen a revolving door of riders stopping by to learn from Lambert and various PBR legends such as Justin McBride (Nashville Stampede), J.W. Hart (Kansas City Outlaws) and Ross Coleman (Missouri Thunder).
During the CBS Sports Network live television broadcast, Hart commended Fielder for taking down a bull most riders do not enjoy getting on. Fielder selected The Punisher with the ninth pick in the championship round draft.
"He made (that ride) on a bull no one likes to get on," Hart told Craig Hummer. "90.5. I'm telling you what – great bull ride. He stays square, tracks him around, moving his feet. He has been spending a lot of time over at Cody Lambert's, I think, and it paid off."
Those four coaches were joined by the other PBR Team Series coaching staffs in Pueblo, Colorado, in early March for the 2022 PBR Team Series Combine, where they got to meet with riders who are debating entering the PBR Team Series Draft (May 23 at Texas Live! in Arlington, Texas).
Fielder was one of those riders, and he and fellow Aussie Sam Woodall have stated they will be declaring for the draft. Since that combine, both riders have made statements inside the arena as well.
Woodall won Round 1 of the Ty Murray Invitational with a 92-point ride on High Tide Blues, while Fielder finished fourth there in Albuquerque before his career-high, third-place showing Wednesday in Everett.
In fact, Wednesday was just the second time in 13 career events that Fielder put together two qualified rides at an Unleash The Beast tour stop.
Fielder said having coaches express interest in him for the draft only increases his confidence when he climbs into the bucking chutes.
"It makes me more confident in as simple as (this sport) is," Fielder said. "I know that myself, but it's just a matter of doing it."
In some ways, Fielder has lived in the shadows of good friend and four-time PBR Australia champion Aaron Kleier. This year Fielder is stepping out into his own, with Kleier remaining in Australia and Fielder dipping his feet back into the American waters after previously returning to the Land Down Under when the COVID-19 pandemic began in 2020.
The Queensland cowboy is now the highest-ranking Australian in the PBR world standings at No. 19 after beginning the week sitting No. 26.
Fielder will turn his focus to the three-day PBR Wrangler Invitational, presented by Cooper Tires, at the Tacoma Dome fresh off the first 90-point ride of his career. Round 1 airs exclusively on RidePass on Pluto TV beginning at 10:30 p.m. ET.
"It's awesome," Fielder concluded. "There's no better feeling, really, than going 90."