Richardson Eager to Rebound from Heartbreaking 2020 Australian Grand Finals with Career-First National Title Nov.26-27 in Townsville
By: Kacie Albert Friday, November 12, 2021 @ 7:34 PM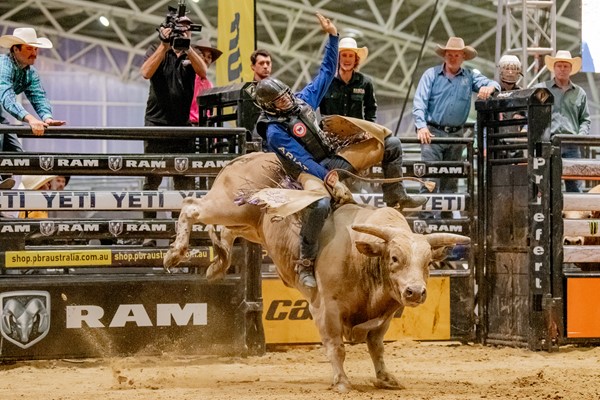 There was no rider hotter than seven-time PBR World Finals Qualifier Lachlan Richardson entering the final day of competition for the 2020 season.
Going 2-for-2 in the opening rounds of competition for the 2020 PBR Australia Grand Finals, including a Round 2 win, Richardson inched within a mere 29 points of No. 1 Aaron Kleier, poised to dethrone the Clermont-native and earn his first national title.
However, injury lurked around the corner. Sustaining a hematoma on his back during competition, Richardson was immediately relegated to the sidelines, unable to conclude his quest for the PBR Australia Championship.
"It took me a little bit longer to come back than I expected, but I am 100% now," Richardson said. "I feel good, mentally and physically."
"It was just a slow start really," Richardson added. "Things didn't line up the way I wanted them to, and it took a lot longer to overcome that injury than you'd probably think. But that is all in the past now and I am just looking forward to these next few weeks and the Finals."
After the Gresford, New South Wales began his season in early May with a runner-up effort at first event of the new year in Rockhampton, he then entered a rough patch, shutout at the next three events.
Richardson briefly rebounded in mid-July when he finished 3rd in the individual competition of PBR Origin I – Brisbane while competing for Team New South Wales, but his success was short lived with his subsequent two events both highlighted by buckoffs.
However, in early September in Burnett Heads, Queensland, Richardson righted course, winning his first event of 2021 when he topped the field at the PBR Bull Mania.
RELATED: Flawless Lachlan Richardson Wins PBR Bull Mania in Burnett Heads, Queensland
Compliments of an 83.5-point ride on Bad Moon and 87.5-point score aboard Flyin Hippie, Richardson clinched the golden finish and a critical 39 national points. The victory allowed Richardson to re-enter the nation's Top 5 propelling him from No. 7 to No. 5 and within 173.33 points of No. 1 Kleier.
Richardson went on to register consecutive Top-10 finishes at the league's back-to-back events in Rockhampton in early October. While he slipped to No. 6 in the race for the 2021 PBR Australia Championship, he entered the homestretch of the regular-season 203.83 points back of top-ranked Kleier.
"Aaron is good to compete with because he's a really good rider and you expect him to do good," Richardson said of the rider everyone is attempting to chase down. "You know he is going to do his job, and it pushes you to do your job as well. He's consistent and he's a good guy to go with it."
"He's good to have around."
At the two most recent tour stops in Emerald and Caboolture, Queensland, Richardson has continued to convert, finishing fourth and seventh, respectively. Ahead of this weekend's final regular-season event of the year, Richardson remains No. 6 in the standings, a mere 22.32 points outside of the Top 5, and just 256.83 points back of No. 1 Kleier.
"Just treat it like I would any other time," Richardson said of what it would take to come from behind and win the title. "This is not the first time I have been in this position unfortunately. I would like to be way out in front, but I will just take it one bull at a time and let the hard work I have done my whole life pay off.
"I just have got to forget about any setbacks I have had and do my job."
Among the riders Richardson will need to surpass en route to overtaking the No. 1 rank is friend, and Australian No. 3 Kurt Shephard, along with rookie contender, and No. 2, Macaulie Leather.
"I am not really surprised by any of them, but I like watching my good friend Kurt Shephard ride, he puts a lot of work into it," Richardson said of the other riders vying for the 2021 PBR Australia Championship. "I like the way he goes about things, and rides really good."
"Macaulie Leather is a good kid, I don't really know him that well yet, but he's been good in the lockeroom and definitely got a lot of try."
This weekend in Rockhampton, one rider has the chance to win 80 national points. While not enough to overtake No. 1 Kleier, should Richardson sweep the board, and Kleier stub his toe, he would climb within 176.83 points of the top spot entering the 2021 PBR Australia Grand Finals in Townsville on Nov. 26-27.
And while the pressure will be on for Richardson at the year-end event if he wants to actualize his goal of being the 2021 PBR Australia Championship, the 29-year-old is excited for what awaits him.
"It's a good venue and I like it as a city," Richardson said. "Warmer weather and a pretty welcoming place. A good place to stay."